It's not yet 9AM and the volunteer team at Vaccine Hunters has already shared about a mobile vaccine bus rolling into Scarborough, a second dose clinic at Downsview Arena for High Risk Health Care Workers, openings for 16+ in Saskatchewan…the alerts keep coming. Sabrina Craig is the Director of Vaccine Hunters, and like all the volunteers (there are now approximately 70 working closely each and every day), she was driven to get involved because she wanted to help get Canada vaccinated, and knew her skill set could help accelerate the movement.
The core team responsible for helping thousands of Canadians get vaccinated (myself included, and probably you, too) was started by Andrew Young. Young was inspired by the site VaccineHunters.org in the United States, and on March 19th he bought the domain for VaccineHunters.ca. Joshua Kalpin and Jonathan Clodman were quick to come on board, and Sabrina joined the team when the Vaccine Hunters Twitter followers were hovering at around 6000; now the group has hit a healthy 260,000. By the end of the day, it will likely bump significantly, considering that Prime Minister Justin Trudeau is jumping on their feed for a live Twitter chat at 1:45PM. Or what the team has described as a "pinch us, eh" moment.
Sabrina's parents are friends with Joshua's parents, and that is how she first heard of the group. With a knack for understanding data, honed at her day job at a finance firm on Bay Street, she saw huge potential for growth, but more than anything, wanted to support vulnerable communities. "All day at work I'm making sense out of numbers and working with technology. And with Vaccine Hunters I like to say that I'm helping people with technology, using numbers."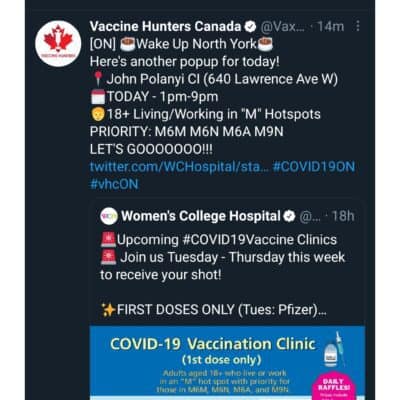 As Director, one of Sabrina's key responsibilities is being the main point of contact with pharmacies across the country. "I build relationships with pharmacists and doctors who have vaccination events, and that's also where a lot of the rural communities are getting vaccinated from," she says, explaining that they've developed a system where pharmacists can submit information to them, about vaccine availability and doses, which they then blast out, to try to get as many people vaccinated as possible, and prevent vaccine waste. Beyond correspondence with pharmacists, Sabrina is now liaising directly with corporate head offices of all major pharmacies.
It's inspiring to see how the group came together, and how much impact they've had on helping Canadians, and saving lives. I'm not the first to say that they deserve to be nominated for the Order of Canada. "We're incredibly humbled to be part of this and we're excited to be able to help even more people," says Sabrina, who shares how it's been a priority to ensure that the volunteers are representative of different age groups, demographics, and can speak a variety of languages.
It's been less than three months since Vaccine Hunters launched in Canada, but it's been a life-changing experience for Sabrina, who has learned a lot. When I ask her what the biggest lessons have been, she responds with sound advice that can be applied to any grassroots movement, workplace, or family life: "Always readjust your approach and don't be afraid to try new things. And really it's all about meeting people where they are, and encouraging the positive forward momentum."