Autumn Peltier became a climate justice activist when she first learned what a boiled water advisory was; she was eight years old.
Now heralded as an Indigenous Water Warrior, 15-year-old Peltier was in Toronto this past weekend to receive the Rob Stewart Youth Eco-Hero Award at the Planet in Focus Environmental Film Festival. In recent months, she's received a surge of international attention, and rightfully so—there aren't many with the guts to stand up to the world's most powerful leaders and say, "I've said it once, and I'll say it again: we can't eat money or drink oil".
On social media, many are labeling Autumn as the "Greta Thunberg of Canada", and last week, BBC named her as one of the top 100 most Inspiring and Influential women—the only woman from Canada to make the cut.
While it's great that Autumn is finally getting significant recognition for her work, that's not why she's doing it. "The work I do isn't for awards." she says. "[But] it shows me that my message is being heard. People are hearing what I have to say, which is a good feeling." Hearing is not enough, however, considering that 57 long-term drinking advisories still remain in Canada.
Ironically, it was at a water ceremony on a First Nation reserve where Autumn discovered that some kids don't have access to safe water. "I went to the bathroom during the ceremony, and all over the walls it said, 'Boil Water Advisory: Don't Drink or Touch The Water!' and 'Water Not For Consumption'," she remembers. The signs caught her attention, but at 8, she didn't fully understand what they meant. Once her mother explained, Autumn was outraged: "I didn't like the way that there were kids my age, who were not able to drink the water, or who were growing up not knowing the experience to drink or touch the water from their tap."
At first, she piped up wherever and whenever she could, but it was a Native Language Speaking Contest at her school in Wikwemikong First Nation, that provided the perfect opportunity to channel her anger. The topic of the contest was "What means the most to you, and what do you think should be heard?" Autumn wrote her speech about the environment and water. The subject matter was something she cared about, but entering the Native Language Speaking Contest also allowed Autumn to connect more closely with her culture. Previously to living on the Wikwemikong reserve, she had lived on the outskirts of North Bay. "I was kind of disconnected from my culture, because I was living in a non-native area, and I wanted to get reconnected." The contest provided a platform for Autumn to find her voice, and also helped connect her to her ancestral roots.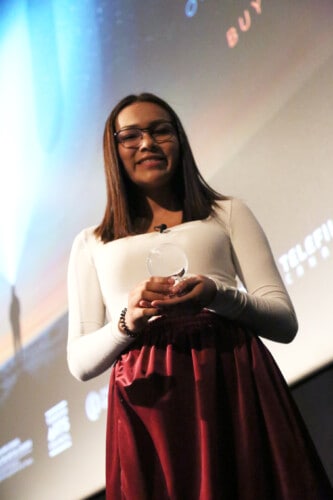 After three years of participating in the contest, Autumn was selected to attend, and participate in, the Children's Climate Conference in Sweden. Following that, she was invited by First Nation Chiefs to attend an assembly in Gatineau, Quebec. "Things took off from there," says the young activist, who – at age thirteen – had confronted Prime Minister Justin Trudeau. He made Autumn a verbal promise that he'd protect the water, a promise he broke not long after, when he signed the Kinder Morgan pipeline deal.
Signing that deal left Autumn with "a bad image of him", but she also believes that he is working towards a better future. "The good thing about him is that he's trying his best to resolve boil water advisories in First Nations communities," she says. "The thing is that every time he resolves one, another one occurs—so it's like a cycle."
Ensuring that Indigenous communities have access to clean water has been a slow and frustrating mission, one that's consumed nearly half Autumn's life. I ask her if she feels robbed of her childhood. "We shouldn't be having to stand up. We shouldn't be having to use our voices, or thinking about it. We should be going to school, and doing kid things. We shouldn't be having to do this."
Sitting close to Autumn, it's hard not to notice how young she is, and I can't help but think of my teen years, when my biggest worries were if I was going to fail a math exam, or get snubbed at a school dance. At the same time, Autumn has acquired such immense experience with public speaking, confronting politicians, and dealing with big and complex issues, that it seems illogical that she's too young to vote. At fifteen, she has been more active in politics than most grown adults will ever be in their lifetime.
Chatting with her, I felt inspired and hopeful, but also sad, and ashamed. It's unfair that she hasn't been able to experience a regular childhood. Knowing how exhausting it must be, I ask her how she manages. "I hang out with my friends, and go for runs," she tells me. "It clears my mind and is a way for me to cope with my stress, and all the things that are overwhelming me."
While she now lives in Ottawa, closer to the politicians who have the power to change things, her happy place will always be Manitoulin Island, "That's where I grew up, and I feel most connected to the water there. Manitoulin Island is the largest fresh-water island in the world," she says proudly. "It's surrounded by Georgian Bay, Lake Huron—I feel very connected to that area. It's my favourite place to be."
Help Autumn's fight by putting pressure on your local MPs – both Provincial and Federal. Join the Canada Climate Action Network, to help protect our natural environment. Rally your community, and find ways you can affect change.