Positioned differently from most TIFF gift lounges, EGPR's Essentials Lounge, which celebrated its tenth anniversary this year at #TIFF19, focuses on serving local media versus Hollywood A-listers. For that reason alone, we really appreciate it, but it also has some killer swag, and we always love exploring the fashion & beauty products, along with the stuff that just helps make our lives as overworked writers easier. (Take the perks where they come, baby!)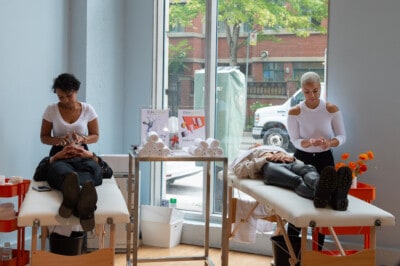 As soon as we walked in, we laid down on a cushy esthetician's table to get a facial from This Works. I've been using and loving the Vitamin C Power Mask, an exfoliating balm with 10% Vitamin C and Jojoba to smooth and brighten dull, tired-looking skin. For someone who has incredibly sensitive skin, this is one of the first exfoliants I've used that doesn't aggravate my skin. It's gentle, revitalizing, and has a delicious, but delicate, citrus scent.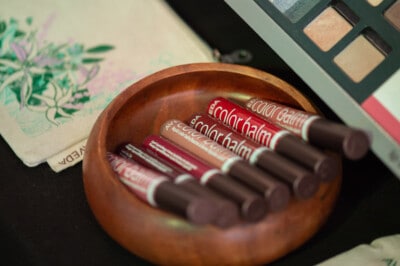 Following, I wandered over to the Aveda makeup table, a Canadian-made brand that has built a legacy on natural beauty. Having someone powder your face and lightly colour your lips is a true luxury, but what I'm more pleased to have discovered is how to actually use an eyebrow pencil so that it doesn't look like I've taken a Sharpie to my face.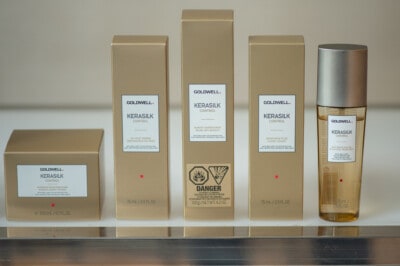 Moving around the room, I began chatting with a spokesperson for Goldwell Kerasilk, which has a new line of products specifically designed to bring moisture to aging scalps. It's perhaps not something we really like to think about, but as I discovered, the scalp does play a significant role when it comes to the sheen of one's locks and/or bald patches. I suppose it makes sense; it is the root of it all. I left with a bag of products to try, and the Kerasilk Revitalize Exfoliating Pre-Wash for rejuvenated scalp and hair has made my shower routine more pleasureful, and experimenting with the Nourishing Serum has also given my hair a healthy shine.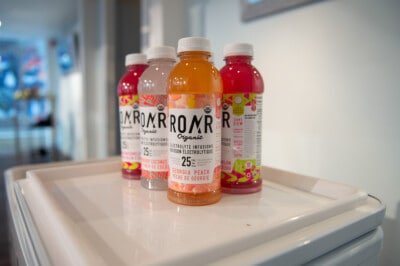 As a sober person, and one who drinks way too much coffee, I was elated to pick up a few bottles of ROAR. As any TIFF vet knows, hydration and sleep are key for sustaining energy over a demanding ten-day, all-hours schedule. ROAR Organic's low-calorie electrolyte beverages are infused with organic coconut water and are full of Vitamin B. They're gluten-free, non-GMO, and all-natural. Another Canadian company making extremely refreshing and yummy drinks!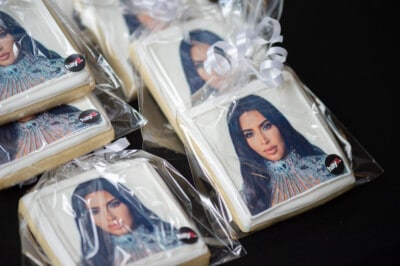 Of course, the Kim Kardashian face cookies from hayu came in handy when I was working late and craved a late-night snack.
Thank you, ESSENTIALS LOUNGE! You really do make us feel like stars.