Little Saigon is a community in Orange County, California with the largest population of Vietnamese people outside of Vietnam. If you were one of the millions who grew up watching The O.C and Laguna Beach: The Real Orange County you might not know this, because those shows only portrayed an Orange County with rich white kids. But in her juicy, outrageous and uputdownable novel The Fortunes of Jaded Women, author Carolyn Huynh spotlights this vibrant neighbourhood she grew up in, shared with bite through the eyes of three generations of cursed Duong women.
"I truly love multi-generational stories, Pachinko, Homecoming, even The Joy Luck Club, but it's so heavy each time, and you really can't binge it, I wanted something to binge," Huynh tells me from her apartment in LA. " The women are obviously dealing with generational trauma but I didn't want them to be weighted down. Vietnamese stories are very heavy, always laced with the war and trauma, and I do touch on the trauma—because you cannot write a story without touching upon it—but I wanted a story that was uplifting and funny."
It is funny. Very funny. There's bad sex, food fights, gossip at the nail salon, and extremely cringe-worthy first-date conversations. "Sharp, smart, and gloriously extra", is how author Nancy Jooyoun Kim (The Last Story of Mina Lee) describes The Fortunes of Jaded Women, and we can't come up with a more accurate description. Her humour and dialogue is razor sharp. "Honestly I derive it from my everyday life. The stuff that my mother had said to me is true and it's in the book."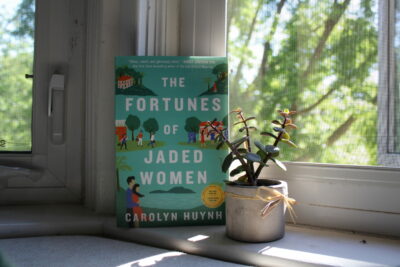 The story begins with a curse by a fortune teller in Vietnam. The character is based on Lan Vo, a real-life Vietnamese psychic in Hawaii. "Everyone knows who she is and people fly in from the mainland to go see her. That was the genesis of the story; I've always been fascinated with how Vietnamese mothers, and my mother especially, gravitate towards psychics and superstition."
For her 28th birthday, Huynh decided to make the trek to see Vo in Honolulu and penned an essay for Bustle about her experience. "I grew up believing that a good fortune teller was like a good tax guy," she writes. "My mother, for instance, avoided people listed in the yellow pages or perched between stalls at the Asian Garden Mall, instead finding psychics through word-of-mouth referrals." The experience isn't something Huynh wants to repeat, but Vo did predict that she'd become an author.
When the psychic in Vietnam curses the family, they believe it. It becomes the reason behind a long list of misfortunes and an excuse for bad behaviour. The feuds between the sisters are seismic, and the dysfunction between the mothers and daughters (there are 14 characters in this book), will make readers feel a little less concerned about their own fraught relationships (I read this while amid conflict with my own mother, and it felt like therapy). While there is a lot of comedy that elicits bursts of laughter, Huynh also wanted to explore the unique struggles of immigrant mothers.
"The diaspora is quite heavy, and all of the burdens that come along with it. I wanted to highlight how especially for immigrant mothers, they live their life in fear, a lot of the time. That's a part I wanted to give grace to, I was so unforgiving of my mother back then. Now looking back I can understand that it was stemming from fear," Huynh shares.
The novel doesn't just take place in Orange County, there are colourful chapters in Vietnam and Hong Kong too, which will have you dreaming about travel, while also considering themes of belonging and home.
The America Huynh grew up in, what she knew as a young girl, was full of Vietnamese restaurants, Vietnamese grocery stores, and schools with kids who looked like her. It was only when she was a teenager that she began to realize that she was a minority. "As a child, I only saw Vietnamese as the majority. It didn't prepare me for high school. My worldview was so small."
The Fortunes of Jaded Women is an homage to Little Saigon, and the women who live there. Since the book's launch, Huynh has had many people reach out to her, expressing their thanks. "When you write about a specific community, you always worry that it's too voyeuristic. I was worried that people would think it's too slapstick, but people have been very responsive. I've had some very sweet DMs come into my Instagram with people truly thanking me for writing this book, how they've felt seen, not just for themselves but their family. Even though it's overdramatic, they can still see their families. Writing is so lonely – to get messages from other Vietnamese American women is so nice… I'm writing for you."