It's fitting that our October book begins with a well-known witch and a horrible curse. While there are spooky elements in The Fortunes of Jaded Women, Carolyn Huynh's delicious debut novel is more of a fascinating adventure between mothers and daughters… and the tumultuous tensions and trauma that follow the Nguyen women for generations, over continents, from Vietnam to coastal California.
The Fortunes of Jaded Women is full of colourful characters with big personalities and Huynh is adept at using humour to explore dysfunctional family relationships. Her fun writing elicits laughter while also sparking discussion about serious issues like the dreadful impacts of patriarchy and the hardships of diaspora.
"Sharp, smart, and gloriously extra", is how author Nancy Jooyoun Kim (The Last Story of Mina Lee) describes Huynh's book, and we can't come up with a more accurate description. We hope you read along with us and check back mid-Oct for our interview with Huynh.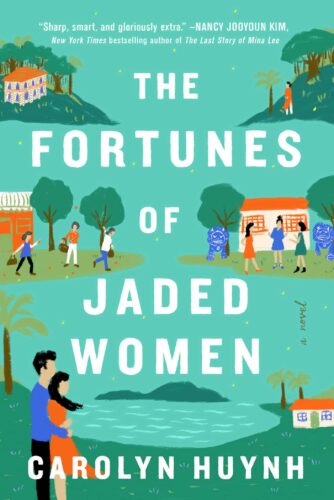 The Synopsis:
Everyone in Orange County's Little Saigon knew that the Duong sisters were cursed.
It started with their ancestor, Oanh, who dared to leave her marriage for true love—so a fearsome Vietnamese witch cursed Oanh and her descendants so that they would never find love or happiness, and the Duong women would give birth to daughters, never sons.​
Oanh's current descendant Mai Nguyen knows this curse well. She's divorced, and after an explosive disagreement a decade ago, she's estranged from her younger sisters, Minh Pham (the middle and the mediator) and Khuyen Lam (the youngest who swears she just runs humble coffee shops and nail salons, not Little Saigon's underground). Though Mai's three adult daughters, Priscilla, Thuy, and Thao, are successful in their careers (one of them is John Cho's dermatologist!), the same can't be said for their love lives. Mai is convinced they might drive her to an early grave.
Desperate for guidance, she consults Auntie Hua, her trusted psychic in Hawaii, who delivers an unexpected prediction: this year, her family will witness a marriage, a funeral, and the birth of a son. This prophecy will reunite estranged mothers, daughters, aunts, and cousins—for better or for worse.
A multi-narrative novel brimming with levity and candor, The Fortunes of Jaded Women is about mourning, meddling, celebrating, and healing together as a family. It shows how Vietnamese women emerge victorious, even if the world is against them.
Shedoesthecity's #BooksMakeLifeBetter book club is all about exploring different styles and genres and introducing you to authors we think you'll love. Every month we're reading something completely different from the last, and each book opens our eyes to new perspectives and ideas. Last month we read Debra Thompson's heartfelt and informative memoir The Long Road Home: On Blackness and Belonging. During the summer we devoured Jamie Ford's gripping speculative fiction novel The Many Daughters of Afong Moy, Akwaeke Emezi's deeply emotional love story, You Made a Fool of Death with Your Beauty and Lizzie Pook's historical fiction novel, Moonlight and the Pearler's Daughter.
The great variety in titles and styles pushes us in different directions and challenges us to become more voracious readers, and it's what makes our book club special! Read with us.