Get in the spirit early: SDTC faves the Good Lovelies will be be celebrating the release of their brand new Christmas album, Evergreen, at a show at Danforth Music Hall on Tuesday, December 17th.
The album features a cover of the Beach Boys classic "Little Saint Nick", three new originals, and an amazing collection of traditional songs such as "O Holy Night" and "Please Come Home For Christmas". As a special bonus, a portion of each album sale will go toward planting trees in the "Good Lovelies Forest," near Burks Falls, ON.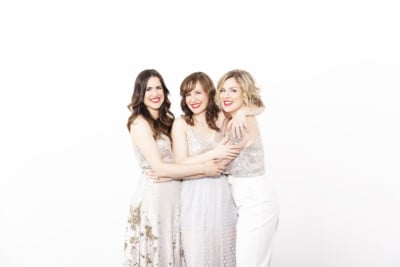 We chatted with the band this week.
SDTC: Looking back, what's your fave holiday memory?
Sue: As a band, there have been many holiday highlights over the years. Touring with the Vinyl Cafe's Christmas show in 2013 was a big one for sure. I'll also never forget our bass player in 2010, Ben Whiteley, rejoining us on stage during an encore in a full-body, fully lit (and blinking) Christmas tree costume he'd found backstage, grinning ear to ear. We were attempting to set a mood for Gordon Lightfoot's Song For a Winter's Night in that moment – he looked so ridiculous, it was hard to keep it together… so we didn't.
What holiday traditions do you like to keep alive in your own home?
Caroline: My family and I live in midtown Toronto, and literally walk to the corner store to get our Christmas Tree – it's really special, having my better half carry our Christmas tree home from just a block away. We put on Elf while we decorate the tree (all time favourite Christmas movie), and then rearrange the decorations after the kids are asleep, ha!
Sue: My family still gets a tree from the same tree farm I did when I was a kid – it's fun to watch my son grow up with that same tradition. I have also just revived a childhood tradition of burning an advent calendar candle through December – this one had a rocky start when we accidentally burned through Dec.3rd on Nov.23rd though!
What's your fave song from your holiday album, and why?
Sue: Impossible to answer! We love all these songs, which is why they all made the cut. I love all the layers our band and guests brought to the table, and I wish we could bring the whole gang on the road!
Fave holiday song ever? Which version?
Caroline: I adore Silent Night. Not one particular version, mostly Silent Night as a singalong with people. It's such a beautiful hymn, and conjures up midnight mass for me – the mystery and magic shrouded in incense. We'd also sing this song caroling as children with my family and every time I sing it I am transported back to my childhood.
Sue: Every year, I sit down at the piano to play through my favourite arrangement of The Christmas Song. It's a favourite, and a tradition for me – the season never feels complete until I've played that song.
What is your plan for the holidays this year?
Sue: Family, friends, fireplaces, food, and if I'm lucky, a few sleep-ins. It's going to be wonderful.