Krysta Oben and Nicole Campbell are the women behind Grape Witches, the friendly Toronto coven that savours all things WINE. Through monthly events, education sessions, and into-the-night dance parties, they're re-mystifying the wine-drinking experience, one bottle at a time.
We chatted with them about how they got started, their current fave summer sippers, and why the time is ripe for Grape Witches to make their mark.
SDTC: How did you two meet and what prompted you to join forces and start Grape Witches?
GW: We met a century ago! Krysta was buying wine for a lovely little Parkdale restaurant (RIP Geraldine). Nicole sauntered in, a green and extremely eager wine agent. We worked together but didn't fall in love until many years later. Meanwhile, Krysta worked at some of the best restaurants across the city. Nicole moved to Vancouver to enter a buying role for her agency and completed her WSET Diploma in wine and spirits. In this time, we both fell deeply in love with weird and wonderful natural wine.
When Nicole moved back to Toronto just over two years ago, we became fast friends. We both went to the RAW fair in New York, one of the world's most exciting natural wine fairs. Krysta lured Nicole to the lower east side very late at night. We shared many bottles of wine with Krysta's non-wine industry friend and lamented how so many of our cool, thoughtful, creative friends drink such terrible wines–not because they want to, but because there are so many barriers!
We founded Grape Witches to help nice, non-industry people connect with some of the most thrilling natural wine producers that sommeliers around the world are hoarding in their cellars.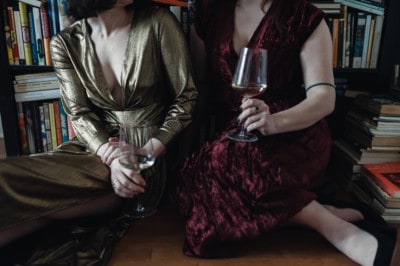 What was the most transcendent wine you ever experienced? Please describe.
Whoa! This is hard. One of the most special was visiting Francois St-Lo in the Loire Valley. Francois is a cute little bb winemaker–he is maybe twenty-eight!–who started the equivalent of a natural wine punk commune after interning with one of the region's heroes. He took over an abandoned cave (the middle Loire is full of these incredible caves as the soft limestone was dug out to make the region's equally impressive castles) and restored it with a bunch of his friends.
We rolled up on a freezing spring day to a bunch of dogs and scruffy-looking people in leather jackets with wine-stained hands who were the most generous and kind. We tasted powerful elixirs and were blown away by how alive the wines tasted, how special and evocative the place felt, how wine can be this huge force of creation and good. We left that appointment buzzing with this desire to make. We have been trying to get his wines to Canada ever since and think it might finally happen almost two years and two visits later!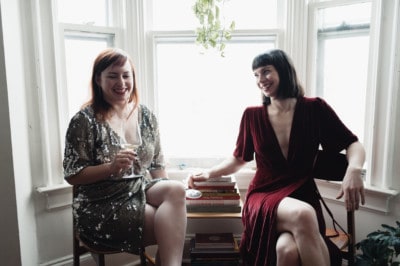 Why is the time ripe for Grape Witches to thrive in Toronto?
It has honestly been the most gratifying and exciting project to work on. The time feels ripe for Grape Witches for so many reasons.
1. There is so much great wine available! It used to be nearly impossible to get the bottles we obsessed over in New York, London and Paris in Ontario. More and more great wines make it to Toronto–in small quantities–and it is so exciting to share them.
2. People are open-minded! It was not long ago that wine lists all looked the same (Italian Pinot Grigio, California Chardonnay, Argentinian Malbec, Chilean Merlot). Now wine lists are full of native grapes and interesting experiments from all corners of the world. People are open to try new things, challenge their palates and no longer need to stick their preferences in a box.
3. People want to be connected with the people who make their thing! Whether it is the clothes you wear, the candles you burn, the produce you buy, or where you do your Pilates, it feels good to support small businesses. Wine is so connected to the people who make it. It's not enough to have a great wine: we want to love the maker and be proud to support them.
4. People care about their health and want less additives! Commercially made wine can have a ton of additives to keep them consistent and smooth (see: sweet). In the same way that eating pizza in Rome will feel better in your body than a defrosted pie from Shopper's Drug Mart, real wine feels better in your body. This isn't to hate on frozen pizza! Artisanal anything costs more and isn't always a possibility, but what is important is to be able to make that choice. Right now label requirements do not require additives listed and MASSIVE winers co-opt the language of small wineries. This sucks! Unfortunately, the only way to really know a producer is to ask and learn. Happily, there have never been more great small producers on lists and even at the LCBO.
5. Most importantly, this wine tastes WAY BETTER! We often compare it to having a fresh strawberry you found growing wild in a backyard vs. a Metro strawberry in mid-February. They are the same fruit technicallyyyyyyy, but one is an etherial gift from the heavens and the other will do in your cereal. Natural wines have a liveliness. One of our favourite producers describes it simply as this: whatever you put in your body either gives you energy or takes it away. When you drink a wine you know immediately if it gives you energy (thrilling party juice! lifted acidity! lower alcohol! balance!) or takes it away (heavy, hangover-inducing, high alcohol).
6. We can't leave out community. There are tons of ways to connect online, but often that feels like not connecting at all. Wine is a space that traditionally has been super male-dominated or featuring very large-production wine sponsored by marketing companies directed at young people (#sponsoredcontent #lol). We want to create safe spaces for everyone to feel extremely comfortable drinking super nice wine with great vibes, music and lots of silliness.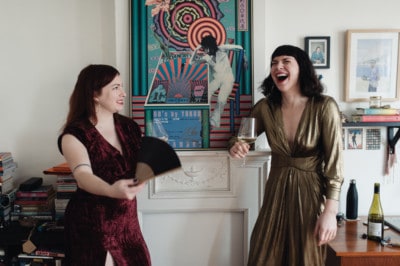 What are you hearing from the women that come to your events? What do you hope they'll take away from the experience?
We get a lot of questions from men if "warlocks" are allowed (lol stop), and DUH YES, everyone is completely welcome, but one of our pillars was making a space that felt very comfortable for women.
Traditionally, hospitality has been a very male-dominated space (we can't tell you how often Krysta has been asked at past restaurant jobs by a guest if they [he] can speak to the REAL sommelier). We wanted to offer something different. At traditional tastings, people are dressed up, there are white tablecloths, there are technical sheets with information that means nothing to the average person. We wanted to wear wild patterns, deck the halls in velvet, pour wine into anything and not take ourselves too seriously, all while championing some of the best wines in the world.
We want people to have a lot of fun, taste delicious things, learn that wine is not at all scary, and get a better idea of what they love so they can feel super empowered finding awesome things when we aren't around.
For our main parties, we want people to learn about wine but also have fun! Dance! Meet new people! Be in a really safe space and think, "I'm so glad I went out. Wow!" Sometimes we will have chill and wonderful evenings (on July 2 we are doing a full takeover of Paris Paris!) and other times we will put on wild raves. We've done a 90s MuchMusic video dance party, a bowling event and have a boat party coming up in late August #GrapeWitchesoftheCaribbean.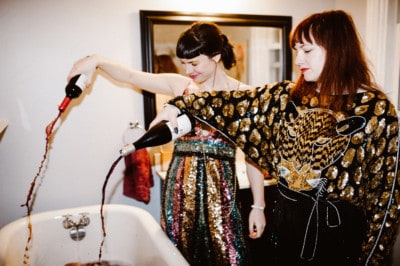 Current fave wine for sipping in Trinity Bellwoods at dusk?
This is a thing we do often and with love. In the day, we love fresh whites, sparkling anything, rosé all over our bodies and our blankets (sometimes you spill!), but early evening is a nice transition time to a cold red. All reds taste better after thirty minutes in the fridge, but some are made for sunset IG stories surrounded by everyone you will ever match with on Bumble.
We love a light, lower alcohol red that will increase your thirst and vitality for the evening ahead. We recommend Gamay, Pinot, Mencia, Frappato, Cinsault, Trousseau, Pelaverga or Pais.
Current fave wine for front porch hangs?
A large carafe of Vinho Verde. Vinho Verde is cheap, low alcohol and even the large-production ones taste great. It is fresh as hell and can be shared with joy over long hours.
Current fave wine for fireside dance rituals?
Orange wine FOR SURE. Orange wine is white wine that is left soaking in its skins. The wines develop texture and tannin and super savoury flavours with this lifted fruit and floral element. We often describe it as dank pond water that you drink out of desperation and then it changes your life. Let's call it your dank natty wine AHA Moment. 🙂
These wines are challenging, change in your glass, last for a long time open, and stay salty and persistent on your tongue as you dance around the fire, engaged in the breath of fire while letting go of all that does not serve you.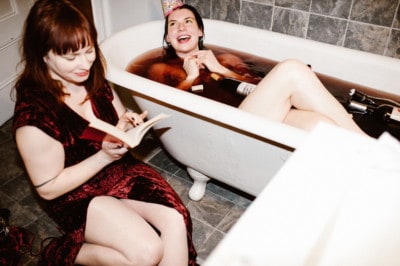 Any wine-related secrets that you wish more people knew about?
Great wine doesn't need to be expensive. Yes, small-production anything costs more, but for $25 at the LCBO or about $60 in a restaurant you can have a real wine made in a real place.
Wine doesn't need to be precious! Fancy decanters and glasses are not necessary. Milk jugs and IKEA glasses work just fine.
Don't be afraid to ask! Sommeliers and people in independent wine shops are there to help you. Tell them what you like, your budget and that you'd like to find something new. For less money, you can find a more exciting wine (Gruner and a Touriga Nacional plz!).
What has been the most gratifying aspect of Grape Witches, for you personally?
Sharing what we love the most about our industry. Having an outlet for our wild ideas. Connecting with this exciting community. Dreaming up new ways to grow every day.