I used to watch the Sound of Music every New Year's Eve. My godparents would come over, and while the adults were playing euchre upstairs, my sister and I would curl up in the basement and watch the Von Trapp kids parade around the alps.
My parents have long since sold that house and none of the adults in question are still together, but the safe and secure feeling of those movie nights will stay with me forever. Some childhood memories are just like that, and the Sound of Music is one of the most universal.  And now, the Lower Ossington Theatre is bringing those memories to life with a production of The Sound of Music at the Randolph Theatre (736 Bathurst St.). When I got tickets to the show for myself and a friend, my boyfriend demanded I get one for him, too. The Sound of Music is for everybody. On until May 3rd, this production will remind you why you love it.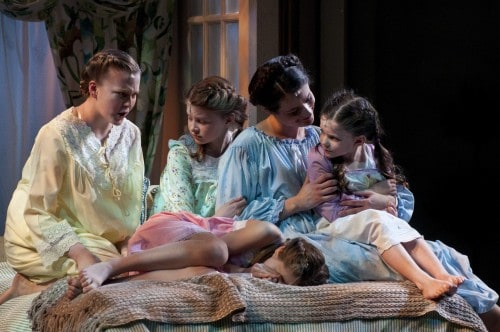 LOT's production illuminates a theme my childhood self could understand only understand viscerally: the importance of place. The characters emphasize that so much of their connection to one another, and their ability to escape, comes from their connection to the mountain they all grew up on. We remember Captain Von Trapp's loyalty to Austria, but this production explores that theme in a much more poignant way. It's less about nationalism and more about something all of us can relate to: What does home mean and how does that change?
With top-notch performances (our committee is still torn on whether Liesl or Captain Von Trapp steals the show—please enter your votes below) this show is about more than the nostalgia. If you're a Sound of Music fan, you don't want to miss it. Just make sure you ask EVERYONE you know if they want tickets—because they probably do.
On until May 3rd. Buy tickets here.