Like so many North American women, Kelly Fremon Craig was a curious pre-teen when she first read Judy Blume's Are You There God? It's Me, Margaret. The impact was life-changing. "Like Margaret, I was also a late bloomer. I was praying for boobs. It was nice to see that somebody out there was feeling all the things that I was feeling," the writer and director tells me. "I felt like I was looking in the mirror, which at that age I really needed."
First published in 1970, Blume's novel daringly and directly confronts the many thoughts and questions that young girls have, without judgment, shame, or pretense. Told through the fresh eyes of 11-year-old Margaret Simon, Blume gave young people permission and language to talk about their concerns, anxieties and ever-changing bodies. She addressed big life questions, like what is the purpose of religion? What does it mean to be Jewish or Christian? Margaret's explorations of these subjects and her search for belonging encouraged readers to also question who they were, and gave them space to figure that out.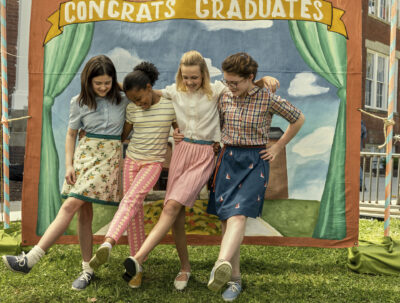 Blume didn't shy away from taboo subjects like periods, pubic hair, and body odour. At that time, to publish a book about a group of girls on the cusp of puberty was courageous, but Fremon Craig believes it's not what Blume chose to write about, but how she writes that best demonstrates her brave spirit. "She writes with such honesty. And I think there's bravery in that, in telling the truth, and not holding back on any of the embarrassing unsayable details. There's a lot we don't talk about, but she says it all! Seeing those details is very reassuring as a reader. That specificity makes me feel seen."
The book was warmly embraced by countless young readers, who appreciated seeing the very things that were going through their heads laid out plainly and sincerely on the page—helping to wash away any feelings of shame imposed by their parents, teachers, or society at large. The novel was affirming, reassuring, and made kids feel less alone. But not everyone appreciated Blume's candour; the book was banned in numerous conservative schools and libraries. In 2023, over fifty years after publication, Are You There God? It's Me, Margaret remains to be a book that intolerant individuals and groups condemn. Blume recently spoke to The Guardian about how there is currently a book-banning epidemic, describing the situation as "much worse" than previous decades.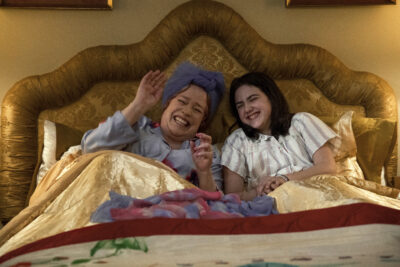 This is one of the reasons that the book remains timely, urgent even, but the story is also timeless. "It feels like something we can all relate to. No matter what decade you were born in, this is something that we've all gone through," says Fremon Craig, who wanted to ensure that timelessness quality was evident in all aspects of the film, while staying true to 1970, where the story is set. It was a difficult balance to strike for both Set Designer Steve Saklad and Costume Designer Ann Roth. But both nailed the assignment gloriously.
Melissa Kostenbauder also deserves an award for the brilliant casting. Kathy Bates and Rachel McAdams give knockout performances as Margaret's determined and doting Jewish grandma (Bates), and liberal—artsy—atheist mom Barbara (McAdams). But it's young Abby Ryder Fortson, as Margaret, that will truly wow audiences. Fremon Craig divulges that as soon as she met Fortson, she "instantly knew" they'd found Margaret. "She walked through the door and she was so relatable and so rootable, there is something about the subtlety of her acting and what she can convey through just the tiniest facial expression that knocked me out. Margaret is a more internal character, in the friend group she sort of hangs back and she has feelings but doesn't say a ton, so a lot needed to read on her face, and she was able to do that. And she's also really funny."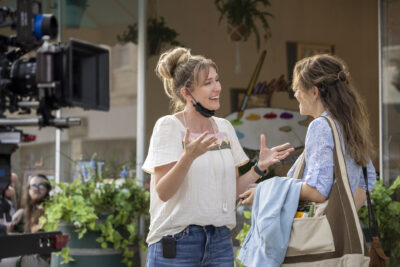 As far as adaptations go, Are You There God? It's Me, Margaret is as close as one can get to perfection. To take on what could arguably be considered the most influential book for girls in the last 100 years, is an enormous task. As a diehard Blume fan, Fremon Craig—who wrote the award-winning coming-of-age blockbuster hit The Edge of Seventeen—was over the moon to write the screenplay and direct the film, but admits that taking on the project came with a huge amount of pressure, especially since, for so long, Blume wouldn't let anyone near it. "She was thinking about opening up her other titles to be adapted but not this one, and I think it's because it meant so much to her, and it meant so much to so many people. I think she was worried about somebody messing it up."
The first few weeks of writing were difficult for Fremon Craig. "I felt like I wasn't alone," she says, describing how the presence of Blume, and her millions of fans, crowded her headspace and felt "paralyzing". She understood the big expectations and didn't want to let anyone down. "I had to gently clear everyone out of the room and just get out of my own way, which was its own process."
The "room" where Fremon Craig wrote was sometimes at home, but for certain binge-writing periods, she'd check herself into a hotel room, breaking only for room service."I generally keep banker's hours except that sometimes I go into phases where I just sleep, breathe and eat it… where I'm just writing for 16 hours a day."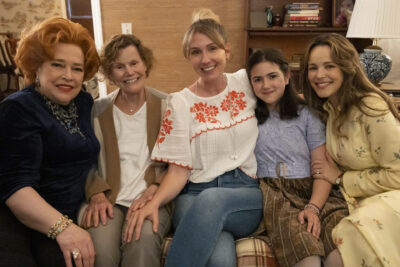 The dedication and love that Fremon Craig put towards Are You There, God? It's Me, Margaret is evident in every line of dialogue, and every frame of the film. She was the right person to tackle this enormous project, and fans everywhere will be grateful once they see what she's achieved. "I wanted the film to make people feel the way the book made them feel. That is to say, less alone. Understood. That's the magic of Judy Blume."