Growing up, my mama frequently told me that you should always get a good night's sleep and wear comfortable shoes. In case you're wondering, I've taken her advice mostly to heart and have a pretty impressive collection of comfy, yet stylish, oxfords to show for it.
Getting older and less active (yoga, you're now a distant memory), I had issues getting a restful sleep. Though I'm by no means an insomniac, I'd find myself waking up from aches and pains during the night. And don't even get me started on Bennie and Junior (our chihuahuas), who like to switch up their sleeping arrangements at least four times a night, all on my side of the bed, of course.
For my beefy life partner, the issues were different. He would overheat during the night after a long day of hard work in film set construction, and his getting up would frequently wake me. But we went about our busy lives and accepted our crummy sleep patterns.
It took a fateful decision and three days to realize just how wrong I was about all this. Our Fleep mattress and pillows arrived less than a week ago and so much has changed already.
The idea of switching mattresses seemed daunting to me. Where do you put the old one – just on the curb out front? Will it be a hassle to get this big thing into my bedroom with re-arranging hallways and negotiating stairs? (Much thanks for the two-month-long elevator repairs, building management.)
Luckily, the Fleep mattress arrived vacuum-sealed in a 1×4 cardboard box, which I could move around by myself with ease. Once the plastic was removed, the mattress expanded the rest of the way – SO easy!
After testing the soft side for a night we decided to try out the firm side the next, which is proving to be the right amount of firmness and cushioning for us. I'm feeling more rested every morning, and my partner's overheating seems to be a thing of the past. Here are the benefits of the two sides:
Fleep's firm side (market by plus signs) provides support for your whole bod all night long by:
Immediately springing back to original shape
Absorbing movement
Staying cool
Supporting your spine
Preventing back pain
Fleep's soft side (marked by minus signs) provides cozy comfort by:
Molding to the contours of your body throughout the night
Absorbing movement
Staying cool
Facilitating blood circulation
Helping you to relax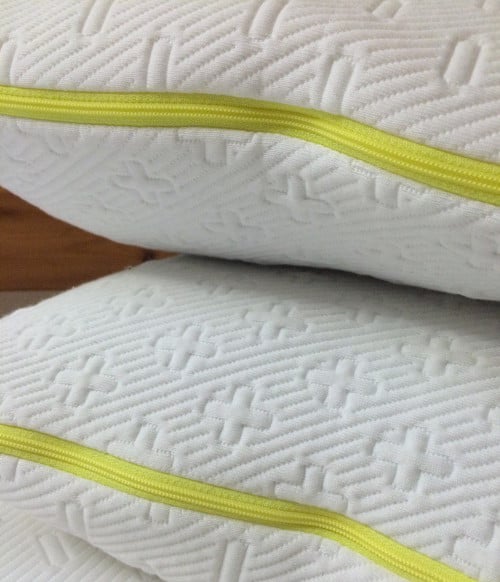 The pillows are a dream and use the same technology as the mattress. They're a bit more voluminous than I'm used to, but mold perfectly and instantly to my neck and head. The last few mornings I've woken up to find our chihuahuas draped over the edges – they've always had good taste.
Available online, the Fleep is made from 100% QC/Canadian materials and has a unique trial period of 111 nights and 10 years warranty. Delivery is also FREE.
As much I as I try not to admit it, it seems every year another bit of my mama's advice reveals to be accurate. I'm just glad I didn't get to this one too late.