After two years of construction, the doors to the grand new 28,700-square-foot Second City Toronto space at One York Street are now open. Comedians, writers, and comedy lovers gathered this past week for one helluva party, complete with a dramatic red ribbon cutting ceremony to officially welcome the next era of the longstanding institution. It was rowdy, it was zany, and full of the raucous laughter that Second City is best known for.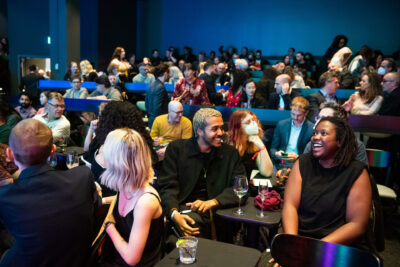 For decades, Second City has been churning out some of the world's top comedians. Notable alumni include Tina Fey, Eugene Levy, Andrea Martin, Mike Myers, Catherine O'Hara, Amy Poehler, and the late great John Belushi, John Candy, Chris Farley and Gilda Radner… to name a few (there are so many).
Matt Baram, Eric Bauza, Aurora Browne, Emma Hunter, Andrew Phung, Kris Siddiqi, Naomi Snieckus, and Kris Siddiqi were some of the beloved local comedians in attendance, and guests were treated to a side-splitting improv show by the current mainstage ensemble.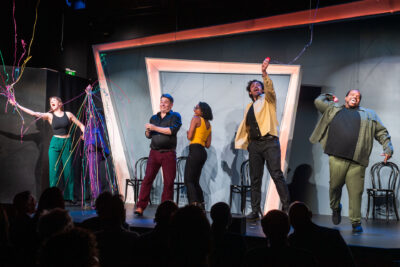 Laughter is always a good idea, especially during the holiday season, which can be fraught with various stresses and pressures. The Second City programming this December is bound to lighten things up with smart and outrageous comedy.
Here's what's on offer:
Thursdays at 8pm; Fridays at 8pm; Saturdays at 5pm & 8pm; Sundays at 7:30pm
The Second City's Jingle Bell Ruckus delivers a heaping serving of seasonal satire that's the perfect alternative to those same old holiday shows. Nothing's off-limits: holiday film classics, family gatherings, beloved Christmas carols, and of course all things wickedly funny about winter get a seasonal skewering in this fast-paced, interactive, original comedy revue filled with style, wit, and plenty of that famous (and festive) Second City improv!
The Second City's Guide to Surviving the Holidays
Mondays at 8pm; Saturdays & Sundays at 4pm
We guarantee yule laugh a whole latke as The Second City unwraps the most wonderful time of the year in our nut-cracking-est, jingle-bell-ing-est revue ever! Celebrate over sixty years of sketches, songs, and comedic conviviality as the next generation of comedy superstars perform our greatest holiday hits. Plus, The Second City's famous improvisation means every show is like a snowflake: no two are alike … or are impervious to climate change.
Sundays at noon
From uproarious laughter to limitless libations, The Second City's Holiday Improv Brunch is the gift that keeps on giving! For 3 weekends only, bring your band of merrymakers as we scramble together two of everyone's favourites, comedy and brunch, for a scrumptiously seasonal breakfast with a totally improvised experience from the city's finest. Whether you side on the Naughty or the Nice List, come enjoy mimosas…we don't judge.
The Second City Mainstage – Home Sweet New Home
Tuesdays – Thursdays at 8pm; Fridays – Saturdays at 7pm & 10pm; Sundays at 7pm
There's no place like The Second City Toronto! We welcome one and all to our brand-spankin'-new, state-of-the-art comedy complex. Make yourself at home as you take in our cast of top Toronto talent hilariously taking on everything from awkward first dates to game nights gone wrong to gender reveals to the freakin' multiverse. From improv games to classic sketches to sizzling satire, this interactive experience is the perfect way to welcome you all to The Second City's Home Sweet New Home … where we'll make you feel like family (but just the kind we actually like).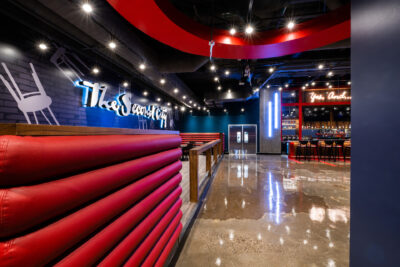 If your 2023 goals include getting outside of your comfort zone and trying new things, you should check out Second City's impressive roster of courses and workshops. They've got everything from beginner's improv to sketch comedy writing to voiceover acting, and more.