We love a good art story, and Jorian Charlton's massive piece, Untitled, in Toronto's Financial District is a terrific one, for numerous reasons.
The artist, who specializes in photography that fuses beauty, culture, and fashion with Black representation, had no intention of disrupting Bay Street with a powerful portrait, she was simply doing what she always does: experimenting with local creatives she admires.
"It wasn't a big production, it was shot during Covid. A small team came together, and we just organized everything on Instagram," says Jorian, who was juggling our call with nursing her newborn. "We couldn't find anywhere to shoot, so I said 'Let's just use my living room.'" Working with Designer Gorm Garms and Stylist Georgia Groom, the project came together spontaneously… casually, birthed from a desire to do something creative.
A few weeks later, she got an email from What We Like, an organization that is creating more opportunities for emerging BIPOC artists. They asked if Jorian wanted to submit an image to be considered for an outdoor exhibition, so she submitted the photo, not thinking too much of it.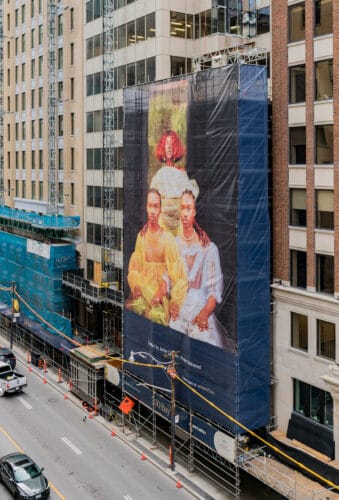 The team at Dream Unlimited, selected Jorian's striking piece and wanted to blow it up to cover the facade of the building. What started as a group of creatives experimenting in an apartment is now a massive installation that interrupts the blocks occupied by legal firms, brokerage houses, and big banks.
"It feels exciting to be noticed, especially since I've been doing photography for a long time. It was totally unexpected," says Jorian, who felt a mix of elation, shock, and overwhelm.
Jorian studied photography at Sheridan College, and the path to where she is now wasn't a direct one. "I didn't come from an art background at all. Starting photography at Sheridan was like my third time starting over. For the first two years I felt super out of place," she says, adding that it was the encouragement of a couple teachers that made all the difference.
Like so many of us, it took Jorian time to find her calling, and even though she sometimes doubted herself along the way, she knew photography was her passion. "Photos are how I express myself."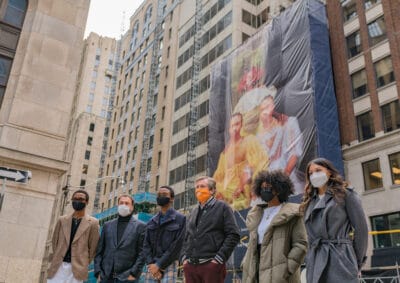 Jorian's piece has made such an impact, that the AGO reached out to her for an interview. For an artist who once doubted their capabilities, she's come a long way and has advice for those currently lacking confidence, or feeling defeated by the industry, "It sounds super cliché, but just to keep going."
Jorian's piece, Untitled, is part of ArtworxTO Year of Public Art. It's impressive as a photo and magnificent to see in person. Take a walk to Bay and Adelaide to see for yourself, and follow Jorian on Instagram.