Toronto-based Naomi M. Moyer is a self-taught multidisciplinary artist and writer. She has just released Black Women Who Dared, a picture book about radical (and magical) Black women in the North American diaspora. The book is filled with Moyer's own illustrations, each of which tell a story about the powerful women they depict.
We asked Moyer about the project this week.
SDTC: Can you tell us about yourself?
NMM: This is a hard question to answer without it sounding like a dating site profile or like a first date! I am a mother to a lovely and fierce little twenty-month-old. I am slowly trying to re-ground myself into who I am. Simple things give me pleasure, but I am far from being a simple person. I am really, really in my head a lot, which is great for creativity. I am a big dreamer and lover but am also super critical and worry way too much. I am still on the path of healing.
What does your perfect day look like?
A perfect day would be to wake up in bed with my family and cuddle and talk about our dreams, then eat a hearty breakfast while listening to some music, go for a wet hike somewhere in B.C., then swim in the Caribbean ocean, tend to my herb garden, walk in a bustling city full of Black people, and stumble upon a block party, where we dance and organize a revolution, eat some Mexican street food, have sashimi, do some research on Black history, write, take some pictures, paint and sketch, sauna and steam, sexy time, read, then fall asleep holding my daughter.
As a self-taught artist and writer, what have been your biggest influences? When did you realize you wanted to do this for a living?
I say Black people are my biggest influences, and so many things inspire me on a daily basis—anything to my daughter, to the kind woman who collects bottles from everyone's trash in our neighbourhood, to nature. I woke up one day in 2015 and thought that if I didn't start listening to my ideas and seeing them into fruition, then what was the point of dreaming?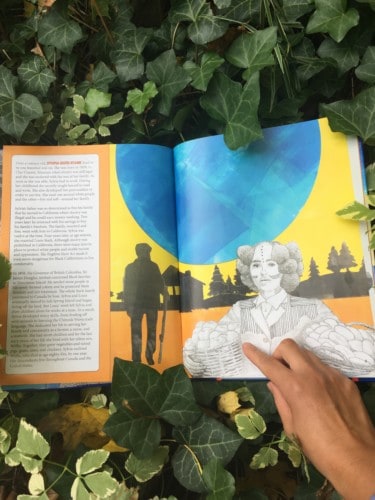 Tell me how Black Women Who Dared evolved into a book; this was a series of your illustrations to begin with, correct?
Yes, in 2015 I created a mixed-media series focusing on radical Black women–women who you normally don't hear about in the mainstream, unsung heroines. I like to call the art a mix between a People's History Poster and an art print, because each print has a little bio.
My art had some good media attention and got into the hands of Margie, the co-founder and publisher of Second Story Press. Margie gave me a call in early summer 2017 and asked me if I would like to have my art used in a children's picture book. In pure excitement, I somehow convinced her I could write the book as well. I had a four- or five-month-old baby at the time and had no idea what I was getting into. There were a few breakdowns, and I almost decided to not do it. Then a friend reminded me I could ask for an extension (insert lit-up lightbulb). The evolution has been epic and surreal, and I am just grateful.
How did you come to select the women featured in your book?
Seven of my art prints, which I created in 2015, were already chosen to be part of the book, and I was asked to make three more to round it to ten bios for the book.
When doing the research for my art prints, I was a bit selfish because I wanted to learn about women who I knew nothing about. Often Black histories focus on status and power or how Black folks assimilated. I wanted to take the lens and refocus on histories that involve women who are often the roux holding communities together. I wanted to celebrate people who really love other Black people and did anything and everything to empower their own people.
It was also very important for me to not just focus on individuals, but also collectives started by women. After all, we never really do anything ourselves and I find centring just one person can, at times, be problematic.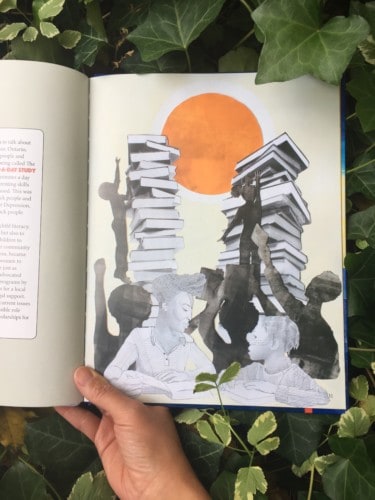 Which woman stands out to you the most? Why?
I am not a favourites kind of person. Each story is so amazing and engaging. If I had to pick, I would choose The Coloured Women's Club. The story is just unbelievable. They provided services where the Canadian government lacked (food, clothing, shelter, childcare, healthcare, to name a few). This group is still active, providing scholarships for Black students. They have been around for over 100 years!
What are your fave children's books?
Wow, the children's books that are coming out these days provide some stiff competition to what I was reading as a child. I have a twenty-month-old and we absolutely love reading together.
One of the most beautiful books out there right now, in my humble opinion, is called Julian Is a Mermaid. The illustrations are gorgeous and the story is so special. I really love any book by author and illustrator Ezra Jack Keats; simple stories and stunning collage work.
I also kinda fell in love with That is My Dream, a picture book of Langston Hughes's poem "Dream Variations." I also think Nikki McClure's illustrations are pretty amazing. There are so many good children's books out there.
What would you like to see more of in children's books?
I am kind of in love with children's literature right now, but still, it would be nice to see more Black authors and illustrators telling their own stories. Children's books could have some more melanin in general. It is definitely better than ten, twenty, thirty years ago, but still we need more.
Black characters shouldn't always equate Black history, slavery, racism, etc. I want to see more diversified Black characters doing simple everyday stuff, which is why I like Ezra Jack Keats books, but the author and illustrator is white. People need to tell their own stories.
Maybe more books that explore gender, more books that explore abilities, and more books talking about issues that kids may face but don't know how to talk about like unsafe family members, mental health, etc. Oh, and I would love to see more magical realism with lots of kids of colour.
How has becoming a mother shaped your approach to art/writing?
This is a hard question. To create takes time, and motherhood has changed my relationship with time because it is so limited now. I am far from a time-management guru, but being a parent forces you to manage time better as well as appreciate time and use it well.
All of the same ideas that were present pre-baby are still with me post-baby, and I am just as inspired. If anything, motherhood has enhanced my imagination and determination. Becoming a mother has shaped my approach to life in general, and I feel more enriched as a visual artist and writer.
Follow Naomi on Twitter & Instagram. Buy Black Women Who Dared here.