Eighty-nine-year-old feminist Dev Rogers is the co-host (along with Jeremy Pinsly) of The Young & the Weary, a podcast that explores everything from sex and dating to growing up Jewish and surviving breast cancer. Rogers, a former occupational therapist who began her comedy career in her eighties, is candid, whip-smart, and laugh-out-loud funny. Listen to The Young & the Weary here.
SDTC: When you were younger, did you ever think you would be doing so many creative and enterprising things when you were eighty-nine years old? How has your view of what is possible shifted over time?
DR: No. I didn't even think about it at first, but as I've gotten older, I've gotten more hopeful. It took getting diagnosed with breast cancer to feel I had permission to start acting and being funny, and now I'm just grateful to have the opportunities to develop. I didn't even know this world existed. It's amazing.
What is the best thing about growing older? Worst thing?
The best part is, you've got so much experience to learn from. The older you get, the more material for learning, and the more insights to share with other people.
The worst part is that you become more and more limited in what you can do physically. Also, memory is a hell hole. It's gotten thinner and thinner over time, and while it's hard to accept, there's no other choice. I'm not sure if accepting it makes it any easier. So at this age, you might as well be funny.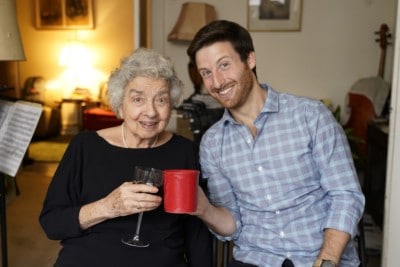 What is your advice to young women? Is there anything in your life you would have done differently?
Be patient. If you care enough about something, take the opportunity to pursue it. No matter what choices you make, you can always learn from your experiences, and every opportunity gives you something new to think about.
As far as what I would change, I think that's a waste of time. You've got enough to absorb right now, never mind looking at the past and thinking, "Oh that was a mistake." Doesn't help.
What do you love about the medium of podcasting? What have you learned through this experience?
It opens up experiences I wouldn't have available otherwise. And It gives me an opportunity to be amusing so other people can find me amusing. I'm delighted to have something to look forward to every Sunday. It's a welcomed experience. The combination of people, food and humour is stimulating.
I haven't a clue what I've learned. I guess that anything is possible in today's world. And you have to know when you're lucky.
What has been your fave Young & the Weary episode to do, and why?
We've only done nine episodes, so it's hard to pick a favourite. Each week I'm discovering something new, and I'm grateful for every experience. I don't see the point in picking favourites when you can enjoy each moment as they happen.
What is one little-known fact about you?
I just started taking singing lessons every other week. I don't feel I've developed enough to sing for other people, but I enjoy trying to develop the skill, and I'm glad I can do it. Even more glad we can pay for it. Right now I'm singing "You Are My Sunshine." It's a challenge to be able to make it happen, but I'm glad to have the challenge. Singing opens up the world.
What is the funniest thing that ever happened to you?
When you've lived eighty-nine years, it's hard to pick a funniest moment. But the funniest recent moment recently is when Bruce, my husband, got angry at me and Jeremy for smoking weed in the apartment. I'm not sure if it was the drugs or the situation, but we couldn't stop laughing.