Wednesday, Sept. 3:
It's the night before TIFF, and all through the house, a girl was massaging kale for a salad and wondering if bathing suit bottoms could be suitable underwear.
I go the Spoke Club around 8:30 for the Young Canadian Filmmakers Party wearing a backpack that weighs more than most of the actresses in the room. I walk by Tatiana Maslany and clam up like the Orphan Black superfan I am. Someone tells me that Jason Priestly is nearby. (I like to think he watches over me like a shepherd in the night.) Mostly I use the occasion to talk to my friends, drink white wine and soak up the Canada North Hollywood experience that is the Spoke Club patio. I leave in under two hours. As I walk home, I see Don McKellar and a crew of women walking towards the Thompson Hotel. I should follow them, but instead I go to McDonalds alone.
Thursday, Sept. 4:
It's the actual first day of the festival! I send a lot of emails and do nothing until 5 pm when I scam my way into Clouds of Sils Maria. As Juliet Binoche and Kristen Stewart debate how to read a text as an actress and dissect the meaning of art and life (the film is very French), I truly feel like I am in my happy place. Later I will tweet "I want to be Kristen Stewart in Clouds of Sils Maria when I grow up." And like, 40 tweens will retweet it.
After the screening I run into Montreal filmmaker Mark Slutsky, Goon DP Bobby Shore and director Sean Wainsteim and we get Indian food. Mark walks me to Tim Hortons so I can use their wifi (glamorous!) and I write up my interview with We Were Wolves director Jordan Canning. Mostly I am killing time. My friend Hiroko is a film buyer in Japan and she gets me a free ticket to the Midnight Madness screening of Tokyo Tribe. It's a ridiculous hip-hop musical (one could say a "hip-hopera", remember those?) entirely in Japanese that mixes elements of kung fu, Kill Bill-ish sex and violence and a gangsta rap video aesthetic. I treasure Midnight Madness, but occasionally pick up horrible wafts of B.O. from the crowd that distracts me from the screening. I have no idea how to solve this problem except for maybe an industrial-sized Febreeze.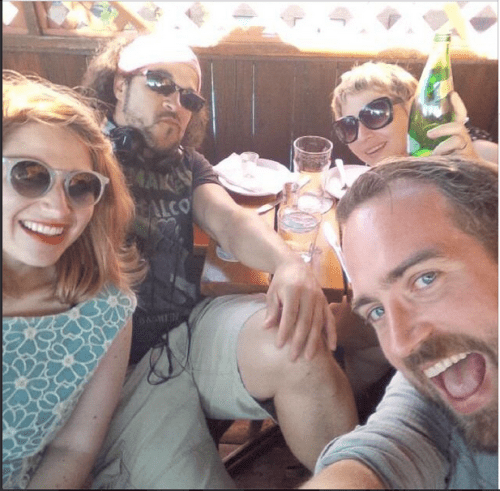 Friday, Sept. 5:
I'm scheduled to meet a CBC reporter to do an interview about "How to TIFF" at 3:10. I make it there at 3:08. There's been a miscommunication, and I'm supposed to be on the air at 3:10. Breathing heavily after a run from the subway, I give advice: "See movies… go with the flow… pretend you're Harvey Weinstein's assistant to get into parties…" I am not a genius.
Outside the Lightbox there's a random rush line and I inquire what it's for. It turns out it's for the Bill Murray Day screening of Ghostbusters! I get the last free ticket and end up sitting in the second row. I thought I'd seen Ghostbusters before, but it turns out I've actually seen Ghostbusters 2, which is way more Zuhl-heavy and confusing. It's an incredible movie in a new 4K resolution and I can see why it set the foundation of modern comedy. ("It's true—this man has no dick.") Bill Murray does the Q&A wearing red pants, with Ghostbusters director Ivan Reitman and the screenwriter of Scrooged in tow. During the Q&A, a fan asks him, "What it's like to be Bill Murray?" Murray asks us all to take a moment to consider what it's like to be ourselves, and to feel the weight of our own body. I am forever changed by this. Somehow, Bill Murray has made it okay for me to be myself. There's a pause after the end of the Q&A and fans rush the stage to get him to sign their tickets and memorabilia. Bill reassures someone about the death of their father with a kindness that is unheard of. I get my Ghostbusters ticket signed by one of the century's greatest humans and leave the theatre feeling dazed.
I try to sneak into a rush screening of Pat Mills' movie Guidance but it's all sold out. Instead me and a few friends (like awesome actress/producer Sarah Kolasky) go to the OMDC party at the Carlu. I drink three beers. I choose to eat a truly horrible mushroom polenta appetizer, so cold and sour and slimy tasting with a weird cream on top. When I leave the party, it's pouring rain in a cinematic way. I walk out with Dirties producer/ music video director Jared Raab and inquire lightly about getting into the Mongrel party, but it's all a bust. I take the streetcar home and eat a frozen pizza listening to the sound of lightly falling rain.
Saturday, Sept. 6:
The biggest day of the festival. I meet my friend, director Virginia Abramovich before her screening of Men Women And Children (the new Jason Reitman movie, hear it's great!). I don't have a pass and feel like huge loser. I haunt the Lightbox to pick up my ticket for the Canadian Film party where I almost consider trying to rush the Danish movie Force Majure. At 12:15 I see the Mia Hansen-Love film Eden. It's a biopic about the Parisian music scene in the mid-'90s and is stacked with an epic soundtrack—Daft Punk, Crystal Waters, Frankie Knuckles, Larry Levan. Greta Gerwig has a small role as an American girl in Paris and the members of Daft Punk are fictionalized as regular guys who can't get into a party without their helmets on.
At home I listen to all the house music from the film and prep for the Armani party at the CN Tower (i.e. I actually shave my legs). I TTC over to the CN Tower and am greeted by a long line of exclusively handsome men wearing suits. This red carpet goes forever, all the way to the elevators and I try not to fall down while walking in heels. The men being paid professionally to notice me smile and say hi. Two say they will go in as my dates. I try to attempt at Simpsons-style "Do you come with the car?"-level flirting, but it doesn't go so well.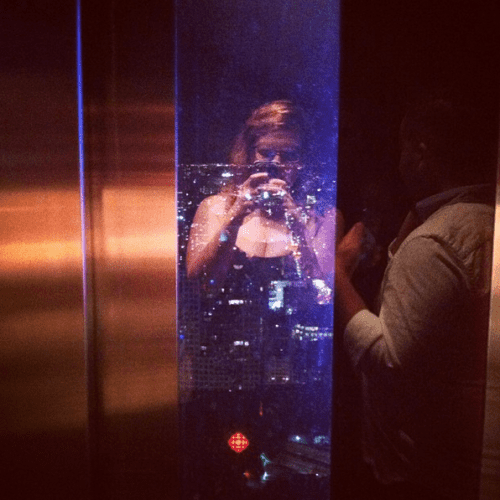 I take a very surreal solo elevator ride up 134 stories of the CN Tower at night and experience supreme vertigo. Inside, the party takes place in the circular bank of the lower observation deck. I teeter along the carpet, passing the same hors-d'ouevres and Canadian celebrities in gowns over and over again. I drink an Aperol cocktail and text my mom that I wish she was here. I find the courage to talk to comedian Nick Kroll who has surrounded himself with the cast of Degrassi: The Next Generation and is talking very animatedly about his favourite episodes. He is very nice and down to earth and remembers my name at the end of our conversation even though he doesn't have to. Go see his film Adult Beginners everyone! PubLIZity for life!
Mark Ronson opens his DJ set with "Valerie" by Amy Winehouse, and later I see Jessica Chastain (who has bangs now) acting out Iggy Azalea's "Fancy" with dramatic hand gestures. Since I'm pretty sure I can die now, I elevator down and again walk the gauntlet of male models. On my way out I shake Laura Dern's hand. She's wearing a beautiful pink dress.
My friend Milda meets me on the "festival street stage" so we can dance to music from Eden. We shimmy up to Mia Hansen-Love and the extremely hot Parisian lead actor from the film and sort of dance near them. They rightfully ignore us. Later her boyfriend, Clouds of Sils Maria director Olivier Assayas, manages to dance and check his iPhone obsessively at the same time.
At midnight, I walk over to the Canadian Party at Simpson's Tower. (I brought an extra change of flats in my purse because I am a fancy businesswoman/cool mom.) There's an ice sculpture in the shape of a video camera (although I can't verify this because I am pretty drunk at this point). I grab a mini bottle of pink champagne and talk to my friend Dylan Reibling, who is doing the TIFF Talent Lab, about his morning session with Mike Leigh and Darren Aronofsky. All of my friends are in this weird room that looks and smells like a bank from the '80s and I'm pretty sure Iggy Azalea's "Fancy" is playing.
Sunday, Sept. 7:
Completely hungover, I sneak into what appears to be a free breakfast buffet before my interview with gamine French filmmaker Hansen-Love. Wearing my sunglasses, I eat three strips of bacon and drink a glass of orange juice before getting a cheque for $30. Because I am a terrible person/secret spy, I sign the check with a pseudonym and charge it to a random room. I am Bill Murray.
Hansen-Love and I have a really thrilling conversation about our respective love for the Coen Brothers' Inside Llewyn Davis, DJing and the movie Showgirls. She is so smart and articulate and has the perfect French accent. Maybe I want to be her when I grow up instead.
I walk over to the Royal York where I am set to do a roundtable with Jean-Marc Valee and Laura Dern for the movie Wild. I'm 30 minutes early so they put me in a hotel room alone. Instead of throwing a TV out the window I watch part of a Mae West/Cary Grant movie and consider taking a bath. Everyone is late. Jean-Marc Vallee plays a Simon and Garfunkel song on his iPhone as six other journalists and I sit in a very awkward silence. Laura Dern is glorious—all California sunshine and positivity, drinking a peppermint tea. The interview is over before everyone can ask her if she's going to appear in Jurassic World.
The subway isn't running so I am forced to skip my beloved CFC barbecue. (I attended their screenwriting program in 2012.) I cry a single tear for Norman Jewison and the pulled pork sandwich I should be eating. Instead, I prep manically for the Mike Leigh roundtable I'm scheduled to do in two hours. I hear he doesn't mince words. I show up at 4 pm and engage in an incredible session with Leigh and his Mr. Turner actors Timothy Spall (who just won the best actor award at Cannes), Marion Bailey and Dorothy Atkinson. We talk about his process and how the actors collaborate and live in his world for months and sometimes years. My friend Eric wants me to ask him why there is so much misery in the world, a theory Leigh's films might justify but the director himself kind of rebuffs. He says he just wants to make films.