You have until March 28th to check out the incredible art at the Workman Arts' Being Scene exhibit.
What makes this show unique is that it features work created by artists with lived experience of mental health and addiction issues who have received services from CAMH. As such, Being Scene always blows open conversation about the relationship between creative expression and our mental wellbeing,; it's a discussion we're very much interested in.
Jenny Chen is one of the many local artists participating and she shares with us how painting has helped her battle depression. For this particular show, she has used watercolours to channel and illustrate the wide range of big emotions brought on by the pandemic, and all the other issues that have come to light because of it.
What did the show's theme 'To Speak Without Speaking' make you want to explore?
The complexity of feelings. The show allowed me to translate that concept through creating a series of watercolour paintings. The paintings include the motif of plants, flowers, vases, snakes and insects. The vases to me have long represented the body, and now the plant fractal patterns refer to the heart (usually placed at the core of the vase) and its extended vines and roots are like the veins and nervous system.
How has the pandemic impacted your creativity?
The pandemic impacted my creativity by keeping me more focused on my practice. Since there were fewer things to do outside of my house, I spent a lot more time in my home studio. As a result, it gave me more time and space to self-reflect. I am fortunate enough to say that the pandemic has helped with the development of my work for those reasons.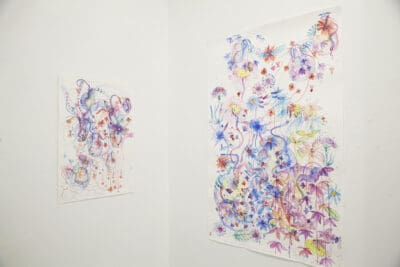 How does art support your mental health?
When I was severely depressed about three years ago, making art was my only outlet. Now that I am doing much better mentally, my creation process remains something that grounds me. It's a way for me to release negative emotions or make sense of feelings I don't understand. I also believe that art is a direct reflection of the artist's inner world. Now that I am doing better well mentally, I see more light and love in my work compared to my earlier work where it was dark and chaotic.
What's a lesson or philosophy that is currently guiding your artistic practice?
My watercolour paintings are hugely influenced by traditional Chinese paintings. Elements I admire from those paintings that I also find in my work are a good sense of balance and bold brush strokes.
The Being Scene virtual exhibit is running until March 28th. Jump in and explore now. To learn more about Jenny Chen's work, head to her website, and follow her on Instagram.