Read on for this week's top Toronto arts events, including a huge fan convention, a weekend of vibrant murals and art, and a full day of $4 movies!
QueerScapes: Art Camp for Grown-ups
Embrace your inner child with an evening of community artmaking. Enjoy paint, drama, tie dye, and many more activities at this queer collective event, promoting self-discovery and social healing. More info here.
When: August 23
Where: Christie Pits Park
View this post on Instagram
FAN EXPO Canada
Join thousands of fans at FAN EXPO Canada to celebrate all things comics, gaming, anime, sci-fi and horror. This fun-filled four-day convention is a must-do for any devoted fan, with panels, meetups, hundreds of retailers, and of course, lots of creative cosplay! Some highlights this year: a Barbie Bash, a Femme Gaming Lounge, celebrity guests including Christina Ricci, and many more. More info here.
When: August 24-27
Where: Metro Toronto Convention Centre
Liisbeth Media Retrospective: Seven Years of Feminist Publishing
Celebrate seven years of the iconic feminist publication Liisbeth with food, live music, drinks, and a walk down memory lane! More info here.
When: August 26
Where: 31 Harlow Crescent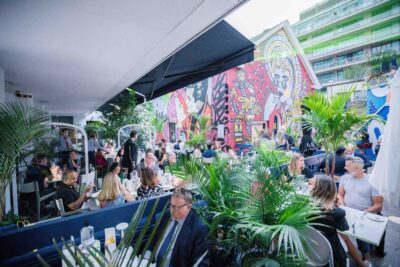 Yorkville Murals
Yorkville Avenue will be transformed into a massive celebration of public art, transforming 50,000 square feet of blank space into captivating murals and eye-catching art installations There will be plenty of other activities to enjoy, all for free, including live painting, art talks, music, dance battles, pop-up shops and an evening block party. More info here.
When: August 26 & 27
Where: Yorkville Avenue, from Bellair Street to Hazelton Avenue
National Cinema Day
Movie lovers can look forward to huge discounts on tickets this weekend, in celebration of National Cinema Day. Tickets for all movies, all formats and all showtimes at participating locations across North America will be available for $4 this Sunday- grab some popcorn and enjoy! More info here.
When: August 27
Where: 3,000 participating locations, including Cineplex and many local independent theatres.
Female Black Excellence in Film: Panel + Networking Event
Celebrate the brilliance of Black women in film with an engaging panel discussion, featuring Sheronna Osbourne (Director), Elle St. Aubyn (Hair and Makeup), and Danielle Green (Costume and Wardrobe). Plus, enjoy a film showcase, and a special musical performance. More info here.
When: August 27
Where: Society Clubhouse