The films, holiday markets, exhibits and other must-do events we want to get on your radar.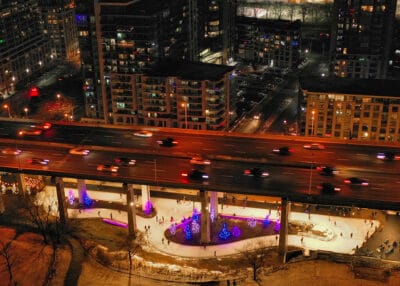 Official Opening of The Bentway Skate Trail
The Bentway Skate Trail's 220-metre figure-eight loop will open for skating on December 18! Skate rentals are available on-site, as well as hot drinks, and free skate lessons for kids aged 6-12 (book now). Alongside skating this year, The Bentway will also present a winter art exhibition by Inuvialuk artist Maureen Gruben, whose work is breathtaking. Lace-up and enjoy this surprisingly beautiful rink!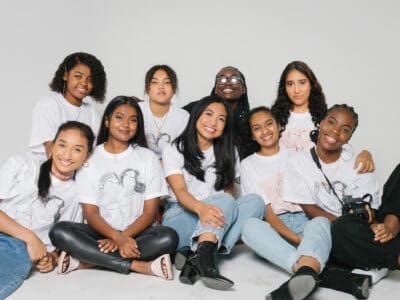 Flaunt It 5-Year Anniversary & Magazine Launch
Join Jane-Finch collective, Flaunt It, for their 5-year anniversary showcase and magazine launch, where we will be celebrating Black, Indigenous, Women of Colour (BIWOC) artists from all across the city.
During this past year, Flaunt It has worked with over 50 artists and organizations to compile a visual anthology that celebrates the stories and artwork of racialized women. Expect live performances, an art gallery, installations, yummy food, music, and fun photo-ops.
Head to Artscape Weston Commons this Saturday (6-10PM). More info here.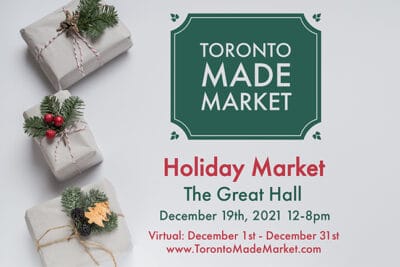 Toronto Made Market
Head to The Great Hall (1087 Queen Street West) this Sunday (12 – 8PM) for the Toronto Made Market! If supporting local makers is important to you, this event boasts 50+ vendors from around the GTA, plus a complimentary hot chocolate bar, special holiday snap booth, and virtual ugly sweater contest. You can also head to the Toronto Made Market online shop, which will be running until December 31st.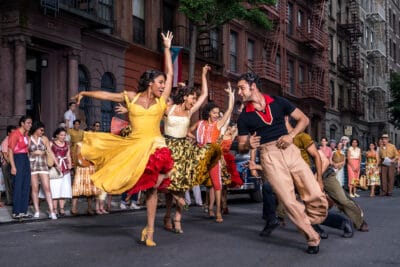 West Side Story at The Cinesphere
All week long West Side Story is playing at Ontario Place's Cinesphere. While critics have panned the film, fans are calling Steven Spielberg's latest, "Spectacular", "Amazing", and "An absolute gem". If you're in the mood for song, dance, and excellent choreography, we think this is a film you should definitely see on the big screen.
Next up? Dune: The Imax Experience is playing January 1st. These tickets will move fast—reserve your spot now.
If you want to add some extra fun, book a campfire! You can even jump across the street to pick up a bundle of firewood and a S'more Kit from Hotel X.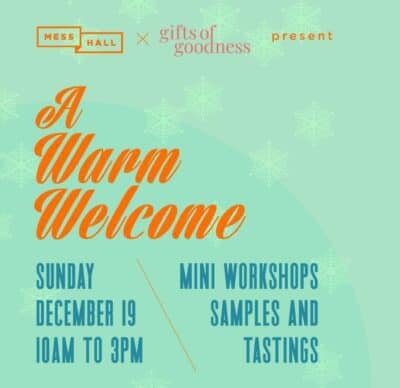 A Warm Welcome Holiday Market
Head to Toronto's east end for a holiday market at The Mess Hall featuring a variety of women-owned food businesses. Enjoy samples, and register to craft holiday sweets in two mini-workshops (open to children too). Anyone who brings a non-perishable food item to donate will receive a cup of hot cocoa. Sounds lovely and yummy. More info here.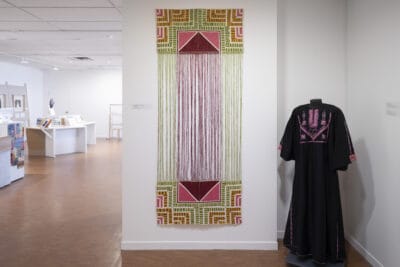 And Other Monuments – A free exhibit at Toronto's Textile Museum
And other monuments is an exhibition tracing the movement of the 'Oriental rug' and other orientalia in relation to colonial trade, imperial bordering, and power. The interactive exhibition includes a digital workbook, archival documents, a conversation on tatreez (Palestinian embroidery) with textile artist Samar Hejazi, and an intervention on the British Museum by multidisciplinary artist Roya DelSol.
Placed alongside West Asian and Middle Eastern rugs, carpet bags, and other pieces from the Textile Museum of Canada's permanent collection, And other monuments invites a reading of textiles as maps or guides which are capable of tracing broader relationships to who moves, what moves, and how transnational, globalized mobilities of goods have always relied on 'immobilizations' of people. Available both in-person and online, And other monuments offers threads and links to coloniality on our walls and under our feet.

The Textile Museum of Canada is offering FREE admission until Spring 2022.
Reserve your advance ticket online here.