Looking for a pick-me-up? We all are. For Toronto foodies, who are missing dining out at their beloved hot spots, a new offering has launched that will surely get your tastebuds dancing.
isolish brings together some of our city's top restaurants, allowing you to plan for a very special at-home dining experience, that also gives back to The Daily Bread Food Bank.
Participating establishments include Miku, Il Covo, The Drake, Lake Inez, BBs Diner, and Barque. How this works is that each restaurant has selected a date for their four-course Prix Fixe menu offering (you can see the hot lineup here). Pick which one appeals to you most, and it will be delivered to you along with an Empress Gin kit.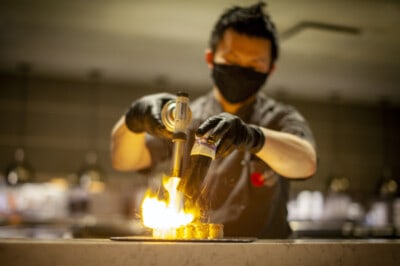 "Using my skills from marketing and advertising, I brought together a group of creatives who are volunteering their time and effort to build this initiative", says isolish founder and Makers owner Sumit Ajwani. "As a business owner, I'm devastated by the losses in the hospitality industry, which has already shed 300,000 jobs in Ontario. I'm hoping this program gives people something tasty to look forward to during isolation, while also keeping some of the city's best kitchens open for business."
Check all the menus here and plan something special for yourself, or you and the loved ones you're staying at home with.
Tickets are now on sale and can be purchased at www.isolish.to up to 48-hours in advance of each restaurant's delivery date:
Miku – Thursday, April 30
The Drake – Friday, May 1
Il Covo – Saturday, May 2
Barque – Thursday, May 7
BB's Diner – Friday, May 8
Lake Inez – Saturday, May 9
$5 from every meal purchased supporting Daily Bread Food Bank's COVID-19 response efforts.