Let me tell you a little something about introverts. When we make the decision to stay in for the night, to wash our hair and catch up on the latest episode of GIRLS, there is pretty much nothing you can do to convince us otherwise. That was the last day of March for me. But then I got invited to a ladies-only bartending competition, using spirits from Dillon's distillery (my favourite!) and I really couldn't say no. So off I went to The Drake Hotel for 86'd Monday, dirty hair tied up in a bun, episode of GIRLS bookmarked for later.
A week earlier, I had been at the Made With Love cocktail competition doing a review for She Does the City. In response to the minority of women who compete in these kinds of events, Veronica Saye & Chanel Wood cooked up the first-ever ladies-only cocktail competition in Toronto (and most likely in Canada). The pair successfully created an event that set the stage for the very talented female bartenders of Toronto to make some great cocktails, and shift the focus a little in an industry that is often dominated by men.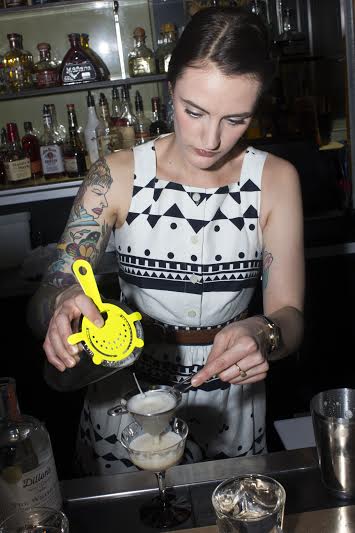 Ana Wolkowski (pictured above) had the winning cocktail, comprised of Dillon's White Rye, Dolin's Sweet Vermouth, Rye Kernel & White Peppercorn syrup, Lemon, Egg White and the event-appropriate Bellwood's Cat Lady IPA. The twelve competitors were judged by Sandy De Almeida of The Drake, Christine Sismondo, prolific Canadian cocktail writer for the Grid and author of America Walks Into a Bar & Mondo Cocktail, and Geoff Dillon, owner and master distiller of Dillon's Spirits.
The bartenders who competed are very much a part of a community that makes Toronto's cocktail scene so vibrant. In fact, many of the competitors from this years Made With Love event came out to support them, not because they are women but because they are peers. The event was built on a feminist foundation but watching the ladies mix drinks didn't feel out of the ordinary at all, except for the fact that Destiny's Child was playing in the background. That was just a really big bonus.
*The other competitors in the event were Leah Mucci from Bar Isabel, Megan Jones from Reposado, Holly Caverly from Momofuku, Jessica Toombs from The Comrade, Erin Petty of Carbon Bar, Odelia Hoey of Dimmi Yorkville, Kathleen Shattock and Alex Grufydd of Fat Pasha, Toni Weber of THR&Co, Aja Sax of Portzia, and Lindsay Head of Port Restaurant.
Photos by Michael Morris