Mai Nguyen's Sunshine Nails is a charming debut full of heart and humour, and a perfect read to accompany you by the beach or pool this summer. But inside the bright yellow cover are some deeper themes, whip-smart social commentary, and astute observations about life as an immigrant family.
Set in the Junction, the conflict in the novel is steeped in real-world issues that small business owners in Toronto know all too well. Vietnamese refugees Debbie and Phil Tran have made a good life for themselves in Toronto, but their landlord has just jacked up the rent of their family-run nail salon, and a glamorous salon chain just moved into the neighbourhood. The Trans are terrified of losing their business, livelihood, and the community they've built around them.
At the heart of all this tension is a story about family. Their kids, Jessica and Dustin, have their own fraught relationships with work, but they must come together as a family to save the salon with some good old-fashioned sabotage.
Praised by Taylor Jenkins Reid as "an insightful, moving story with striking depth," this is a summer read that packs a punch.
We connected with Mai to hear about how Sunshine Nails came to be, and what she hopes readers take away from this page-turning, heartwarming story.
Can you tell us a bit about the origin story of Sunshine Nails? What compelled you to write this book?
My parents have been running a nail salon in Halifax, Nova Scotia, since I was 8! I always thought it was such a fascinating, albeit random profession for two Vietnamese boat refugees who came to Canada with little English skills. When I discovered that thousands of refugees like them have opened similar nail salons across North America—all thanks to actress Tippi Hedren for teaching the first boat refugees the craft of the manicure—I felt like this ever-growing community finally needed a spotlight! I think it's quite inspiring to see so many families, including mine, build a life from scratch by beautifying people's nails. It was clear to me what the story needed to explore: What happens when the livelihood that plucked you out of poverty suddenly gets threatened by competition and gentrification?
We love that the book is set in Toronto! Which spots in the city inspired you?
I set the book in the Junction because I was interested in the ways the neighbourhood has changed throughout the years, from the businesses that line the streets to the people that frequent the area. This was a perfect backdrop to set Sunshine Nails. Not only are they facing increased competition from a chain nail salon, but also dealing with astronomical rent increases, something that, unfortunately, many small business owners in Toronto are familiar with.
Sunshine Nails is funny and heartfelt but also sparks important conversations about gentrification. What did you set out to say about gentrification?
I didn't want to come out the gate claiming gentrification to be this big urban evil that destroys lives and communities. I also didn't want to oversimplify it by saying hipsters and Starbucks is all to blame. I think it's an incredibly complex and debated topic that involves larger forces at play, namely real estate investors and developers and their friends in the government.
Instead, I tried to show the subtle and slow-moving effects gentrification can have on small business owners like the Trans. There are many obstacles that get thrown their way: new chain nail salon opening up, rising rent, gargantuan commercial buildings being proposed in the neighbourhood. The Trans can't seem to catch a break, and naturally they're mad. So who do they blame? Take Ten, the chain nail salon that's moved in across the street. The Trans make Take Ten the ultimate villain because it's easier to focus on a visual marker of gentrification than it is to focus on distant forces beyond their control.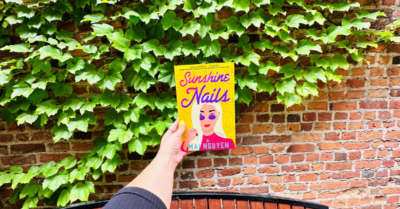 At the heart of the book is a story about family—what are the dynamics were you eager to explore with the Tran family?
When it comes to stories about immigrant families, it's a common trope for the various generations to clash. But it's a trope I really wanted to lean in to, especially when it comes to the topic of work and labour. The parents, Debbie and Phil, are so grateful to have a nail salon that has provided them stable income and security over the years. Meanwhile, their children, Jessica and Dustin, are so disillusioned by the idea of work and career that they've become deeply unhappy and dissatisfied by the options available to them. Debbie and Phil can't help but be baffled. Unlike them, their children have been raised with all the privileges in the world: good education, good skills, their pick of the litter when it comes to jobs, and yet they're still not happy? I really enjoyed writing about the ways the first and second generation clashed on the topic of work, which plays such a prominent role in all our lives.
We're always curious to know how writers write. Can you paint us a picture of what those 4 years of writing Sunshine Nails looked like?
My writing routine was incredibly sporadic. I would have splendid phases where words just flowed out for months at a time, and then phases where I wrote very little and hated everything I wrote. At some point, I came across a quote, "Done is better than perfect." I printed that out and stuck it to the wall above my desk and committed to getting this book finished. It didn't have to be perfect. Not every sentence had to be beautiful. It just had to get done. And honestly, that mindset changed everything for me.
What is some writing advice that has served you well?
Your first draft is supposed to be bad. Don't worry about perfecting it, just get the words down and the magic will come in the rewriting.
What conversations do you hope/imagine the book to inspire?
I hope that people will see nail technicians in a different light after reading this book. They have voices, agency, and they love their damn job. I've heard from several people that they often feel guilty getting their nails done or getting a pedicure. I know it comes from a good place, but I think it also subconsciously comes from a place of pity or false assumptions that the nail tech is there against their will. While worker abuse and exploitation definitely does exist in the industry, it's unfair to paint all nail salons with the same brush (pun fully intended).