Leyla Abdolell is in her final year of high school and is one of the hundreds of teens that hit the streets last Friday for the #FridaysForFuture Climate Strike, which effectively shut down Bay Street in Toronto's Financial District. It was one of 1,387 protests happening that day in 111 countries, all inspired by sixteen-year-old Swedish environmental activist, Greta Thunberg.
In a world where news headlines are dominated by the endless Brexit debate, Trump tweets, the Royal Baby, and Kim Kardashian, articulating the most imminent threat to us all is the critical voice of reason, Greta: "This is the biggest crisis humanity has ever faced. We need to change the way we treat the climate crisis. And we need to call it what it is, an emergency."
As a forty-year-old woman, I have been been watching this recent climate change movement take shape from the sidelines—following Greta on Instagram and reading about worldwide youth-led climate strikes in various news outlets—but last Friday was the first time I witnessed it firsthand. Watching a group of fourteen-year-old girls scream, "I'm out here, why aren't you?" to the bank towers, while carrying signs that read "You'll die of old age, we'll die of climate change" was a chilling, powerful scene. Part of me felt hopeful—encouraged by their spirit, their conviction—but I also felt a sense of despair. How did we let it come to this? And why are the kids doing the work?This afternoon, I chatted with Leyla about how she came to join the Fridays For Future Toronto Team, and what is concerning her most these days. "I just saw a flyer on a post and decided to reach out," says Leyla, who explains that the group is made up of high school and university students from across the GTA. "They've always taught us in school that it's important to care about the environment, but only recently does it feel tangible. Sure, we have eleven years to fix climate change, but we're seeing the effects right now. We have to do something right now."
As she says this, I feel a punch to the gut. I've been doing Shedoesthecity.com longer than the time we have left to fix climate change, and I'm still just figuring out basic best practices of running a small business, never mind finding solutions to dealing with the trillion tons of garbage floating in our oceans. It is believed that we have eleven years to fix this; ELEVEN YEARS IS NOTHING. I had my kid five years ago, and that feels like it was yesterday.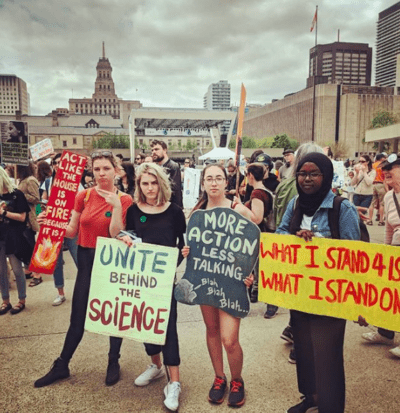 "People often ask me what I want to do after university." says Leyla. "I can't plan for that, because I have no idea what my life is going to be like in the context of this changing world. It's terrifying. It's sad. We value convenience to such an extent."As part of her environmental efforts, Leyla hit Earl Bales park a couple weeks back for a community clean up. "It took us over an hour to cover 20 feet of ground. We expected to pick up big pieces of garbage, but when we crouched down and looked, there were hundreds of cigarette butts, tiny wrappers, pieces of plastic. Those small things cause the most damage. They are the worst."
I thought back to my twenties, when I flippantly tossed cigarette butts on the street, and with one quick twist of my shoe, walked on by. When I was at university, I thought about where I might apply for an internship, or what women in media I wanted to model myself after. I didn't think that my future would be hurled into emergency action to stop total planet destruction. That shit was reserved for sci-fi movies.
I don't tell Leyla this, but I do ask her what the goals of her efforts are, with the team now ramping up its efforts to include weekly protests around Toronto. She tells me, "We want to reach all types of people, people who are your age."
And so we're going to begin an experiment. Over the next four weeks, I am going to hand over Shedoesthecity's Instagram to these teenage girls, so they can document their Friday protests. I want you to hear from them firsthand what they are doing, because it is their future, and right now, they are the ones spearheading the movement.
Beyond this, Leyla might contribute some writing as well, to share thoughts from the #FridaysForFutureToronto group, as they continue their efforts to organize grassroots protests in Toronto and advocate for fundamental change.
If you want to help them, join them. Come to Dundas Square this Friday at 2 p.m., and listen to what they have to say. It's going to take more than tote bags and Swell bottles to clean our mess up.