Oh, ladies! The time has come to put away the sundresses (or, as I like to call it, rip them from my hands) and snuggle our way into a cozy fall wardrobe.  Like most of us, accepting that summer has come to an end can be an earth-shattering battle. One thing to ease the pain (because as much as I hate to admit it, pumpkin lattes and cider can't fix everything), is the knowledge that with the change of season comes the excuse to update one's wardrobe – and how lovely this experience can be! Welcome back layers. Welcome back rich, dark colours (which I find better accentuate my skin tone/general personality).  In order to hightail it into fall fashion, I recently made a trip to the Eaton Centre location of LOFT.
I must admit, once I entered the store, I immediately fell in love with almost every item they had to offer; I didn't know where to look first. It was like entering a room filled with Ian Somerhalder, Joel McHale, Jason Segel, Bill Hader and Seth Meyers (now is not the time to question the people I am attracted to). The best thing about LOFT is that you can find the staples that everyone needs in their fall wardrobe – pieces that never go out of style. These items make getting ready effortless, while maintaining a stylish exterior to the world. Additionally, the items at LOFT are mega comfortable and can be dressed up or down, it's up to you! Transitioning from night to day or office hours to happy hours (let's be real, it ain't just one) becomes a breeze. 'No muss, no fuss' should be the slogan for the fall season.
As I began trying items on, I tried to keep in mind some current fall trends – specifically ones that I have been digging.  Here are two of my favourites:
Boy Meets Girl
I love the idea of pairing feminine and masculine pieces. I REALLY love when those pieces come in the form of mixing and matching prints. In order to try out this look, I paired a flirty heart-printed navy sweater with some streamlined plaid pants and topped it off with a grey knit infinity scarf. Nailing it? YUP.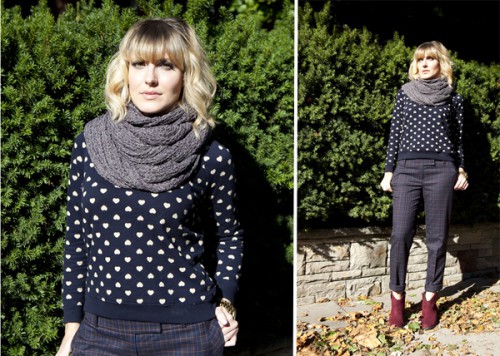 Updated Sweatshirt
A HUGE  trend this year (thank you fashion gods) LOFT has upped their sweater game with delicate embellishments, fabrics and shapes. Sticking with the theme of comfortable yet feminine, I paired an oversized windowpane sweater with a super flattering tweed skirt that showed off just the right amount of leg.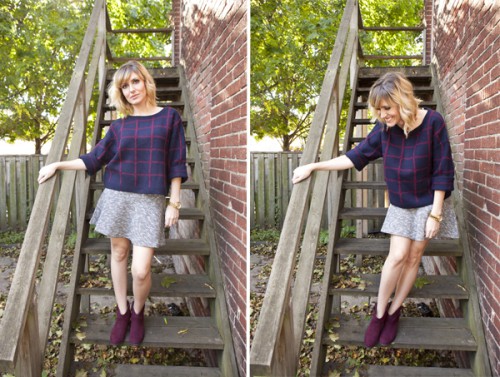 Not to ignore my love of layers, I also tried a fantastic long leopard coat in blue and grey tones, paired with a mustard yellow blouse and finished off with black skinny jeans. That coat reminded me of why I love clothing more than pretty much anything else in this world…. with the exception of my pup.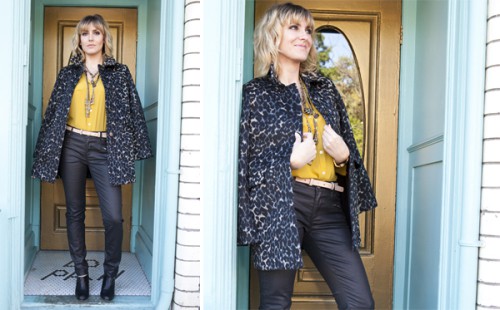 Finally, just because the earth has moved further away from the sun, doesn't mean you have to give up those curve-loving, leg-adoring pieces we call dresses. I clearly couldn't get enough of the leopard, RAWR!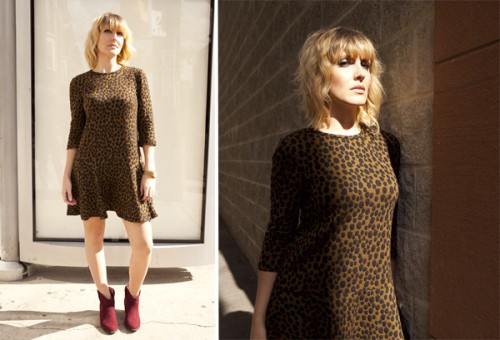 More dresses! I also fell in love with a streamlined 'Mad Men'-esque pencil dress, with a plaid top and black bottom. Did I mention that I was in heaven that day?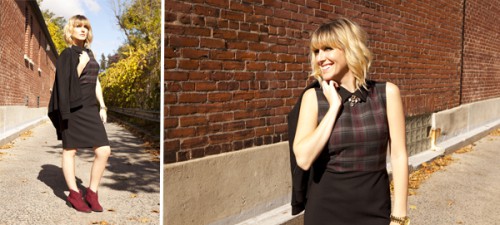 No matter what your signature style may be, LOFT is sure to help make the transition into fall easy and fun! With trendy clothes, a cozy and eye-catching atmosphere, and friendly staff (shout out to Rachel), can you really think of a reason not to head there today? *
*The correct answer is "no."
 Although this post has been generously sponsored by LOFT, the opinions and language are all my own, and in no way do they reflect LOFT.
Follow Nicole on Twitter @NicoleRashotte & Instagram Nicole162