The Edmonton-born Twitter star, Kelly Oxford is back again with another collection of hilarious personal essays. When You Find Out The World Is Against You hit Canadian bookstores last month and, to celebrate the release of her new book, Oxford will be visiting Toronto this week.
When You Find Out The World Is Against You comes quick on the heels of Oxford's debut collection of essays, Everything Is Perfect When You're a Liar. That book was a New York Times bestseller and catapulted the Canadian writer and Twitter influencer into a new stratosphere or fame and success.
Oxford, who grew up in Edmonton and lived with her family in Calgary until five years ago, has captured the hearts of thousands with her witty pop culture commentary and hilarious one-liners on family life. She created an online frenzy last year in the wake of the leaked tape of Donald Trump and Billy Bush's infamous "grab 'em by the pussy" conversation. Oxford, upon hearing the conversation, took to Twitter. She wrote: "Women: tweet me your first assaults, they aren't just stats."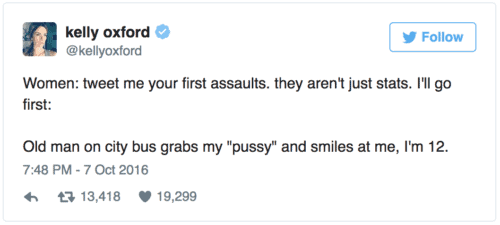 With the help of the hashtag #NotOkay, the post went viral. Within minutes, thousands of responses started flooding in. Over the course of a single day, a million women responded with their stories of sexual assault. By the end of the first week, more than 40 million people had read and shared their own stories.
Oxford writes candidly about the #NotOkay campaign and her experiences of sexual assault in her new book. Along with a touching essay about the death of a family friend, it's one of the more sombre essays but, for the most part, Oxford sticks to what she's good at. Light, funny ruminations on the trials and tribulations of raising three kids, coping with anxiety and building a career.
Often touted as one of the first Twitter celebrities, Oxford started out her adult life as a stay-at-home parent. She has three children: Salinger (15), Henry (13) and Bea (8) who have become, through Oxford's books and massive social media following, celebrities in their own right.
For many years, her husband James was the breadwinner and Oxford took care of their children and home. Oxford blogged about family life and when Twitter launched, she was one of the first to sign up. She started tweeting and within a few years had grown a huge following. Filmmaker Diablo Cody was one of the first celebrities to champion Oxford's hilarious Twitter account and soon many others followed suit. Jimmy Kimmel said of Oxford in a Los Angeles Times interview: "She's just funny, very consistently and solidly hilarious. It's like Twitter was invented for Kelly Oxford."
In 2012, Oxford and the family moved from Calgary to LA so that Oxford could pursue a career as a screenwriter, author and actor. Oxford writes about the difficulty of uprooting the family and forging a new life in When You Find Out The World Is Against You but the family seems to have settled in and Oxford's career is on the up and up.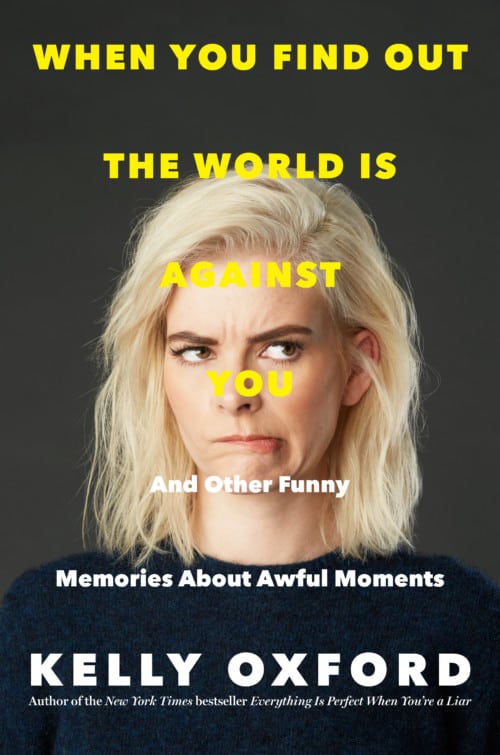 In 2015, she appeared as herself in a number of episodes of Nicole Richie's reality TV show, Candidly Nicole. She also had a small part in the movie Aloha and this year she stars alongside James Franco and her long-time pal Seth Rogen in The Disaster Artist. Beyond these acting credits, she also has a number of film and television projects in development.
It's been a crazy ride but Oxford is philosophical about it. "I always knew I'd end up in Los Angeles writing," she says. "But I didn't know what my path would be. It's been a ten-year journey."
In December of 2016, Oxford Instagrammed a picture of her husband and kids. "Late last fall James and I mutually split up. Another victim of the 2016 reaper…" Asked how she's adjusting to single life, Oxford replies simply: "I'm adjusting." In the past few years, Oxford has gone from stay-at-home mommy blogger to Hollywood A-lister. No doubt she will weather this new life change with her signature strength and down-to-earth wit.
At the moment she's in a whirlwind of press for her new book and has no firm plans for the future. "I'm just going to keep doing what I've always done," she says. "It seems to be working. [I'm going to] put my head down and read and write."