Gladstone Hotel's 3rd annual Grow Op exhibition opens tomorrow and runs until April 26th. Curated by Victoria Taylor and Graham Teeple with Britt Welter-Nolan, this four-day exhibition celebrates innovative ideas and conceptual responses to landscape, gardens, art, and place-making under this year's theme, the culture of landscape.
SDTC spoke with Victoria Taylor about what we can look forward to at this year's event.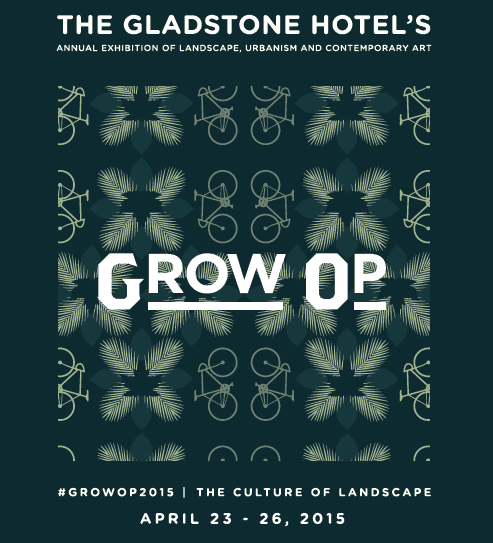 What is the objective of Grow Op?
VT: Through a cross disciplinary approach, Grow Op invites people from a broad range of creative practices to create a public exhibition inside a hotel that gives the Grow Op visitor a new perspective on what our cities can look like, feel like, smell like, and sound like. The exhibition is peppered with fun, thought-provoking programming, like Thursday's Grow Op Talks: Getting Grounded, Friday's After Party with Uma Nota and Samba Squad, and Grow Op Gets Dirtier on Sunday (it's a really cool urban agricultural fair – with an organic tasting by Chef Jamie Kennedy and Fresh City Farms).

What will we see when we walk into The Gladstone this weekend?
You never know what you'll see when you walk into the Gladstone – day or night! Christina Zeidler and her staff create such a unique atmosphere; you just have to come to experience it. Oh! And obviously this weekend you'll also see some perspective-bending installations that'll really make you think about our relationships to urban landscapes.
What landscape always sits with you? Something you experienced that has become a part of you?
I absolutely adore Ontario's summer roadside landscape, all speckled with beautiful Queen Anne's Lace and Chicory.

What kind of landscape calms you?
I always find myself feeling serene near wetlands, with the pleasant sounds of the birds living there.
When it comes to urban landscape, what is Toronto good at? 
Toronto has done a good job encouraging vibrant downtown neighbourhoods with access to nearby park spaces.

Where do we need help?
We need to improve the biodiversity, aesthetics, and stormwater functioning of our 250 kilometers of public laneways.
Close your eyes. Imagine your dream garden. What does it look like?
Layers upon layers of vegetables and herbs, hop vines, fluffy sheep… an orchard.