Hours before its world premiere, and in partnership with TIFF, Twitter Canada hosted a panel Q&A for The Woman King at Mademoiselle Raw Bar & Grill (formerly For Your Eyes Only) on King West to talk about the importance of taking up space.
Cast in attendance included Academy Award-winning actor Viola Davis (who is also a producer for the the film), Thuso Mbedu, Lashana Lynch, Sheila Atim, and John Boyega. Twitter's Global Director of Culture & Community, God-is Rivera, was a superb moderator, who introduced the event by sharing that "Twitter is a place where people can go to be heard. People who have often been silenced," and that her team's main mission is to "listen to, recognize, support, and amplify historically marginalized communities".
The thoughtful way Rivera handled the #TakeUpSpace theme, and the questions she asked, led to heartfelt, passionate responses about the fight to get The Woman King made, and the importance of having Black women behind every single part of this project.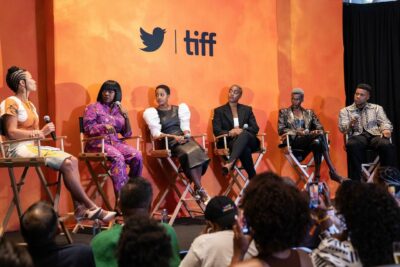 As a means to ignite global conversation, Twitter live streamed the event. If you didn't catch it as it was happening, you can watch the replay here.
Here are some of our favourite quotes from the impactful conversation (share them on Twitter and beyond!):
"Every time you're walking in that room, you're hustling for your worth. You're fighting for those stories, the hair, the makeup, what we look like… You're fighting for all these actors, who are friggin' GREAT" – Viola Davis
"What I want people to take from the movie is that your inner voice, belonging to yourself, is your warrior fuel. I want people to use their warrior fuel and BE BRAVE." – Viola Davis
"It was important for this film to be ours. It was important for it to be led by all Black women, with dark skin, with a story to tell."– Viola Davis
"It's not a moment. This is what the industry can look like. I would like the industry and the world to get used to seeing this." – Lashana Lynch
"I've had friends and family and strangers, not just how excited they are about the project, but like deeply personal anecdotes about what seeing the poster or trailer meant for them… the impacts they had on them. People cried, in the middle of the street just watching us swinging machetes and spears. That's why taking up space is important because you have no idea what the impact will be on a wider scale. It's about jumping in with both feet, taking those risks and continuing to push. This film is bigger than us." – Sheila Atim
"There is no way that change and progress can happen if you don't take risks. One of my favourite sayings is 'What the caterpillar calls the end of the world, the master calls the butterfly'." – Viola Davis
"The sisterhood was integral for the whole film and it just came naturally. It was already there." – Sheila Atim
"This is the first set where I don't have to fight for my space, I don't feel like I have to over-explain myself… I know that I am safe every step of the way, because of who our leader is. That filtered down into every other person we were working with, cast and crew." – Thuso Mbedu on working with Director Gina Prince-Bythewood.
"In my process, and learning more about what the strong Black woman trope means for the world, I have a responsibility to dismantle that trope through my art." – Lashana Lynch
"We are passing the baton on to you. You gotta plug in so we can create these diverse stories. You have to do the job on the opening weekend, this movie has to make money or else this conversation is null and void. That is the truth." – Viola Davis
If you don't have tickets to see the The Woman King at TIFF, go see it in theatres on September 16. And be sure to share your thoughts. As Davis said, "This movie has to make money or else this conversation is null and void. That is the truth."