Holly Golightly is a new collaboration between Hannah Cheesman and Rebecca Daniels, a Toronto/Paris-based singer-songwriter who recently had her first child. They shot this short & sweet music video to document the transition to motherhood as an artist. It's a simple concept: women can be artists before, after and during motherhood (shocking, we know). The video features Rebecca five days from her due date and a month after giving birth.
We chatted with Rebecca about the video this week.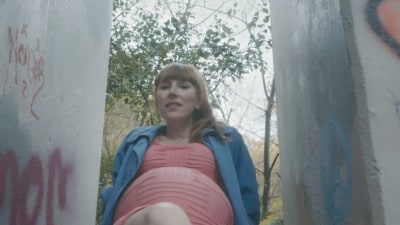 SDTC: What inspired you to document your transition into new motherhood?
RD: It was actually my dear friend and the video's director, Hannah Cheesman, who came up with the idea. I just went along with it! She and I had been discussing a collaboration for years. When I came back from living in Paris and did a show twenty-two days before my due date, Hannah approached me directly after. Maybe it was seeing me on stage with that great belly that turned on a light in her head–pregnancy and motherhood haven't shown up in music videos very often! It feel very timely to me. It's modern. It's unapologetically female.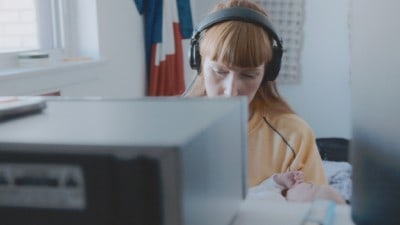 How are you finding balancing your artistic career with motherhood now that your child is a little older?
I have to be more efficient with my time and, in a way, that has been liberating. I don't have time to fret over things and be too precious about it all. It's forced me to re-enter a sort of gestation phase with my work, coming up with new ideas for new songs instead of working on the stuff I already have and always preparing for the next show. I do miss performing though, and hope to get back on stage ASAP now that he's a little older.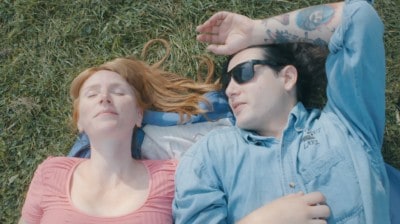 Do you find that motherhood has changed/informed the work you create?
I think I have more fun in general with my creative projects. I'm more spontaneous, goofier. I'm able to take myself a bit less seriously. Maybe it's all the funny voices I do and songs I sing to my son. He's my biggest fan. Simultaneously, I feel all the feels more intensely! And that is a great well to tap into, writing-wise. Love is a great inspiration, and I've never felt love like this before.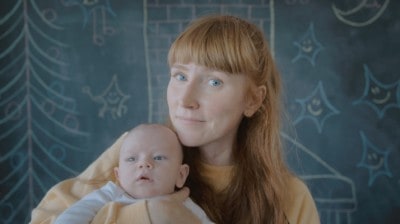 What do you want audiences to take away from this video?
I hope it will bring a smile to people's faces. To remind people that pregnant women and mothers are still themselves, that they exist as individuals, that they can still feel sexy and have fun and dance around in a tight pink dress to a dancehall-inspired track if they want to! They can make art. I want women to feel celebrated.
Stay tuned: Rebecca and her husband, Joakim, will be opening up a new vintage clothing/tattoo shop the weekend of June 1: First Kiss Tattoo and Vintage at 621a Bloor St W.