We're honoured to be the first to share the trailer for Sheila Pye's highly anticipated debut feature The Young Arsonists.
The film premiered at TIFF 2022 and received a wave of critical praise, with Playlist calling it a "distant kin to Sofia Coppola's Virgin Suicides".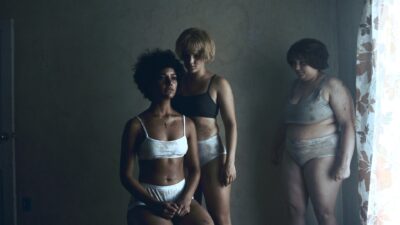 Set in the 1980s amongst the sparse landscape of an isolated farming community in Ontario, five adolescent girls band together to escape their desolate lives. By reclaiming an abandoned farmhouse as their own, they form an intense and obsessive bond that leads them to a dark place where their innermost fears and desires destroy their only safe space.
"I created The Young Arsonists out of an urge to contemplate my connection with a specific rural landscape and its impact on my life. It is inspired by the memories of adolescence," Pye shares. "I experienced first-hand the social and economic realities of the rural demographic and how it influences the people who grow up there."
With Pye's photography exhibited internationally and collected in renowned museums, including the Smithsonian Institute and the Art Gallery of Ontario, it's no surprise that The Young Arsonists is visually stunning. Cinephiles who love to pick apart and discuss the art and craft of filmmaking—how it captures light, how it adds depth and feeling to a landscape—will want to gather and discuss Pye's achievement.
While we too love to discuss such things, we're most interested in the themes that Pye digs into: female friendships, sexual assault, independence, women's bodies and the power of syncing periods, and rebellion. "Together they build a utopian dream world that helps them escape their own realities so they can be free and safe."
The Young Arsonists opens later this summer. We'll be the first in line to take it all in.