Filmed on the final stop of Michelle Obama's latest book tour, The Light We Carry: Michelle Obama & Oprah Winfrey is an 80-minute conversational documentary that will be released globally on Netflix on April 25.
Sitting down with her good friend Oprah Winfrey, the former First Lady shares personal family stories about her childhood and time in the White House, offers hard won wisdom about self-confidence, fear, and aging, and gives practical advice for living in modern times, including the power of a kitchen table full of friends. Covering everything from menopause to social issues to romance, Obama and Winfrey have a candid, at times poignant, at times comedic but always real conversation about the moment in which we are living.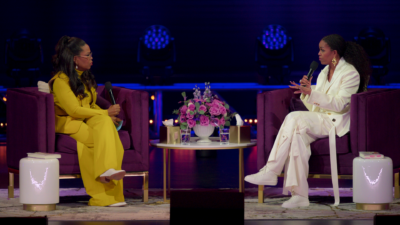 Laughter, honesty, down-to-earth realness and sage advice…The Light We Carry promises the kind of nourishing and hopeful content we so desperately need right now.
"When you get to those low emotional places, it's hard to find your light," says Obama, whose book helps navigate a path forward in a chaotic world. From starting small and focusing on the things one can control to choosing a circle of support, the advice she imparts is applicable to all. "The light we carry is in all of us. It's our responsibility to share that light."
The trailer elicited a strong emotional response—we're pretty sure we're going to need some tissues on hand to watch the whole doc. We look forward to the cathartic release that will undoubtedly come from listening to these two remarkable women.
The Light We Carry: Michelle Obama & Oprah Winfrey will release globally on April 25, 2023.