When 41-year-old actor Sarah Shahi (Alias, The Rookie) first read the script for Sex/Life she had a visceral response. "I was turned on," she tells me, with a mischievous smile. "That was my first reaction." It's not surprising, considering that in each episode, often multiple times within, her character, Billie Connolly, is either enjoying uninhibited sex (in a pool, shower, car, elevator & more), or fantasizing about it.
Aside from Workin' Moms (which is totally different) we cannot think of a show that has created space to incorporate motherhood and horniness quite like this. Occasionally, there are shows/films that revolve around a character, who happens to be a mother (usually with teens), who is having a midlife crisis that involves an affair (Ozark and American Beauty are two that jump to mind), but rarely do we see a new mom dreaming about wet and wild foreplay while breastfeeding. It's….refreshing.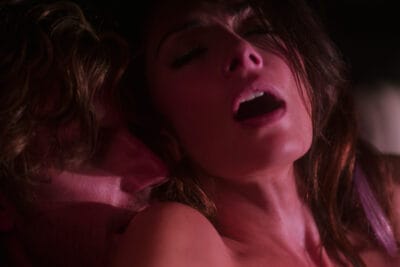 We see Billie craving, demanding, and enjoying sex, but it's not just the big appetite for sexual satisfaction that's unique—the way the sex scenes are shot are also different to what we're used to seeing on screen. "A lot of time when we see female sex scenes, they are through the male POV," says Shahi, pointing out that women dominated the Sex/Life set, from inside the writers' room to the directing of each episode. "You're seeing sex scenes through the female gaze," she adds, pointing out the subtle differences. "The camera lingers longer on the men, and [the series] shows that women get stimulated in a lot of other ways besides missionary."
Of course, with all the sex (there is so much) the role of the intimacy coordinator was important. "We would rehearse on the weekends and we would discuss our comfort level," she says, explaining that the cast went through step by step how to touch body parts ("hold my boob this way, not that way") to ensure everyone felt comfortable and at ease.
The fucking is fun to watch, as is spotting familiar Toronto landmarks (King Street! The Royal York!), but I also appreciate seeing Billie pump milk.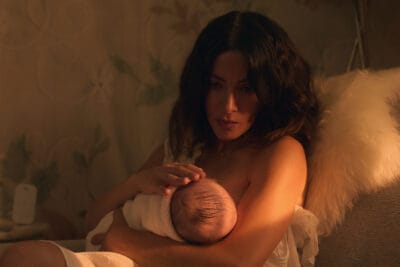 My kid is now 7, but when I was a new mom, the first time I saw a breast pump was when I opened up a box to use one. Never before had I seen it in any TV show or film, which is absurd considering that it's very much a reality for most breastfeeding mothers. "I remember being out breastfeeding and putting all sorts of sheets over me so nobody could see me," says Shahi, and I know the feeling. In our Zoom chat, we exchange stories of being shamed during this chapter of our lives. Rachel McAdams being photographed wearing a breast pump, and other celebrities sharing pictures of breastfeeding, has changed things significantly in recent years. But not enough!
"It's good to be able to normalize this stuff," says Shahi, and breastfeeding still needs to be normalized.
Endless hours feeding her baby, while reminiscing about her life before kids, leads Billie to question her identity. It's a common phenomenon for new moms, and a part of the plot that both Shahi and myself can relate to. "It was like one day I was an actress on a TV show, and then after I was just a bunch of udders!" she says, explaining the shock that came when she realized just how many hours would be spent feeding a newborn. In the case of Billie Connolly, it is in these moments, late at night in the rocking chair, that vivid memories of past lovers swirl around, and prompt her to ask: who am I?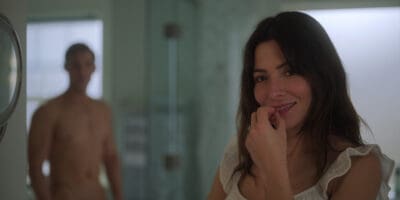 "There's not a lot out there that shows the wants and desires of a woman who is also juggling the role of a mother. Motherhood is is complex and messy…you can be a really great mom, but also question who you are…question your choices," she says, expressing her admiration for gutsy Sex/Life creator Stacy Rukeyser.
One of the choices I most admire is the casting of Shahi. As a woman who is also 41, it's nice to see an actor in this role that isn't 25 or even 35. Us forty-somethings haven't expired; we still want sex, and we're sexy, but sometimes film and TV forgets that.