Full disclosure: I never thought I would use a smart toothbrush, or that I would like it. As a regular brusher (aren't we all?) I simply didn't see the need for it.
But then I started thinking about all those times I slept in and rushed through my morning routine so I could get out the door, and all those late nights when I would crash in the bathroom before having a chance to take my makeup off, let alone brush my teeth properly.
Since I started using my smart toothbrush, there have been no excuses and no shortcuts. There's just no way to justify doing a crappy job when the brush's sensors track your technique and CALL YOU OUT ON IT (via the app). Accountability here is king, and it has really encouraged me to take my time.
As somebody whose parents struggle with gingivitis (I should clarify that this is not due to poor oral hygiene but rather going long periods without dental coverage due to immigration difficulties), I've always known how critical prevention is. And let me tell you, when you're done with this guy, it feels like you've just walked out of a dentist's office.
For starters, there are three brush modes to choose from, which remove surface stains, polish teeth and improve gum health in timed cycles lasting 2-3 minutes. You can also choose the vibration intensity – low, medium or high. So far, I've worked my way up to a medium but am flirting with the idea of movin' on up to high in the next week.
It's also the first-ever connected power toothbrush for adults from Philips Sonicare, with Bluetooth wireless technology that tracks tooth brushing using 3 built in sensors which measure brushing location, brushing pressure, and brushing technique – taking the guesswork out of brushing.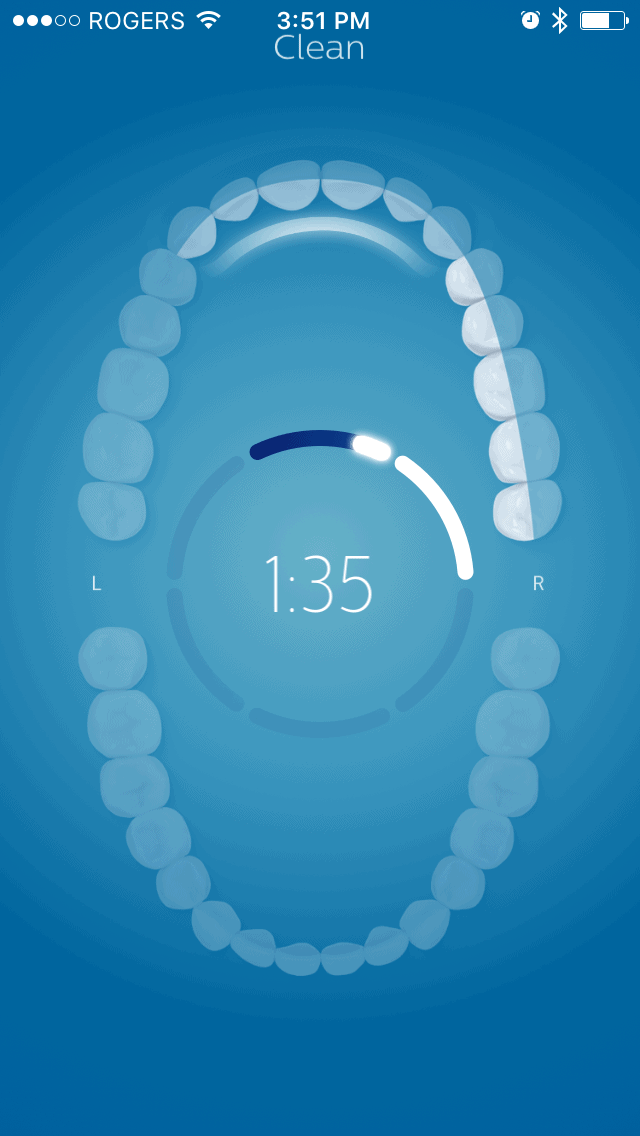 The app is free to download and the interface is easy to understand (pictured above). There are tabs for Brush, Progress, Goals and Tools. My favourite is the Progress tab, which shows your best and worst work a.k.a. well- and under-brushed areas thanks to Bluetooth wireless technology! You can also set goals, keep track of dental appointments and order new Philips brush heads (each one lasts approximately two hundred brushing sessions or three months). There wasn't much of a learning curve as everything felt pretty intuitive.
I've been using the brush for about two weeks and I've yet to recharge the battery, which is awesome. I'll definitely be bringing it on my next vacay as I won't need to worry about converters.
The Philips Sonicare FlexCare Platinum Connected Toothbrush retails for $199 at major retailers including Amazon, Best Buy, London Drugs, Shoppers Drug Mart and Walmart.