Between Just for Laughs, 3D film fests, and Silver Snail taking over the Drake, it's Revenge of the Nerds this weekend, so pull up your argyle (hot) socks and get ready to get geeky!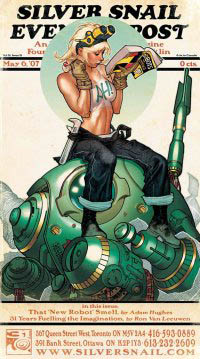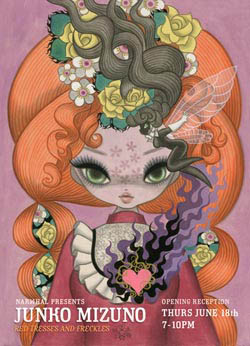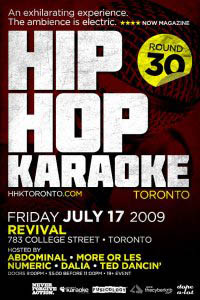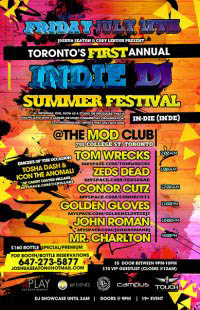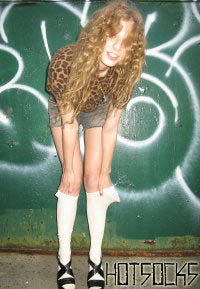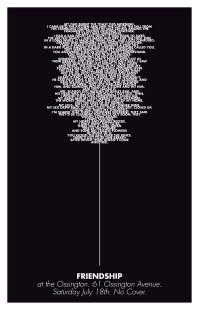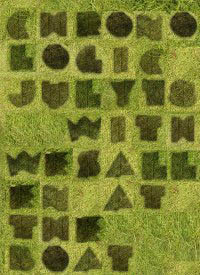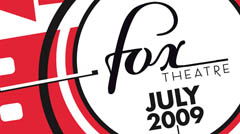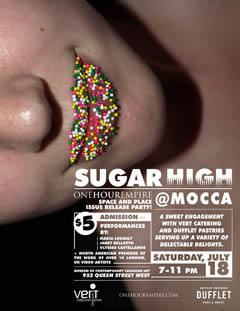 ALL WEEKEND
Just For Laughs
We're living in an era when the funny guy gets more chicks then the dude who can crush beer cans on his forehead (and thanks Judd Apatow every time he gets laid), and the funny girl (hey Sarah!) gets more magazine covers than the boring blonde Bimbot. If you're one of the comedians at this year's Just For Laughs, it's a good time to be alive. Here's where we'll be rolling in the aisles.
Caribana
If this Siberian summer is getting you down, count on Caribana to bring the heat. The festival explodes in a riot of colour, and while the parade isn't until August 1st, things kicked off this week, and there're a ton of events happening in the run up to the big party. Caribana schedule .
3D Film Festival
The Fox Theatre on Queen is screening creepy 3D films all weekend long, and offering half price off a membership if you buy a festival pass. Movies include Friday the 13th, It Came From Outer Space, and Jaws 3-D. Awesome. Check out all the festival details here: Fox Theatre 3D Film Festival
THURSDAY
Comics with Silver Snail
Nerd out when Silver Snail takes over The Drake-Make Sale is teaming up with the legendary T.O. comic emporium this Thursday. Wear a costume, get a custom illustration, and impress someone with your exhaustive knowledge of graphic novels.
9 pm, The Drake Hotel, 1150 Queen St. W.
A Private Summer Shopping Party
Lucky RSVPs can experience the best of five fantastic neighbourhood boutiques-under one roof. Shopping paradise.
To attend: rsvpshoppingparty@gmail.com
5-10 pm, Chasse Gardee, 1084 Queen St. W.
Red Tresses and Freckles
The opening night of Junko Mizuno's solo show at Magic Pony's expanded exhibition space, Narwhal Art Projects. Mizuno's characters inhabit the gothic kawaii world she creates, and she will be there to sign pieces at 6 pm.
7-10 pm, Narwhal Art Projects, 680 Queen St. W.
FRIDAY
Hip Hop Karaoke
It's one thing to drink 40s and rap in your living room at 4 in the morning, but it's another thing entirely to test your skills on-stage in front of seasoned karaoke pros. Do you dare?
9 pm, Revival, 783 College St. $5 before 11 pm.
Toronto's First Annual Indie DJ Festival
A whole night of fantastic underground DJs doin' their thing. For a preview:
9:00 – Mr. Charlton
10:00 – John Roman
11:00 – Golden Gloves
12:00 – Conor Cutz
1:00 – Zeds Dead
2:00 – Tom Wrecks
9 pm, The Mod Club, 722 College St.
Hotsocks
Boogie, Italo, House and Retro, all the better to shuffle to in your sexy socks.
10 pm, Salvador Darling, 1237 Queen St. W. No cover.
SATURDAY
Farmer's Markets
Spend a Saturday strolling through the St. Lawrence, picking up fresh produce and eating peameal bacon sandwiches. Or, check out a Farmer's Market in your neighbourhood-they're all over the city, and the best way to spend an afternoon. SDTC Guide to Local Farmer's Markets
Sugar High

One Hour Empire's Space and Place Issue release party will be drenched in sticky pastries and sweet synth-pop.
7-11 pm, MOCCA, 952 Queen St. W. $5.
Friendship
The only thing better than the vibe at these parties is writing dirty backwards messages in the condensation-drenched windows to someone smoking a cigarette.
10 pm, The Ossington, 61 Ossington St.
Chronologic

By now, you know the drill-they start at the beginning and they finish at the end, although by the time they've hit Brooklyn circa '92 we're usually too drunk to know what's going on.
10 pm, The Boat, 158 Augusta Ave.
STRIKE WIN:
The strike means that ferries have suspended service to the island, and so instead of the usual kid-overload, it's remarkably peaceful over there. Shell out 12 bucks for a water taxi, pack a picnic, and make sure to catch the skyline at sunset – unforgettable.