It's that time of year again, when we pretend to be thankful – but instead lie around on the couch watching reruns of THE HILLS gorging ourselves on gobble gobble and passing out on tryptophan. Extra festive people may take a walk in the fall leaves, rub tree bark etchings and pretend they are all outdoorsy. Either way – this holiday for the most part is a complete farce and if you review the historical facts, you will realize how horrific Thanksgiving really is.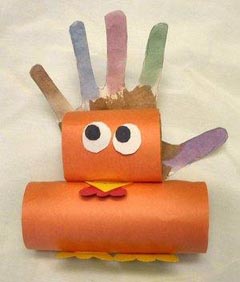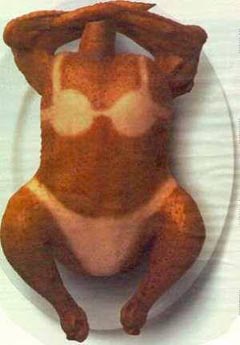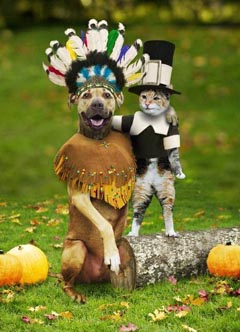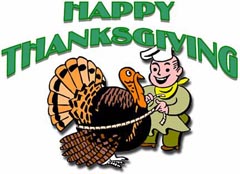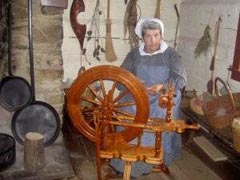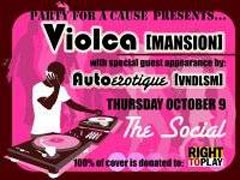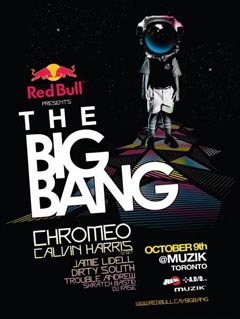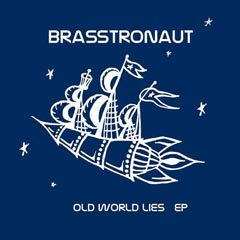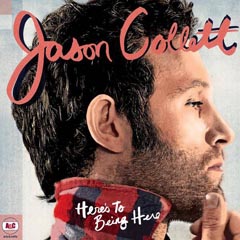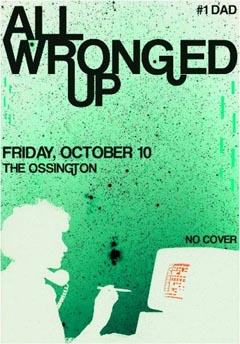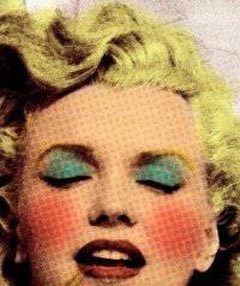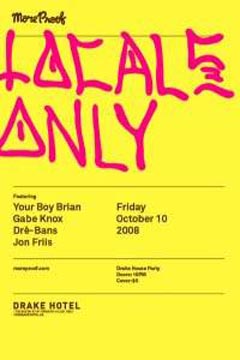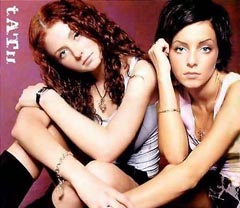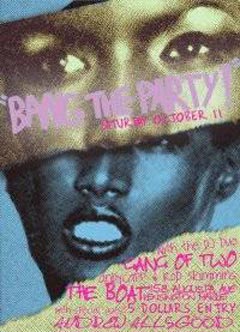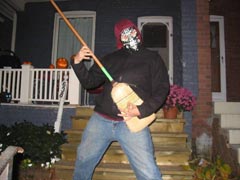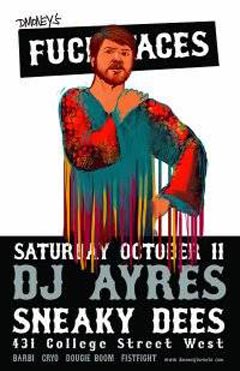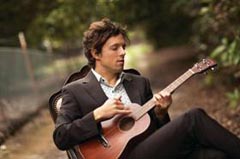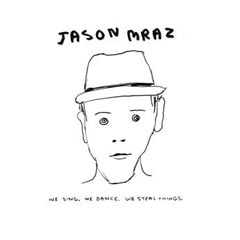 A Thanksgiving activity for stoned and crafty hipsters – awesome. (just trace your hand)
When not in a giant dispute this weekend with your mom over how to make gravy, here are some parties or butter churning opportunities you should hit up.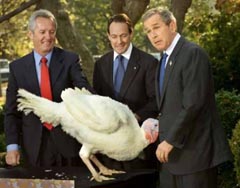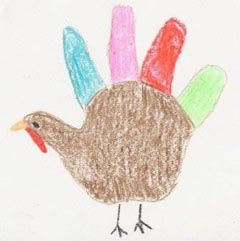 TURKEY BJ – try it at home!
TONIGHT
Party fo' Char'ty @ THE SOCIAL (1100 Queen St. W)
Do something useful with electro for once in your life.
Violca from MANSION will be spinning with special guest opener AUTOerotique – formerly known as VND/LSM!
All proceeds go to Right To Play, an international humanitarian organization that uses sport and play programs to improve health, develop life skills, and foster peace for children and communities in some of the most disadvantaged areas of the world.
http://www.righttoplay.com/site/PageServer
Cover is just $5 before midnight and,
$10 after.
http://www.myspace.com/Mansiondj
http://myspace.com/autoerotique
Red Bull Presents The Big Bang @ Muzik (15 Saskatchewan Rd.)
Chromeo, Calvin Harris
Chromeo and Calvin Harris? Hizzah. Sign me up.
$25 advance
myspace.com/chromeo
myspace.com/calvinharristv
Brasstronaut @ Criminal Records (493 Queen St. W)
There so like, out of this world. (heh – almost as good as all those gobbler groaners I was looking up)
Just last month these boys from Vancouver released their debut EP. They sound like Hawksley Workman but with more people. The perfect tunes to blast when you feel like the world is crumbling from under you, you're in a fight with your significant other and simply want to intensify your emotions and melt into melodramatic madness. (Oh come on, we all do). Check them out at Criminal Records (493 Queen St. W), you will feel like a ballerina who's found her little prince and are floating above earth with flower peddles and care bears.
6-7 pm FREE
myspace.com/brasstronaut
The Department of Culture Presents – This is NOT a Conservative Party @ The Phoenix
Musicians, artists, writers and thespians – gather round and rally for a change in government. VOTE VOTE VOTE!
Expect the following artists to storm the stage: Jason Collett, Dave Bidini, Jim Creegan, The Skydiggers and MORE – videos by Ron Sexsmith and other famous peeps.
Tickets $20 at the door
www.departmentofculture.ca
FRI
Circa's One Year Anniversary Party – do you want VIP ALL ACCESS?
Check this line up out: Lupe Fiasco, Arthur Baker, Barbi, Rory Them Finest, Vaneska, and more!!
Barup bup bup! THIS is the party to go to this weekend. Kanye West's protégé who skateboards, is Muslim and wears glasses will be ripping up Circa (126 John St.) with a Kick and a Push. He's going bring the wind from Chicago and blow up Richmond and John. Also on the decks will be the lovely Barbi and Vaneska who we ogle. The first forty people to send a message to contests@shedoesthecity.com with subject line CIRCA ONE YEAR will receive free VIP all access to the party plus unlimited cover for your crew.
myspace.com/lupefiasco
myspace.com/streetwise82
myspace.com/djbarbi
myspace.com/rorythemfinest
myspace.com/vaneska
All Wronged Up @ The Ossington (61 Ossington Ave)
For chill people who like to mingle with bearded men and a beer in hand. DJ Dad #1 will be there – give him a high five and ask him for a piggy back.
Goin' Steady @ The Boat (158 Augusta Ave)
1950's/60's dance party
Lollipop, lollipop – ooh lolli lolli lollipop – bad dum dum – pop! Get on your dance shoes you cool cat because it's going to be a cook cookin' blast.
Walk Like A Man – The Four Seasons, Long Tall Sally – Little Richard, That'll Be the Day – Buddy Holly, Ain't That A Shame – Fats Domino; excited yet?
More Proof: Locals Only @ Drake Underground (1150 Queen St W)
featuring
YOUR BOY BRIAN
GABE KNOX
DRÉ BANS
JON FRIIS
More Proof wants you to get amped for a night of mondo pipeline. How many drinks before you can't say 'Cowabunga' without stumbling: And GO!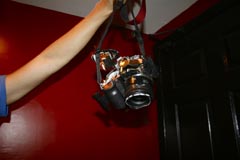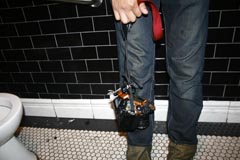 Our favourite photographer Kavin Kavin of Shark VS. Bear had his camera smashed up and thrown in a toilet last weekend by hoodlum as*holes. This Friday, join us at Wrongbar for a fundraiser to help get him some new equipment. If you've never checked out his site – take a look www.sharkvsbear.com
Wrongbar
9PM onwards
1279 Queen Street West
Donate what you can.
SAT
From Russia With Love @ Atelier (510 King St. W)
Free Vodka and Caviar and Russian bellydancers
We aren't sure, it kind of sounds illegal – but then again we'd follow free vodka into a pit of hungry lions, blind in a potato sac.
Bang The Party @ The Boat (158 Augusta Ave)
w/ Gang of Two
slo-mo disco, future boogie, leftfield house, tropicalia and white boy funk…and some Smiths and Joy Division.
with special guest ANDREW ALLSGOOD – see scary man with rock broom and tin foil mask on right.
$5.00 cover
Fuck Faces October @ Sneaky Dees (431 College St.)
w/ DJ Ayres
we are joined by none-other than Brooklyn party-rocker and T&A label honcho
DJ AYRES (The Rub, Flashing Lights, NYC)
http://www.itstherub.com
http://www.djayres.com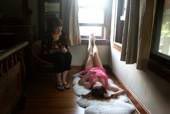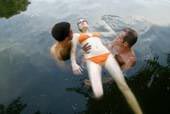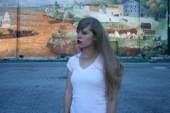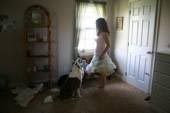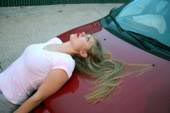 Sexual Videos @ Latvian House
Up-and-coming New York based artist Laurel Nakadate is going to be showing her videos at Latvian House. Jerry Saltz from artnet has referred to her as a wolf in baby's doll clothing…sounds dangerous and Freudianly f*cked.
She lures lonely, older men and makes strange videos with them – that are sexual in nature – but there is no sex. Nakadate's video work is about adventure and risk. Part documentary, part make-believe, she meets strange men in their worlds and weaves complex, sexual narratives that straddle a thin line between tragedy and comedy.
Sound like you?
8PM
491 College Street
More Info Here
THANKSGIVING DINNER @ PIONEER VILLAGE
Churn motherf*cker, let the motherf*cker churn!
Churning butter, going on a hayride and meeting the broom maker is so very Thanksgiving.
Head to Black Creek and feast on and old n' days turkey dinner for $35.05
OR
To learn how to roast your own moist turkey Click Here.
CONCERT CONTEST
Thanksgiving hottie shout out goes to Jason Mraz
We have two tickets to his upcoming show at Massey Hall – Oct 15. Just to give you an idea of how fast his beautiful music has caught on – his myspace page has had 18, 312, 298 visits – Madonna's beating him by just a bit.
His new album is called We Sing, We Dance, We Steal Things
To win tickets to Massey Hall Concert email: contests@shedoesthecity.com Subject Line: Jason Mraz
Take a listen – and pick your first dance:
http://www.myspace.com/jasonmraz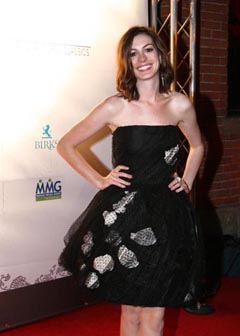 If you haven't seen Rachel Getting Married yet, this is the film to go see this Thanksgiving weekend. Whatever your family issues are this holiday – they can't possibly be as horrifying as Rachel's family. Our favourite to come out of TIFF this year!
See our review HERE