Hi guys. I want to talk about pubes for a sec. Specifically, I want to talk about how everyone else is talking about pubes.
Have y'all read this hair-raising piece in VICE? Or this piece declaring 2014 the "Year of the Bush"? (We thought that was 2013!) Or Cameron Diaz's admittedly somewhat weird-sounding new book in which she claims saying you don't need pubic hair is like "saying you don't need your nose"?
Can I get a WHAT WHAAAAAAAATTTTT. Not to put too fine a point on it, but ME LOVE PUBES. This doesn't mean I'm anti-wax, or that I think women are obligated to go full 1970s Playboy or they can't be feminists—if anything, the sheer variety available is part of my deep, deep love. Many colours! Many shapes! Many textures, maybe! I don't know that much about other pube textures, but feel free to share yours in the comments (my true dream is a SheDoesTheCity comments thread just chock full of everyone describing their pubic thatch. You can make this dream a reality, friends).
It's nice to see celebs and thinkpieces and hip, male-targeted magazines excited about a classic bush, though. That modern women are very "I do what I want" about pubic hair is no surprise, but the groups I just mentioned have typically been very "hair… on a FEMALE? …nnnno. No, probably not. Weird."  Welcome to the laissez-faire approach, pals. It's cosy in here.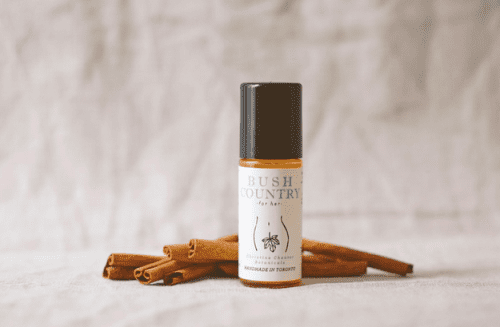 And it's about to get cosier, because now, from the makers of BEARD OIL (real product, like a silky conditioner for your beard) comes (I think you can see where I'm going with this) BUSH COUNTRY (real product, like a silky conditioner for your pubes). I am into this, I think. Made of various nourishing oils for the hair AND skin, and smelling of cinnamon, vanilla, and a fresh hint of grapefruit, it comes in a roll-on applicator and then you just sort of… rub it in. I'm personally never sure what to do, moisturizing-wise, in that area, and this handy product would put a firm halt to my weird coconut oil experimentations—a relief for us all, I think.
What about you guys, you army of women describing your monses in the comments. Would you use this?