I have been working at home for a decade (Whaaat? How'd that happen?), so the idea of reintegrating back into a work space where it's required that I wear something other than leggings and make chit chat in an elevator is a thought that comes with both excitement (oooh, human interaction!), and anxiety (hmm, human interaction). However, I'm always up for an experiment, and that's exactly how I approached my one-month trial run at Workplace One.
I had a lot of questions:
Will I enjoy working in a shared office space more than working from home?
Will shared office space make me more productive?
Will it give me a clean delineation between work life and personal life?
Will the 25 min walk to and from work benefit my overall physical and mental well-being?
Will I feel fancy with a King West address?
Will having a professional space to meet my team, versus a crowded coffee shop or my living room full of Lego, create a noticeable difference in our morale or general output?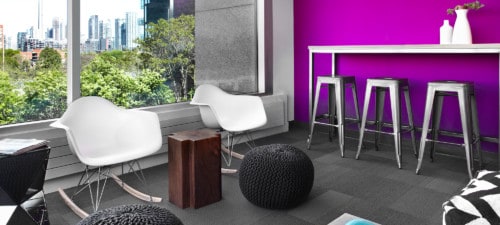 HYPOTHESIS:
Regardless of whether or not I find definitive answers to all of my questions, a change of scenery is healthy. Testing out Workplace One will inevitably grant me a new perspective, and I owe myself the opportunity to flex different muscles in a different setting.
MATERIALS:
Laptop
Notebook
Pen
Printer and copy machine (available at Workplace One to all members)
Coffee, lattes, and water provided on premises
STEPS:
Get dressed
Walk to Workplace One
Work at desk
Occasionally smile and say hello to other humans
Book a boardroom meeting with team once a month
Have meeting
The steps are quite easy, especially when compared to the ones that occur when I work from home:
See laundry pile; fold laundry
See Thomas The Tank Engine trains everywhere; put away
Organize kids books, sometimes by genre (teddybear books to the front!)
See bed; have a nap
Unload dishwasher
Take a shower
Tidy shoes at front door
Bake muffins; lick peanut butter
I could go on. #DISTRACTIONS.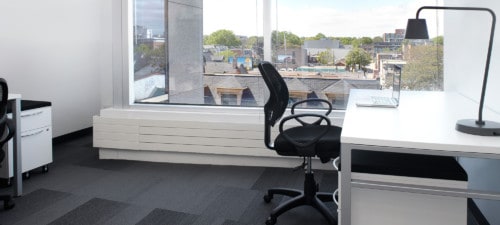 RESULTS:
Productivity. In a week, I was able to get as much done at my home office compared with shared office, but if you break it down into hours, my WOPH (work output per hour) increased at a Workplace One. What I normally do within an eight-hour day at home, I was able to compress into five or six hours, leaving me more time to fully focus on other tasks beyond work.
Work-Life Balance. What I loved most about Workplace One was the feeling that when I left, my work for the day (Shedoesthecity.com work, not mom work) was done. I allowed myself to leave my to-dos or unanswered emails that day at the office so that when I got home, my focus was on family. Even the sight of my home office, when I'm putting my son to bed or giving him a bath, can elicit electrical waves of work stress in my brain. It's much more difficult to slice, organize, and separate work from everything else with the status quo, because there are no hard lines; it all bleeds into one. Workplace One allowed me to set clear boundaries, which helped enable me to roll back my shoulders and relax. (The physical exercise from walking to work is also invaluable.)
Team Morale. While the separation of space was what I loved most, the ability to corral my team in a convenient and professional arena was perhaps the most beneficial to overall work output. Meeting around my kitchen table is all fine and good, but there's something about congregating in an artfully designed boardroom that provides a collective ego boost, like we've arrived to a new status. That feeling translates into a source of pride, energizing the team in a way that cannot be duplicated inside my home. In reality, those home meetings rarely even get scheduled, so the boardrooms at Workplace One are an impetus to bring the team together for much needed face time.
Hospitality. One thing I didn't expect was the hospitality that I received at Workplace One. The way they operate is like a hotel, in that, the staff who work there, be it the reception desk or office manager, really treat you like a guest. This was a completely unexpected perk that made a noticeable difference each day, be it a friendly greeting or a "let me know if you need help with anything."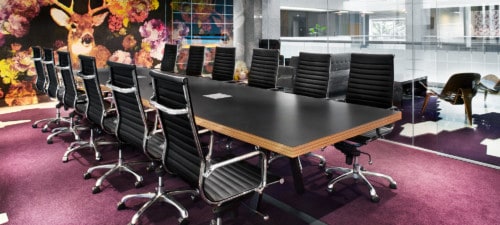 CONCLUSION:
The experiment proved successful! After my one-month trial, I decided to sign up for a flex membership.
I didn't make it to the shared office space every day. Sometimes it was a decision that came from a matter of convenience (e.g., if I had an appointment and heading to the office meant an extra destination in a busy day); and sometimes it was because I couldn't make it: like when my son had to stay home because he was sick (a fairly regular occurrence for children in daycare.) And there were days I didn't feel like putting on makeup or getting properly dressed. But I'm glad I had the choice.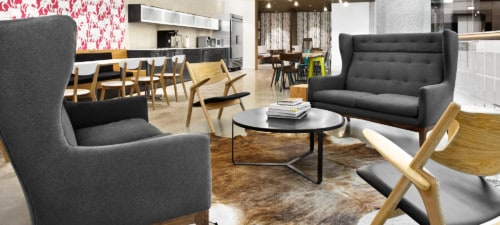 While I was tempted to sign a contract for a three-month office space with two desks, I decided to take baby steps and start with a flex membership for me and one other team member. Plus: the arrangement allows for month-to-month flexibility, so if it ever feels like it's no longer a fit, we're not stuck.
For $225/month (price varies based on location), the Flex Membership provides me with the following:
Professional mailing address (allowing me to reroute the excessive amount of PR deliveries that Shedoesthecity.com receives from my hallway to Workplace One's front desk – which will perhaps mean fewer arguments about clutter in this household!)
Daily mail/package service
Access to attended lobby to greet clients and guests
Access to breakout rooms/meeting rooms
Two hours of conference room time
Wi-Fi
Espresso, coffee and filtered water
24/7 building security
While an office is something I've dreamed about for many years, I'm still at a stage of life with my son where it makes more sense to work from home one or two days a week, and then head to a shared office space when I can. In this way, I get to enjoy the benefits of both in a way that fits nicely into our monthly budget.
If you're curious, check out the Workplace One site, choose your location (Liberty Village, Queen West, Corktown), and take a tour. If nothing else, you'll be impressed by how the space looks! If you sign up, please let them know I referred you. After all, business is business.