When she was in high school, Deanna Wheeler had no idea what she wanted to do for a living. "All I knew is that I really liked art, making things with my hands, and building things," she says. "My favourite class was shop, and I always used tools, but it never really dawned on me to do a trade." And trades weren't exactly promoted–especially to young women. "They made it seem like if you didn't go to university or college, you were done."
Now, Deanna works as a carpenter. We asked her about how she got started, what it's really like, and if she has any advice to others who may be toying with the idea of becoming a tradesperson.
SDTC: When did you decide to become a carpenter?
DW: I was working at a burrito joint making $12/hr and a friend of mine from high school came in. I asked him what he was doing nowadays, and he told me carpentry. That's when it dawned on me. Why didn't I think of that? I'd always loved woodworking in high school. He told me he joined the carpenters union. He gave me the website, and I applied.
What's the process?
There are a couple ways of going about it. I applied online to the union. Then you do an assessment test to see where your math and English skills are at. If you pass, then you can apply to take the first level of schooling for the apprenticeship. With certain trades, it's harder to get into the union, so a lot of people will work non-union jobs until they're able to get accepted into an apprenticeship program.
When you're in an apprenticeship program, you're working in a job (making money) and you have three eight-week blocks of schooling. That, plus your working hours, should amount to a certain number of hours per year. When you're in school, you go on EI. When you're working, you're making money. It's more than you'd learn in school, because you're actually doing it. It took me five years. Some people do it in three years. You're a carpenter's apprentice up until you write your Red Seal test; when you pass that, you're considered a Journeyperson.
If you wanted to go the college route, all you'd have to do is apply to whatever specific trade you wanted to get into and go from there.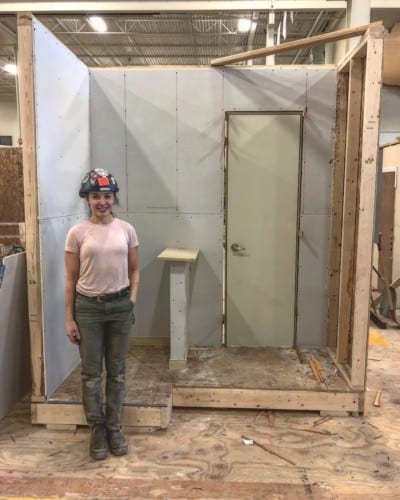 What do you enjoy making?
Right now I work for the TDSB as a carpenter. We build playgrounds, fences and benches. It's super fun. I like creative stuff. I would probably like residential framing more–I've done a little bit. I've also worked in TV and film, building crazy movie sets. I worked on Star Trek for a year, building spaceships and working with really neat materials and making cool shapes. I've also worked in regular movies where you have to build fake houses and stuff like that. It's a broad range.
So you're not just using wood?
No. The trade is considered general carpentry, so it's very broad. I love doing cabinetry, and back in the day, carpentry was all of that stuff. Now all of [the union work] is very sectioned off–carpenter, scaffolder, formworker, cabinetmaker. I have worked non-union jobs making furniture and really enjoyed that. When I eventually have my own house, I'm going to put a shop in the garage and make my own furniture. I like the creative side of it. With carpentry, you do your work but you can also make fun stuff.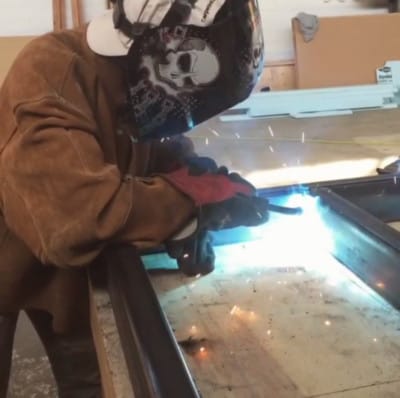 What's a typical day like on the job now?
It's not like a typical construction site. I go to the main yard and get my pass for the day. Yesterday we had to build log benches for a school downtown. We had a bunch of 6" thick ash tree slabs that were milled before. We put feet on them, loaded them in a truck, drove downtown to a school, and used a chainsaw to cut them at angles so we could position them in a half-hexagon shape.
How does that differ from a typical construction site?
In a concrete formworking site, for example, it's constant go. Lots of heavy lifting, no stopping. On a residential framing site, they move pretty fast too–a lot of grunt work. I don't have any desire to do that, mostly because I like the more creative side of carpentry. That's why I thrived in TV and film, because it's meticulous.
How long are the work days?
It varies. When I was working TV and film, I worked ten-hour days. In non-union work, it was anywhere from twelve- to fifteen-hour days.
With this job, I'm up at 5 a.m. because we start at 6 a.m. With residential, you can't make noise before 7 a.m., so we'd start at 7 a.m. or 9 a.m., depending on what the homeowner wanted. I like starting early so I have the rest of the day to do stuff.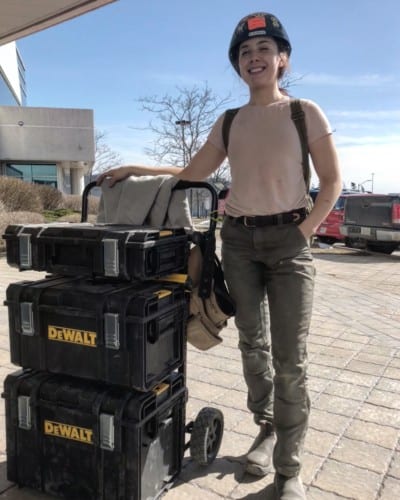 Do you work with any other women?
There are a couple in the union that I'm close with. I don't know any female formworkers. I know one scaffolder.
There are way more girls in TV and film, because it's more creative. The guys tend to be more respectful there. And there aren't constant rules like in real construction sites. They don't care what you wear in TV and film. On construction sites, you have to wear pants and t-shirts. Some sites are rougher so guys tend to stare and make comments, like they've never seen a girl in their life.
How do you deal with that?
I'm pretty lucky–I haven't had to deal with that too much. I'm pretty easygoing and can take a joke. But if I don't know you and you make a sexual joke–it's hard. My ears get hot and I don't know what to say. I usually think of some witty comeback later. I'm not quick on the draw.
Downsides?
Some jobs require a lot of driving. You can be in a different place every day, so you're dealing with nightmare traffic, especially in Toronto. And you don't always know how long a job will go on, so you could get laid off after a week, which can be scary if you're not used to that. Also, working outside in the winter, in the rain.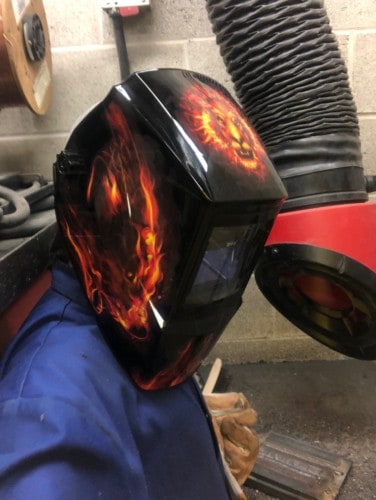 Upsides?
The money is really good. Now that I'm a Journeyperson, I make $40/hr. When I worked in TV and film, I was making $1,400 a week. And you can also do side jobs, and that's where you can really make money–renovations, building a deck, putting a fence up.
I make a ton of friends. I'm active and constantly moving, so I'm in good shape. It's always different, so I never get bored. I get to take home materials sometimes so if I want to make my own stuff, I can. I can also trade work for other work (if I needed a plumber or something, I'll do some work in your house if you do some work for me).
It [can give you] so much confidence just knowing you can do things for yourself. And dealing with different people–I was not a people person before. You learn to be more tolerant of people and how to work on team. You get stronger, more resilient and less scared of pointless things.
Would you want to open your own biz?
I don't come from a business background, so I don't want that responsibility. I like working for someone and being told what to do and just getting it done. I don't want to deal with the logistics of all that; I just want to do the work.
Any advice for other women thinking about getting into a trade like this?
Look online. I looked on reddit (subreddit: blue collar women). There are a bunch of girls talking about what it's like to be in a trade and they give advice. It makes it feel like a less scary place.
Don't be afraid. Just go for it. In any field, you're going to get people giving you a hard time. Don't doubt yourself. I just jumped in head first. I learned afterwards that I made a really good choice. I don't have any regrets. Whenever I have an idea, I just want to make sure I do it regardless of how scary it is, because I know in the end it will be okay.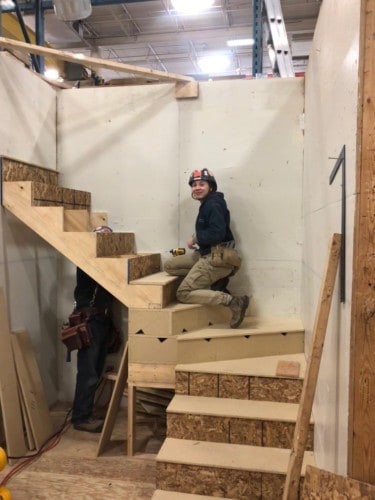 Want to learn more? Deanna will be a panelist at the upcoming Women in Trades & Technology Conference on June 16. The day will include hands-on demonstrations by industry professionals, information on career trends, training and apprenticeships as well as registration for programs and assessments. Plus, you get free admission, free childcare, and free lunch! Register here.