Shopify is a cloud-based, multi-channel commerce platform that is thriving. This is largely thanks to its powerhouse team, which fosters female entrepreneurship (half of the merchants using Shopify are women).
We wanted to know more about the women working within the company, many of whom are self-starters and leaders in their field. We learned that they have incredible stories on how they've grown their careers and levelled up in their roles.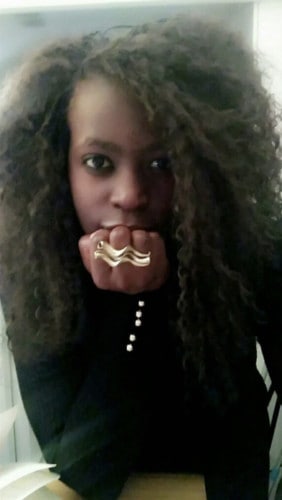 Tanaka Ruzvidzo, Developer, Toronto
SDTC: What was your education/experience trajectory to get to Shopify?
TR: I went to university for IT and Business in London, UK. I took a few programming courses and realized that this was what I wanted to do, even though it wasn't easy at first and I spent a lot of time in the library, kicking it old school and reading about Java.
After I graduated, I decided to move to Canada to learn and build a stronger foundation in computer programming. I went to school at Sheridan College and did a continuous, sixteen-month, intensive computer programming course. I also competed in various hack-a-thons in my spare time, which really exposed me to different types of tech. As my program was coming to an end, I applied for a job at Shopify and was accepted for an internship. This is my first job straight out of school. Fast-forward nine months since I've been at Shopify.
Walk us through a typical day.
I'm up by 6 a.m. so I can get a workout in, as I'm most functional early in the morning. I try to get to the office between 8:30 a.m. and 9 a.m. At 10 a.m., I have a weekly planning meeting with my team where we can all get aligned on what our week will look like. Following that, I meet with a senior developer on the team. Once the planning is complete, I start working on the issues I'm tasked with, reviewing pull requests, or working on changes on my pull requests.
I take a mid-afternoon break to connect with my lead to go over career goals, chat about how work is going and my growth. Then, I'm back to working on my pull requests. I typically end my day with one last meeting. Sometimes, this involves sitting with a friend who is also a developer on another team. I find it useful to share knowledge on problems we're solving or help each other with blocks we're facing.
What was the best piece of advice given to you in relation to your career?
Two years ago, I attended an International Women's Day event hosted by DevTo. One of the speakers during the event, Dom Deguzman, said, "A career is like a ladder: sometimes you have to climb back down in order to climb back up." At the time, those words really spoke to me.
I attended the same event a year later and Mina Markham said, "Say yes even if you're afraid." This also really stuck with me, because fear can really hold you back, especially in an industry where imposter syndrome is common.
What's the coolest part about working at Shopify?
What I love most about Shopify is that people are always willing to help you out, no matter how senior they are. Shopify also places emphasis on the fact that employees are human first before anything else and they really stress that personal care is important in order to do your best work. The people are the best though! A huge part of my support system is made up of the people I have met at Shopify.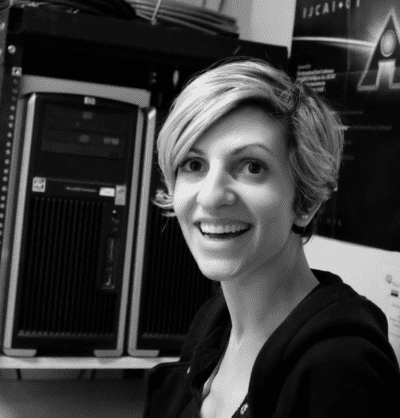 Dalia El-Shimy, UX Research Lead, Montreal
What was your education/experience trajectory to get to Shopify?
DE: Like many people in UX Research, I sort of stumbled my way here. I originally studied Applied Math and Electrical Engineering in my undergrad, mostly because I liked solving problems where answers were certain and predictable. After that, I went to grad school to continue studying engineering and get my PhD. I focused on building new instruments for musical performance, despite not knowing the first thing about playing an instrument myself. I had to spend a lot of time observing musicians, understanding their behaviours, and working out how to design systems they could understand.
This experience gave me a taste for user research, but I didn't know I could make a career out of it. Like many graduates, I was not sure which path to take. I went to an engineering career fair and saw a Shopify booth. At the time, I knew very little about the company. I was immediately drawn to it when I saw two women working at the booth in what was a very male-dominated career fair. It turns out they were looking for someone that specialized in user research, so we were a great match.
Walk us through a typical day.
I can't say that I have a typical day, but I spend a lot of my time collaborating with people at Shopify. I'm one of those weird people who actually enjoys meetings (sorry Elon Musk). As a researcher, a big part of my job is acquiring context by doing research, but what's even more important is sharing that context with other people and making sure they're empowered to make the best decisions for the 600,000 entrepreneurs who use our platform.
Between meetings, you might find me planning/analyzing a study or standing in the kitchenette looking for snacks and making conversation with whoever's passing by (likely about snacks).
What was the best piece of advice given to you in relation to your career?
The best piece of advice I've been given was by my career coach at Shopify: "How other people feel is their own responsibility." Not in the sense that I should make myself happy, but in that I should stop worrying so much about making sure everyone around me feels perfectly happy at all times. Learning how much value people get out of a situation, meeting, workshop or presentation is up to them, and [knowing] I can only affect so much of it has been incredibly liberating.
What's the coolest part about working at Shopify?
There are a lot of things I can list here (the feeling of making an impact on people's lives every day, the growth opportunities, the emphasis on inclusion, the snacks), but, as cliché as it may sound, it's the people. I actually like going into the office and seeing my colleagues, chit-chatting over coffee or bantering in the hallways. Shopify truly fosters a culture where people very much care for one another. They care about what they do, the impact they have, and about sharing their craft with others–that makes working with them a pleasure.
Also, the custom emoji library we have on Slack is unreal.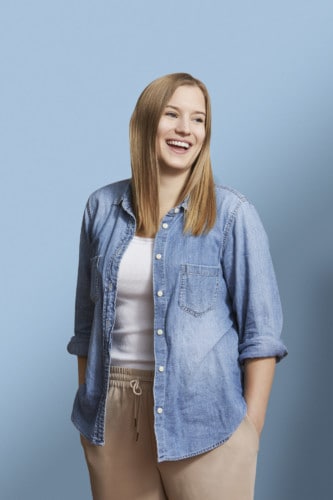 Anna Lambert, Director of Talent Acquisition, Ottawa
What was your education/experience trajectory to get to Shopify?
AL: During undergrad, I studied political science and communications at the University of Ottawa. I was supposed to join the Government for an internship doing data entry, but a few days before the co-op deadline, I panicked about the role and reached out to a friend to ask for an alternative. He mentioned Shopify, which, at the time, was a small, forty-person startup, and I noticed that Harley Finkelstein, our COO, was doing some great mentorship/internship programs with some University of Ottawa students and entrepreneurs. I thought, "What do I have to lose? I'll just write Harley an email and see if he'll meet with me."
So I emailed him and he wrote back. He introduced me to Brittany Forsyth, our current SVP of HR, and then HR Manager. She initially rejected my application because they didn't have an internship for communications students, but after I met with her and heard about all the projects she was going to be working on that summer, I pitched her the idea of becoming her intern. She agreed and invited me back to meet a few more people. They hired me as an intern and, seven years later, haven't gotten rid of me.
Walk us through a typical day.
I wake up, hopefully early enough to make it to a 6:15 a.m. spin class at Wheelhouse Cycle. I head to work between 7:30 a.m. and 9:30 a.m., and I either connect with the Talent Acquisition team working elsewhere (like Berlin) or find a nice spot in the office, put my head down and get to work.
Some days I find myself recruiting or learning new tactics in our constantly changing industry, reading, writing, meeting with members of my team or connecting with potential employees. My job requires me to learn a lot of new things on a weekly basis: Which companies have the best talent? What motivates talent in different fields or markets? What are the best ways to communicate to a dispersed global team?
It's a nice balance between team leadership, recruiting strategy, diversity and inclusion, and recruiting. I'm also very lucky to have a lot of fun with the people I work with. Beyond that, I'm passionate about getting involved with interesting projects outside of my direct role, where I can add a different perspective and learn new skills.
What was the best piece of advice given to you in relation to your career?
Don't be too focused on your career. Focus on having an impact and learning a lot, and the rest will come!
What's the coolest part about working at Shopify?
My favourite part is how many amazing people there are to learn from and work with. It's a place where you are inspired to move the needle towards our shared mission of making commerce better for everyone. Plus, I can truly be myself. You know that "work personality" you have? You don't need one here. You get to bring your whole self to work and it's amazing.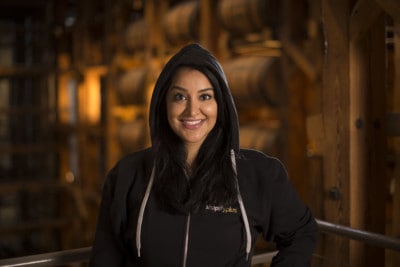 Shimona Mehta, Head of Revenue Acceleration, Waterloo
What was your education/experience trajectory to get to Shopify?
SM: My path to Shopify was a series of deliberate shifts as I discovered what I really needed to feel fulfilled. I started out in consumer packaged goods (CPG), working for a food company in consumer relations and supply chain, but I discovered a fascination for marketing while taking on projects outside of my domain. I made a shift to another food company where I stepped into a product management role. I realized quickly that to excel my learning, I needed to gain access to business leaders and get exposure to how strategy is developed.
Next, I ended up at a market research company as an account manager, growing a portfolio of Canada's largest food companies and restaurant chains. I had fun coming into work every day, but I realized something was missing. So, I took a leap of faith, left my safe career and moved over to a tech start-up in a sales role–second best career decision I've ever made. I had the opportunity to carve my path, build our business and team, and learn directly from my CEO.
Then came Shopify. Joining the Shopify Plus team, initially to build the sales enablement function, brought with it everything I needed in my career: the opportunity to make decisions every day based on what is the right thing to do, to invest in our people's growth and development, to truly build our business, and to grow myself faster than I ever thought possible.
Walk us through a typical day.
No day is the same here. A few things you're likely to find me doing are interviewing candidates (we're growing fast and always looking for world-class talent to join us), coaching one of our kickass sales reps, or mentoring passionate sales leads. On my team, we work in fast-paced sales, and we've built a collaborative environment to support each other and any opportunity to help our next high-growth merchant make the move to Shopify Plus.
You can also find me in meetings for a foundational project (like implementing a new CRM system or thinking about how we enable great leaders) with my awesome boss, feet up on a chair, talking about our vision for the team.
What was the best piece of advice given to you in relation to your career?
"Shimona, the only person responsible for your career is you."
I was lucky enough to get that advice early in my career. It was life-changing! Rather than waiting for the next opportunity to come to me and getting frustrated if I was passed up for promotions, I was now empowered to make it all happen. It was in my control to figure out what I wanted to do next and I made sure to find out what it would take to get there.
What's the coolest part about working at Shopify?
The prospect of learning something new, helping someone succeed, adding another building block to our business and putting my stamp on our long-term success. I get to work with some of the smartest, most passionate, team-oriented, disruptive people I've ever met. We all have the opportunity here to build something incredibly special. How cool is that?!
Don't get me wrong, the gourmet food, great perks and flexible work schedule are all awesome too, but they're the icing on the cake!