The largest Pepsi bottle in the world is about to pop-up at Richmond and John St. (229 Richmond Street West) This Pepsi bottle is SO BIG that it will host nightly concerts (like, inside the bottle) featuring some of our favourite Canadian music acts including Dwayne Gretzky, Born Ruffians, Hollerado, Kreesha Turner, The Elwins, USS, Virginia to Vegas and MORE!
On Sept 6, Nick Cannon of America's Got Talent, will host the show featuring 4Count and three-time Juno award nominee Kreesha Turner. Guess what? WE WANT TO SEND YOU! Will you come dance with us inside the Pepsi bottle? We can pretend we're on the Magic School Bus and all of us shrank to fit inside! You know you've been dying to do that since you were 8-years-old….NOW IS YOUR CHANCE! 
Beyond nightly concerts, the #PepsiPopUP will be open to the public daily starting at 11am. Step inside for a complimentary ice cold Pepsi and challenge your co-worker to a Drum Machine 'drum-off'. Test out your creativity with a huge interactive light installation, and be sure to make your own custom Pepsi t-shirt before you collect some sweet Pepsi swag.
Amazing films, celeb spotting, Bill Murray Day, and now concerts inside a Pepsi Bottle: when TIFF comes to town, Toronto turns into the most amazing, and totally wacky, playground. We love it.
Enter our #PepsiPopUp contest now! Tweet, "Spin the bottle @Shedoesthecity, I want to party in the giant #PepsiPopUp!" We will be selecting 3 winners (with +1) to attend the September 6 show hosted by Nick Cannon, featuring 4Count and Kreesha Turner. More details here.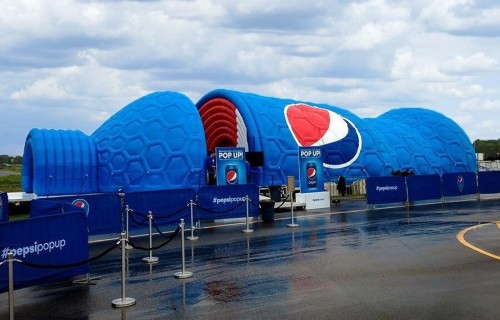 It's gonna look like this. BIG! Come party in a #PepsiPopUp with us!
Although this post has been generously sponsored by Pepsi, the opinions and language are all my own.