Serendipity is one way to explain a chance encounter. But sometimes, a connection between two humans seems so improbable, and at the same time incredibly significant, that the only explanation can be fate, or divine intervention. You may have a story from your life like this, but the story I'm sharing is about Yoko Ono and Xie Rong (also known as Echo Morgan).
In 2009, before she was one of the UK's most recognized performance artists, known for challenging stereotypes about women, femininity and "Chineseness", Xie Rong was working in a fashion boutique in London's Notting Hill district, when Yoko Ono walked in. While it was the first time they met, Yoko Ono had already been an important person in Rong's life for some time.
In 2004, instead of a ring, Rong's boyfriend, Luke, used a piece of vase to propose to Rong. "We had no money at that time, so he used that broken piece of vase to propose to me," Rong tells me. But it wasn't just any old piece of vase, it was a piece of the vase that Yoko Ono smashed on the floor of London's Tate Modern during her Promise Piece performance in 2003.
Part of the Promise Piece performance, which Yoko Ono first staged in 1966, is that audience members promise to return in ten years time to help put the vase back together. It was something that Rong and her husband were very much looking forward to doing. So while packing up the hats and shirts that Yoko Ono purchased that day in the Notting Hill boutique, Rong made sure to tell her the story of her engagement, and how much her and Luke cherished that broken piece—how they were excited to return to the Tate, together, to rebuild the vase in 2013. Yoko smiled and asked Rong for a pen and piece of paper, she wrote: Dear Luke and Echo, I give you a sun. Love, Yoko Ono. She even drew a smiley sun in her signature score style. But in 2011, the couple separated, and Luke took the broken piece with them.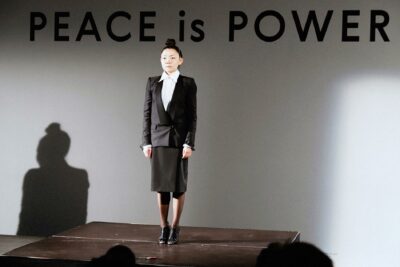 The idea that she would not be able to help rebuild the vase haunted Rong. The image of the missing piece weighed heavily on her mind. "I thought often about that missing piece, imagining the vase without it… it upset me that we had failed the promise." But as luck would have it, her life would cross paths with Yoko Ono again.
In 2019, Rong still known as Echo Morgan at the time (who by then was an established artist) was invited by the Museum der Bildenden Künste in Leipzig (Museum of Fine Art, Leipzig), Germany to perform Yoko Ono's iconic Cut Piece, at the opening of the Yoko Ono Peace is Power exhibit. Being asked to do this was a huge honour for any artist, especially Rong.
Cut Piece was first performed by Yoko Ono on July 20, 1964 in Kyoto, Japan. The artist entered the stage in her best dress, sat in a traditional sitting position, and invited the audience to cut pieces of her clothing with scissors, and then take the piece with them. Provocative, powerful, radical… Ono's Cut Piece shook the art world, and remains largely regarded by many critics as one of the first examples of performance art, and a pivotal piece in the canon of feminist art.
The German museum wasn't aware of the history between Rong and Ono. When they initially reached out to Rong, they simply admired her work as a performing artist, and thought she'd bring a compelling dimension to the Yoko Ono Peace is Power exhibit. The invite came with feelings of excitement and trepidation. "Because I am the same size as Yoko, and look a bit like her, I thought people would think I was an impersonator, a hired actor instead of an artist, but it's a piece that Yoko Ono encourages others to do, and a piece I really admired." Of course, the bit of missing vase also played a role in her decision to say yes.
In her performance, Rong, like Ono, makes herself vulnerable as she puts the onus on the audience to dictate how the experience will unfold, ultimately revealing how easily people become complicit in perpetrating acts of violence.
"Middle-aged men were waving around my bra cheering. There was laughter and cameras everywhere, hundreds of people making noise," Rong describes. "Then, as I sat on stage naked, two feminist artists ran up and swaddled me in their scarves. They had good intentions, but it also felt aggressive, and the scarves were full of their perfume. I felt like I was choking on the strong scent."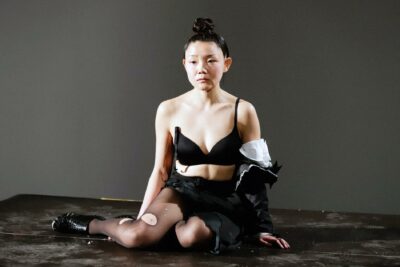 The next day, Rong's naked body was plastered all over the pages of German newspapers. "It was disturbing. I felt used," she tells me, while also remarking that the power of performance art often comes from the unknown variables. "You cannot prepare for how the audience will engage with it. It's different every time."
In February 2022, when Europe was finally opening up after the pandemic, Rong performed Cut Piece again in Zurich. The response was vastly different from Leipzig. "People, especially young women, were so quick to cover me with their own clothes. One particularly touching moment was when a trans teenager cut off their own hair to help cover my body. Their mother said to the curator at the time, that it was important to have their trans body sit next mine, and offer their strands of hair, so that I was never naked for more than a few minutes." Unlike the performance in Leipzig, the audience in Zurich was very concerned for her wellbeing. "One piece would get cut off, and then another person would quickly give me their sweater, cardigan, jacket, coat and even bra," says Rong, who believes the experience of the pandemic, plus the Ukraine war, inspired more compassion.
Now in Toronto, art-goers can experience Rong's Cut Piece, through a filming of the 2019 live performance. Unlike the single-channel perspective of Ono's original film, Rong's two-channel video offers both an overview of the performance as well as close-ups of Rong. "It's very different from seeing it in person, but in a way, it's more intimate, because the camera work is so strong, and captures the discomfort of people cutting. You can see a woman shaking as she cuts away my clothes."
The exhibit is running at The Image Centre until April 1st, and on Feb 18th, Yoko Ono will celebrate her 90th birthday. Cut Piece demonstrates Xie Rong's strength and fortitude as an artist, while also honouring Yoko Ono's rich legacy. Exhibit goers will leave with much to think on and discuss.