The Toronto Youth Shorts kicks off today and Yvonne Sung is one of the local filmmakers to have her work screen at the festival. Yvonne's film Ticket For What? explores poverty, trauma, and policing, honing in on the issue of our homeless population being unfairly ticketed under the Ontario Safe Streets Act. It's less than twenty minutes long but effectively cuts to the heart of the matter and leaves a lasting impact.
Her film will screen in the Social Justice Program along with four other shorts by young Toronto filmmakers. While the series is titled "Sins of Our Past", the subject matter in Yvonne's film is as timely as ever, especially with Doug Ford's recent announcement granting the police more power to conduct random stops.
We connected with Yvonne to find out what it was that compelled her to make this doc and what's been guiding her career journey thus far. We love her approach to filmmaking, and can't wait to see where her passion leads.
What inspired you to make Ticket For What?
In the summer of 2018, my friend Richel Castaneda, a law student at York University was volunteering at Fair Change Community Services. She mentioned to me that they were helping people who were homeless resolve violation tickets for charges like panhandling. I was like, "people get ticketed for being on a sidewalk?" I was speechless! I. WAS. ANGRY. I didn't get why. I needed to do something about it! I got in contact with Fair Change Community Services. I followed them to their drop-in sessions at local shelters. I got insightful interviews with key members of Fair Change: Criminal Defence Lawyer and Superior, Jessyca Greenwood and Student Co-Director, Joe Marando. During interviews with Fair Change's past clients, I also got valuable first-hand experiences on how the Safe Streets Act impacts the community financially and mentally, adding more burden to their already vulnerable state.
How did you connect with the narrator in your film? And what is the greatest lesson that they taught you?
I'm beyond grateful to be connected with past clients of Fair Change Community Services through their assistance. I also got in touch with long-time advocates like John Clarke and Cathy Crowe through OCAP.
The interviewees with José and anonymous taught me that no matter how hard life can be or how many traumas one might have from the past, there is always a chance to start a new path; they also taught me that everyone street-involved has a story to tell and how criminalized and dehumanized the homeless experience can be.
The lesson I learned from the advocates and Fair Change Community Services is that, if people with more resources can land their helping hands to people less privileged, our society will be more connected and equal as a whole.
When was it that you make this doc? And how have your ideas about homelessness shifted since then?
I started filming in 2019 and finished the film in early 2020. My ideas haven't shifted much since the start of my journey with this film. I think more people in Ontario should know about the Safe Streets Act and its effect on people homeless. And the SSA should be repealed. The Covid-19 pandemic, on top of the housing crisis, has made it even harder for the vulnerable population. It is more likely that people experiencing homelessness contract and die from Covid-19. If there are condos being built, there should be sufficient housing for the community.
What documentaries have really inspired you over the years?
One documentary that I can never forget is Toto and His Sisters (2014) by Alexander Nanau. In a Romanian ghetto, Toto lives with her sisters while his mother is in jail. At Toto's age, he is supposed to be playing with schoolmates, but his childhood is stripped away. Without his mother by his side, and his homes often filled with drug users, Toto and his sister get help from social workers to stay on the right path.
One scene that struck me and stayed with me is when Toto does his homework at home besides several men using drugs. I felt so sad to see his reality at that moment because he was just a child. Nanau dedicated years following the family and did such a beautiful job of presenting these raw moments to his audience as if no one was watching. His film taught me that patience, dedication, and trust are elements to creating a masterpiece.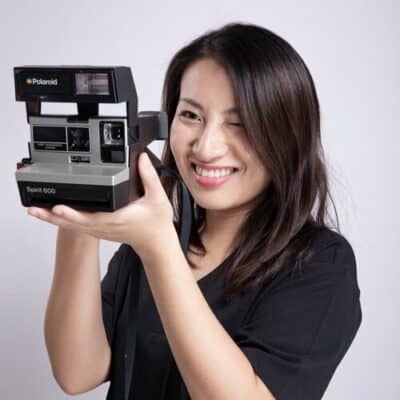 What philosophy is currently guiding you on your path?
My career goal is to share more stories so that the world is more aware, connected and kinder.
What's a great piece of advice that has helped steer your journey as a filmmaker so far?
"Be open-minded, your story will take you to unexpected places."
Are you working on any creative projects at the moment?
Yes, I have a few short doc and fiction ideas in mind that I'd like to complete in the next few months. One of them is a short PSA on Asian frontline healthcare workers speaking about increasing anti-Asian attacks in North America.
What was your first intro to film in Toronto?
The beauty of the documentary genre is that it can excite you about pretty much any subject matter. In high school, I went to my first screening at the Hot Docs Festival. It was the opening night film of 2011, Fightville, a film about MMA fights. I never thought I would enjoy a film like that, but I absolutely did. I was cheering and screaming for the fighters by the end of the film. Ever since then and on, I realized how documentaries can change perspectives, connect people and potentially, make this world a better place.
Toronto Youth Shorts runs from April 20 – 27, and includes 40 short films by young filmmakers in Ontario. Passes for programs are $2, or grab an all-access pass for $10. More info on their site.