Here at She Does the City, we are all about supporting Canadian handmade and artisan goods, and Montreal-based company Rimanchik is seriously checking off all of our boxes. Through their use of unique cuts and distinctive combinations of leather, textile and hardware, their accessories are not only beautiful and timeless, but they would also make perfect gifts this holiday season.
We're particularly in love with the Tucker Backpack and the Orleans Cuff. Any for the musicians out there, they just launched a line of handcrafted leather guitar straps – so there's really something for everyone! Check out their entire collection here.
While the company was founded by Sandra Singh and partner Victor Nolivos, Sandra's sister Anita Schretlen also joined the family business in 2011. We caught up with the siblings to find out how they divide and conquer to grow the Rimanchik brand beyond its loyal Montreal following.
Not many siblings could form a successful business partnership. What brought you and your sister together?
The fact that we have very different skill sets probably helps a lot. Anita is the business expert and Sandra has the creative mind. We each bring something different to the table and don't step on each other's toes much (except when Anita tries to offer design advice… that usually doesn't go over well).
Actually, with Sandra in Montreal and Anita in Toronto, working together has actually brought us much closer together. We speak to each other daily, which most certainly wouldn't happen otherwise, and we have an extra excuse to visit.
In terms of your design and craftsmanship, what is important to you?
We really take a lot of pride in our craftsmanship. We learned from the best and expect nothing less from ourselves. We also work hard to offer designs that are unique and stand out, and yet are timeless pieces that can be worn for years. We are always so happy to see someone wearing a Rimanchik piece that they purchased 5-10 years ago, which still works with today's styles and looks fabulous.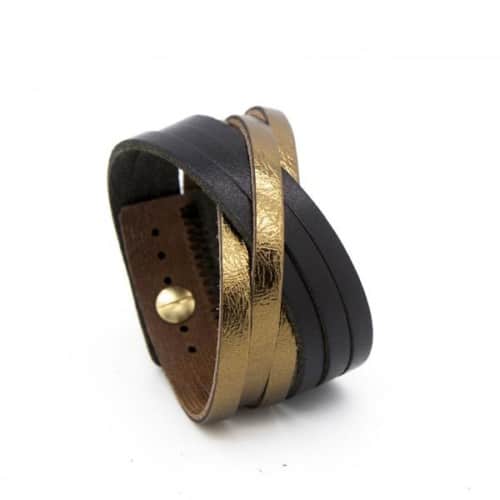 What excites you about the Canadian fashion industry today?
There's a ton of amazing talent in the industry. It really is a very innovative and creative bunch. Unfortunately, the Canadian fashion industry doesn't get much support or recognition. In other countries, fashion is a recognized industry with government support. In Canada, Toronto Fashion Week was nixed due to lack of funds. This makes it hard to compete against international brands. It is exciting, however, to start seeing more of an awareness of the issues around fast fashion and a growing appreciation for shopping local.
What inspires your creativity?
We love to travel and always feel very inspired when we return home. It's not just seeing different styles and fashions from around the world that fuels our creativity but the whole experience. It really changes the way you see things.
Also, one of our favourite things to do is spend an afternoon in our sunny studio, with some good music and coffee, and just play. We love to experiment with different cuts and geometric lines, mixing materials and unique pieces of hardware. You never know what will happen!
What lesson have you recently learned that is helping to steer your professional life?
Life is short. You need to find what is important to you or what you are passionate about and run hard with it. All three of us are in different life stages, but having kids, dealing with aging parents or just getting older has really solidified this thinking for us in the past little while. Versus when we were younger, we are much more focused on projects that are personally fulfilling, allow us to use our creativity, and help make a difference in the world.
What is the most fulfilling aspect to running your own company?
Having control of the direction you're headed is definitely one of the most fulfilling parts. You work so much harder when you're on your own, but being in charge of your own destiny is so worth it.
As an example, we just launched a new line of handcrafted leather guitar straps, Stinger Straps. It's something we're super passionate and excited about and once we did the research and saw a gap in the market, we were able to run with it quickly. It just doesn't work that way when you work for someone else.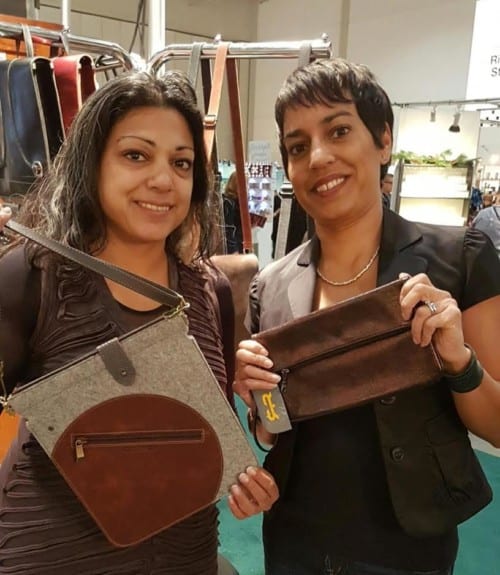 What are your top three tips for creative entrepreneurs hoping to break out on their own?
Acquire business skills! Either take the time to acquire them yourselves or partner with/hire someone who has them. It's a very romantic idea to spend your days making beautiful things, but if you can't sell them, or are losing money in the process, you won't get very far.
Diversify everything. You really can't put all your eggs in one basket. As we mentioned, we've recently diversified our product offering by launching Stinger Straps. We also diversify our sales by selling at artisan shows, online through our standalone website, on Etsy and some wholesale to retailers. Sales are not always predictable and so when one of these channels is in a lull, the others tend to make up for it.
Block off time to be creative and play. It is easy to get stuck in the day-to-day grind of running a business. But you need to find the time to let your creativity run loose. Schedule it into your calendar if you have to. If you don't, your work and designs will suffer.
You can find Rimanchik One Of A Kind Christmas Show (#OOAKX16) on now until December 4. Check out full collection now.