Hayley Elsaesser is the founder and fashion designer of the hella cool label of the same name. After briefly studying psychology, she found her passion sewing pieces to sell on eBay. Next thing you know, she was on the other side of the world in Australia, graduating with honours in fine arts fashion design and was featured in L'Oreal's graduate showcase at Melbourne Fashion Week.
Cut to today, Hayley Elsaesser is quickly rising in the fashion scene, known for her bold patterns on timeless pieces that are wild and colourful, yet classic in shape and often unisex. Elsaesser just showcased her My Little Pony-inspired FW17 collection at NYFW and the likes of Miley Cyrus and Alessia Cara can be spotted wearing her hyper cool looks.
As the label has grown, the project has become a fun family affair, with Hayley's brother Connor taking care of business operations and her graphic designer husband Josh Davis supporting on the prints and patterns.
Meanwhile, her manager of relations (Heather Anderson) is also a stick n' poke tattoo artist & her sales bb (Ethan Hanzel) is a brand ambassador who's walks in the fashion shows. It's no surprise that Hayley's team is filled with badasses, seeing as she's such a badass herself. Badass boss girls gotta have a badass team.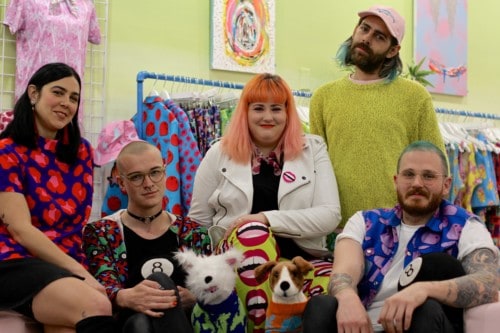 SDTC: When did you first fall in love with fashion?
HE: Ever since I was a kid I've always loved dressing up and wearing cool clothes. My aunt used to take me shopping in Toronto and I always loved having different clothes than my classmates. One of my earliest *FASHION* fashion memories is when I was at Value Village or Winners; I was in grade 4. I found this pair of pants that were neon floral – like aqua, lime-green, and yellow – and I loved them so much. My mom and my brother were like, "Those are disgusting. You can't get those," but I was like, "Too bad! I really want them."
That was like the first moment where I was really finding my own fashion identity. Since then it was always a way for me to express myself. I was always really quiet and shy when I was young so it was like a tool I used to express myself in my really boring small town.
Even back then, I loved colour and print and mixing stuff up. I would get vintage stuff and rework it to make it fit because I didn't have a lot of money and there was no online shopping.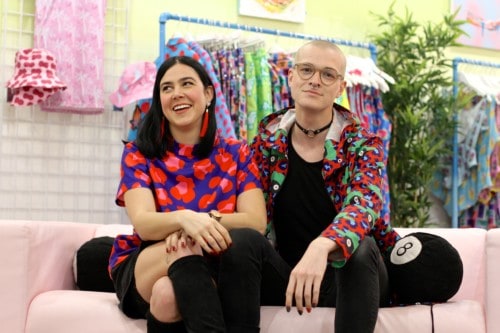 What are you inspired by right now?

I'm always inspired by different things, different people that I meet, and a lot of different experiences that I've had when I was younger. It's usually a lot of pop culture stuff, so a lot of movies. I'm inspired by the collection that's coming out right now. I was inspired by Romeo + Juliet by Baz Luhrmann from the 90s. I really love the imagery and the kind of the stories that movies tell. How it takes you to this other world that's really over the top and really different than normal life.
In the past you did a whole collection that was Big Lebowski-inspired, right?
Yeah! It was called "Gutterball." That's the one that's on the floor right now. There are a lot of different things inspired by the movie. There's a toilet bowl print, bowling ball (obviously), half & half milk cartons, scissors. I like to get inspired by movies and not necessarily do something that's completely obvious to begin with.
Different small things from movies inspire me, like the toilet, when he's getting his head dunked in the toilet. That's probably not something you remember from the movie, and you would assume I would go for the rug and I totally didn't do that. I like to be challenged and look and at the little small parts that I find interesting.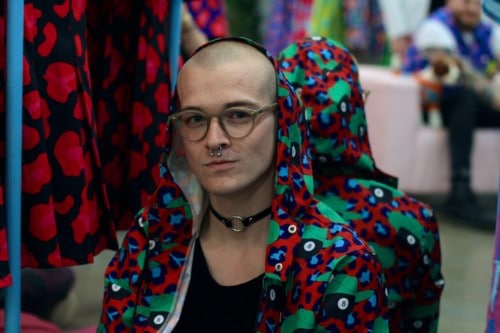 In terms of being a "Boss Lady," did it take a while to find strong confidence in your own work and build outside bigger? Where do you think you pulled that confidence from?
I always thought I had my own unique sense of fashion. I didn't know that other people would really like it but I tried and I started selling stuff on eBay when I was in high school. I actually started off studying psychology but spent all my time sewing and selling stuff on eBay so I was like, "Okay I should probably explore this."
I started off going to university in Vancouver and they told me my stuff wasn't commercial and I got really bad grades because they thought my stuff was just too crazy and I was like, "I think I have something special and I really need to just try!"
I don't know how I believed in myself, but luckily I did. I moved to Australia and that's where I developed as a designer and where they really pushed me to explore my inspiration.
Getting in-depth and thinking of fashion in more of an intellectual way really helps me to validate it. What I do is really well thought out in terms of the print, and everything that goes into it, so I think that because there is that thought behind it, I feel confident in what I'm putting forward.
When I graduated, I entered a competition for design graduates and I was chosen as one of the top ten designers across Australia, so that really was like, "Okay, I have some sort of talent. This is cool!"
I wasn't planning to do my own label. You hear horror stories in university where they say it's so hard and everyone fails. I was going along with that advice, but I was getting a good amount of attention and was thinking that it was probably the time to do this if I'm going to. I wanted a sign – I haven't said this maybe ever in an interview – but I really wanted a sign to decide if I should take this step or not, and the next day there was this page in a national magazine of this blogger wearing my stuff. So I gave it a try!
I moved back to Toronto and Toronto Fashion Week was the same kind of thing. I was nervous to see what the response to my work would be here, because it is so different and crazy. It was either going to be something that they loved or hated and I had to take the chance.
Luckily it was something that was really well received and it has just grown from there. First, I started a pop-up at Bayview Village Mall, which was not really my customer at all, but it was a really nice trial run. Then from that I opened my store on Queen Street. Now I have some really amazing people that I'm working really long hours with.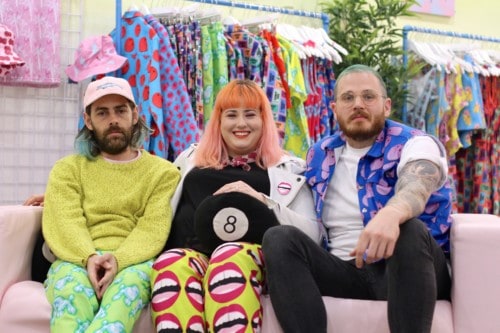 What motivates you in those late night long hours where you feel frustrated? 
I think it's really easy to get caught up in the moment when you're really stressed and feeling down on yourself or to get sucked up in that. I've had moments where I've almost given up and then thought of myself in the future, thinking, "If I were to give up now, would the future me be disappointed or would they be happy with what I've tried?" They would probably want me to try harder.
You have to step outside of yourself and imagine yourself as your mom or a friend telling you what to do. Take it as more of a critical view and push yourself in that way. When stuff gets overwhelming, it's really easy to get overwhelmed and not think rationally, but you have to keep that level head.
What do you do to keep that level head when things are getting too serious or too anxious? How do you breathe or find that element of play or fun?
I watch a lot of TV because that is my escape. I am literally constantly working and constantly thinking of work, so if I watch these stupid mindless TV shows to try and get my mind off it, it really works. I'm watching Party of Five right now; it's the most cheesy, ridiculous stuff and just hilarious, but it forces you think of something else.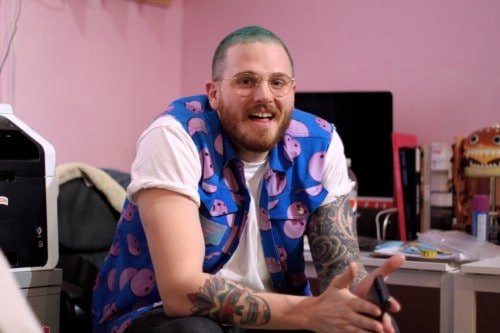 It's good to not overwork yourself and give your brain a break.
Give your brain a break, exactly! That's really necessary I think.
You gotta have that chill zone.
Forcing yourself to chill basically.
Forced chillness. Do you have any advice to younger girls who might be reading this who are afraid their work is too weird or bizarre?
Decide if this something you want to dedicate all of your time to. It literally takes up your life and is not for everybody. It's crazy and it's hard! It's good to get experience – I did internships, which is really really eye-opening and helpful. Get as much experience as possible, you can work for people, you don't have to jump into it like I did. I had an opportunity so I took it, but I think it would have been good to learn a little bit more before I did, because there was some learning pains along the way.
If you want to be a designer, it's really important to be clear about your vision and not waver with that. It's easy to want to bend what you're doing to keep up with trends and that kind of thing, but it's important to decide who you are as a designer and to stay on that path. At the end of the day, that's what makes it special. Being a designer is designing something that's slower, more thoughtful, thought out, and that kind of thing.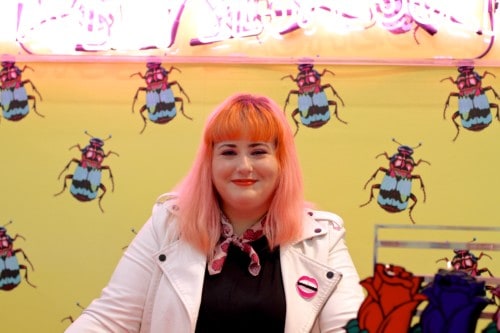 And it can apply to life too right?
It can apply to anything, yeah! It's all about being authentic and figuring out what you want to do, not what you think you should do because somebody else is doing it or expects it of you. Figuring out what you want to put your time into, because you should be passionate about your job. It's really important to find something that you actually enjoy doing!
You can check out Hayley Elsaesser's work at 695 Queen St W, Toronto or online (she's always got dope sales) + her Instagram. Tomorrow, Hayley will be hosting a Verona Beach-inspired party to show off her brightly coloured SS17 collection. We'll be there and can't wait to share with you. The annual summer party takes place at the Hayley Elsaesser flagship (659 Queen St. W.) on Wednesday, May 31, 6 – 9 p.m.