Mandy Rennehan is the founder and CEO of the retail construction company Freshco (and no, we don't mean the grocery chain). Freshco is the first full-service, 24/7, on-call retail maintenance provider with full coverage across Canada and the eastern U.S., and the most successful of its kind in the country. Rennehan has built her empire from the ground up, from its inception to the implementation of beautiful retail spaces for such clients as Apple, Nike, The Gap, Lululemon, Anthropologie, Restoration Hardware, Banana Republic and many others.
Rennehan is not only an entrepreneur extraordinaire, but she was recently ranked among Canada's top female entrepreneurs on the PROFIT/Chatelaine W100 List.
Can you describe how and when you came up with the idea for Freshco?
I left my hometown of Yarmouth, Nova Scotia, at the age of 18 with a suitcase and not much else. I knew being self-employed was inevitable for me and I came up with Freshco while out to dinner with a friend. She was convinced I was going to be successful as a business owner and would be a millionaire by the time I was 30.
After several small entrepreneurial ventures, I started Freshco in 1995 when I was 20 years old. I felt there was a gap in the industry and I was happy to fill it. I'm so proud of my team and what we've been able to accomplish.
Skills are transferable. Your family was supported by your father who was a lobster fisherman. What lessons did he teach you that inspired your career path?
I grew up in a family of six and we faced many challenges, including growing up in a community that relied on a seasonal fishing industry. Many times, my father struggled to put food on the table. His relentless and endless days of working until he couldn't walk or stay awake inspired me to tap into a business mindset that I knew I possessed. I wanted to combine the white and blue collar together. So while other kids were busy playing, I was foraging for bait and selling it to the local fishermen for profit. I soon became known as the 'local fish broker.' At the age of 10, I was an entrepreneur.
Why do you think more women should consider a career in trades? Or, worded differently, why don't more women consider work in trades?
Gender diversity in the construction and maintenance industry is shockingly poor. By 2020 it's estimated that Canada will face a shortfall of over one million skilled workers. Despite this red flag, women continue to have low representation in the skilled trades and in 2012 they only held 12% of construction jobs. One of my main missions in life is to attract more women to seek apprenticeships and careers in trades.
Over 60% of Freshco employees are female – I believe women are wired to be amazing trades people. One woman in a trade is equivalent to an army. With the complexity of the retail industry and everything having to be tailored to the client and customer, women are best suited for the job. By nature, we are multi-taskers with an eye for detail – we have all the tools to take maintenance management to another level.
How did you learn to build? Are you still involved in that side of the business?
I'm a self-made expert in retail maintenance, reconstruction and restoration. For some reason, building techniques and structure came very easy to me, so I taught myself through my own projects and when I didn't know something, I made sure I was on a job that tackled that issue. Because of my non-traditional background, I'm not afraid to take a different point of view.
My love affair with building started at age 9. Growing up rurally around trees and lots of open woods created a fascination with all the different species of hardwood and softwood out there. Coming from a bigger family made me crave for a place to escape to, so that's when I put my thoughts to work through trial and error. I built all sorts of things and kids on the street were happy to help me.
On custom and very involved design restoration projects, I am very much involved as I am a perfectionist to the fullest extent of the disease. I am always looking to learn and I think the best way is by watching my younger employees take on different challenges. I also do my best to support their success and show them how I would do it. It's Mandy 101 everyday and the ones that make it are special.
How did you get connected with big clients like Nike, The Gap, Lululemon, and Apple?
They heard of me through word of mouth. The industry of commercial / facility's industry is very proprietary and a lot of them talk. They rely heavily on the recommendations of others to make their decisions about a vendor.
What are maintenance issues that Freshco regularly handles that shoppers may not ever consider?
Freshco is comprised of three divisions: Maintenance, Projects and Reconstruction. We offer customized, coast-to-coast, first point of contact service to high-end global retailers.
We're not your typical, conservative, retail maintenance company. Over the last 20 years we've done everything from drone location scouting and designing staff uniforms to repurposing old buildings and off-hours construction that doesn't disrupt business. I was also part of creating the simplified work order management system we have today that allows us to use a single point of contact for all facility departments across North America. There's a lot of behind-the-scenes that shoppers don't know about, and that's how we like it.
I'm assuming most of your business is out of Toronto? Many would feel pressured to live here. Why have you stayed in Yarmouth?

I decided to renovate the windmill in Yarmouth as a home base to give back to the community from which I came, but I am very spontaneous. I'm happy to go wherever I'm needed to participate in the various projects and training we have going on. I have never liked staying in one spot too long because I fear it will make me and my team stagnate. I prefer showing up and keeping things exciting by visiting all my offices on a regular basis.
Beyond being named one of Canada's top female entrepreneurs and running a multi-million dollar business, you're now purchasing and refurbishing derelict buildings. Tell us about the decision to buy an old jail.
Growing up in Yarmouth, I never dreamed that one day I'd buy the old jailhouse on Main Street. When I was driving through town one afternoon, I looked up and went, "Wow, the old jail is for sale." After seeing the original granite from the 1800s on the exterior of the building, and the architectural integrity of what they did back in the day, I just looked at it and thought, "I need to buy this." I quickly met with a realtor to tour the 150-year-old structure.
During the tour, all I could think about was how I was going to restore and make the jail into something out of this world. Plans for the jail are still in the works; it will cater not only to tourists, but to local residents as well.
I spend what little spare time I have on restoring derelict buildings because for me it's a passion. I want them to smile with purpose again. Anybody can knock down a structure, but only a real vision and know-how can make them sexy again structurally, cosmetically and mechanically.
What do you love most about your work, your company?
I love mentoring. When I meet real people with wonderful hearts looking for a rewarding home, I'm happy to teach and welcome them into the Freshco family. For example, I purposefully spin Freshco talent out of control to see where their confidence and skill set takes them. When they learn to embrace turns they've never dreamed of, such as a new project or position, their lives can blossom both professionally and personally. It's inspiring to witness.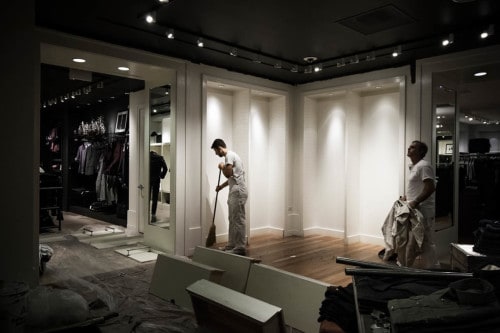 What have your biggest professional challenges been in the past five years?
The recent economic headwinds in the U.S. definitely posed some issues to our business, as most of the retail world re-structured their facility departments and downsized their footprint. We've also seen a lot of our 20-something employees burdened by school debt, unable to live the life they've been dreaming of. In turn, depression and mental heath issues have had to be a strategic mandate for us on a management and leadership level. We want to help them see the light at the end of the dark debt road.
What's a current personal goal that you're working on?
Whether it's restoring old buildings, establishing my newest business called RennDuPrat or tackling residential construction – I'm always setting the bar higher for myself. However, the goal that is dearest to me now is encouraging women to get more involved in the trades. It's an important endeavour in an industry traditionally dominated by men.
Earlier this year, I established the Chris Rennehan Scholarship, named after my late brother. My team and I strongly believe that with the proper mentoring and training, anyone can become a skilled tradesperson. The Chris Rennehan Scholarship helps people take control of their lives and supports them to be independent and confident. Although I started this foundation in Yarmouth, I have big plans to reach out to individuals across the country to help single mothers, youngsters and people in need of some direction in their lives.
What life advice were you given once that you refer to often?
"When you are different and think differently, then 97% of the general population either sees you as a success or a target. Learning how to manage your expectations and having a sense of urgency is important." I've thought about these words every day for the past 22 years and striving to find this balance in my professional life has made me better.