For years, kombucha has been a well-kept secret for its digestive and metabolic benefits. Now, this "living" beverage (also known as a supertea) has really caught on, and you can thank Zoey Shamai for that. Shamai is one of the first female Kombucha brewers in Canada, and the first brewer in Toronto. She is the creator of Tonica Kombucha. We chatted her up this week.
SDTC: Before you decided to start your own business, what did you envision yourself doing for a living?
ZS: I honestly didn't know. I was twenty-six years old and was teaching yoga and waitressing. I had grown up in the wellness world, my mom owned a successful health product company, and I had been going to health shows and taking yoga classes since I was ten.
I felt very at home in the holistic world but had absolutely no idea which direction I was going. It was just great luck that I came across kombucha at a time when virtually no one was making it. The digestive boost it gave me was amazing, so it was a natural fit for me to start brewing and sharing it. It was about two years later that I realized this could be a real business!
What will we feel like if we drink Tonica?
A delicious, thirst-quenching, tart/sweet rush of delicate bubble (that's our natural carbonation). Almost immediately you'll feel a little buzz from the oxygen in the enzymes and all the living acids. (Our brew is fermented and raw, so it is very alive!)
I like to drink Tonica before a meal to boost my metabolism and be ready to devour anything! But if you sip it after overeating, it'll be a nice digestive. Tonica is also a girl's best friend for cocktails. I always use it as a mixer with my drinks to beat any morning-after lows; it's hydrating, low-sugar and (Tonica specifically) is high in glucuronic acid, which binds to toxins in the liver and helps you detox.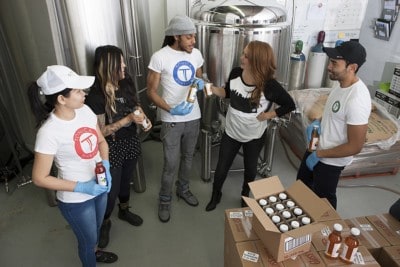 Can you walk us through a typical day in your life, from getting up to going to bed?
Busy! I start each morning with gentle yoga vinyasa and meditation to get clear and open for whatever the day brings. Then I'll head to scheduled meetings in the morning with retail buyers and visit existing accounts or suppliers. After that, I'll often pop into Tonica HQ to connect with my operations manager and chat with the staff to see what's up. After lunch I like to head to my gym and work off any stress and get pumped for the rest of the day.
From there, if I don't have anything booked, I let my intuition guide me and often end up visiting stores and sharing laughs with grocery managers and staff. The natural beverage/food industry is such a cool community, so it's always a pleasure to get out there and connect.
What's been the biggest challenge you've had to overcome in getting your business going?
Developing a commercial kombucha-brewing process from scratch with very little guidance. When I started brewing kombucha I was advised to get other existing beverage companies to co-pack (i.e., brew and package it for me). But back then no one knew what kombucha was in Canada and due to its raw acids and bacterias, no other beverage or beer companies would go near it. So I had to figure out how to source machines that would do more than a home-brewing project, but less than a full-on beverage manufacturer so I could afford them. It was challenging! But very rewarding every time a piece of the puzzle was solved.
What was it like being on Dragon's Den?
So good. I was very nervous. I knew there was no editing and what they filmed would air to millions of viewers. But we planned out the whole pitch and it went very well. Even though they gave me what I asked for on the show, I ended up declining the deal off-air as the Dragons asked for more after the fact.
That being said, the show, the exposure, and the lessons learned from the preliminary workings with the Dragons was priceless! They also filmed us again last year in a "Follow-up Success Story," which was amazing. I am very grateful to Dragon's Den and all the opportunity it provided me and to so many other Canadian entrepreneurs.
Any tips for other female entrepreneurs wanting to get in the mainstream market?
If you've got the passion for your product, start slow and introduce your idea to your friends and family and see if your excitement spreads. If there's a demand, then fill that up and create your market. Trust your instincts right from the get-go and stay away from comparison.
I've learned in business that a lot of people tell a good story about what they've accomplished and often it's inflated half-truths. In the beginning years I often compared my progress to those stories and doubted my instincts, even if what I was doing was working. Trust your own instincts and don't worry about living up to anyone else's ideals.