The three words the designers behind Muttonhead chose to describe their brand are exactly the reasons we love it, "classic, unisex, Canadian."  These characteristics alone make the Toronto-manufactured (!!!) garments definitely a brand to get behind—and then you see the designs. Started in 2009 by sisters Meg and Mel Sinclair and Paige Cowan, Muttonhead creates boyish-shaped clothing that women everywhere would be more than happy to own. Muttonhead is always on-trend, mainly because it doesn't follow fast fashion and therefore the pieces stand the test of time. Muttonhead's garments remind us of the perfect cottage wardrobe that is also city-appropriate, with utilitarian shapes and comfortable designs.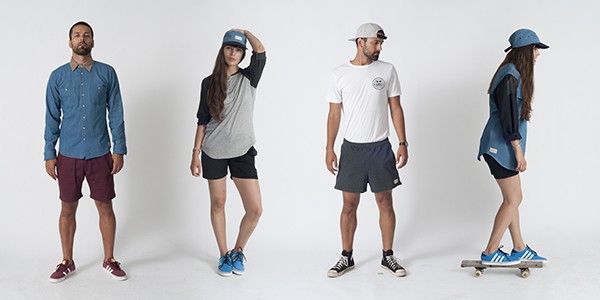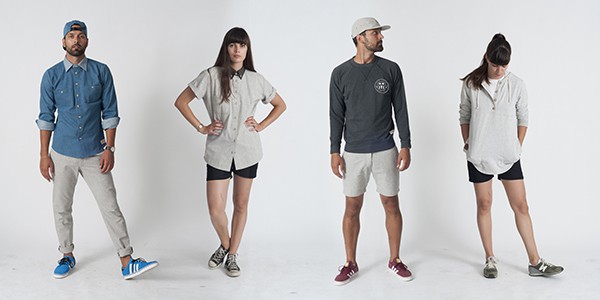 We talked to the women behind Muttonhead about being a part of the Toronto design community, inspiration and preferring strangers wearing their pieces to celebrities.
SDTC: When did you start your clothing collection and why?
Muttonhead: Muttonhead started in 2009 as we found there was a gap in the market for ethically made unisex apparel. We were fresh Ryerson graduates and were full of ambitious ideologies and were eager to create a business model that we could be proud of.
SDTC: What items are your biggest sellers right now?
Muttonhead: Our biggest sellers, season after season, are our sweatshirts. Our Camping Hoodies and Two-Tone Crews are always all-stars. A summer staple for the boys or the babes are our Camp Shorts. For all those people who like to boogie our Gym Shorts will get the party started!
SDTC: If you could have one celebrity wear Muttonhead, who would you want? Why?
Muttonhead: No particular celeb comes to mind, we just love it when people rep Muttonhead or we see strangers wearing it on the street. We are more influenced by what our friends are wearing as opposed to what is being dictated by celebrity trends.
SDTC: What do you think distinguishes Muttonhead from other unisex collections?
Muttonhead: One of the main reasons we stand apart is the fact that we are essentially designing menswear with women in mind. From the conception to branding we keep both male and female customers in mind.
SDTC: What inspires you to create?
Muttonhead: Feedback (positive or negative) inspires us to create and constantly evolve. Hustling to establish ourselves in an overly saturated industry encourages us to keep going.
SDTC: What are some of your favourite places to go in Toronto? Parks, coffee, boutiques, spas, bars, restaurants? Where are we likely to find you?
Muttonhead: Favourite places to go, hmmm, there are so many! High Park is the best because it feels like you have been transported out of the city without leaving Toronto. Sam James iced americanos are the cat's meow, and Tacos El Asador are legit Mexican eats. If we want to go where everyone knows your name, we head to Camp 4 to visit Damara. Most weekends Meg and Mel flee the city to head to their cottage up north. 
SDTC: Why did you decide to only make unisex clothing? 
Muttonhead: We gear everything to both our male and female customers and try to make every fit as unisex as possible. We like to make products for all of our friends, guys and girls and think both look equally good in it.
SDTC: What's the most rewarding thing about being a designer in Toronto?
Muttonhead: There are so many rewarding things about running your own business. From the positive feedback that we get from our retailers or talking directly to our customers who come out to our events or purchase online internationally, it's always great talking to people, hearing customers tell you they like what you are doing.
The design community in Toronto is really strong. Paige recently moved back to Vancouver and she is constantly amazed at how close knit the artistic community is in Toronto. Even though it is a much bigger city, there is a much stronger sense of community and local support.