Use promo code SHEGETS15 on the marQ designs website to get 15% off your next purchase. Score.
Having a baby? Get ready to encounter a sea of pink and blue clothing – the gender binary is clearly demarcated at birth. While ribbons and bows are all well and good, it's refreshing to be able to outfit your kids in something that just suits them.
Melissa Grelo and Shayna Haddon are the co-founders of marQ, a stylish, pared-down kids clothing line that girls and boys can get down with. We caught up with them this week.
SDTC: Why'd you start marQ?
MG: When I discovered I was pregnant with a girl and shopping for her began, it was very difficult to find gender-neutral clothing, blankets, even diapers! It was disheartening to think that after all these years of feminism, choices for young girls (and babies!) were still so narrow in terms of options, mostly upholding gender stereotypes. This is when the wheels starting turning for me. "Perhaps, I should create that which is lacking and provide like-minded parents more options, not fewer."
After a few discussions with my good friend Shayna Haddon, who is one of the sharpest business minds and successful entrepreneurs I know, the idea of a gender-neutral, stereotype-free kids' clothing was born. With her business acumen and family connection in clothing manufacturing, we knew we had what it was going to take to launch the business.
Where do you get inspiration for individual designs? Does your toddler share input?
MG: Shayna and I bounce design ideas off one another. What inspires our design ideas? Active kids, street style, athletic clothing trends, fashion-forward ideas. My daughter is too young to give verbal input into the designs, but she does provide a lot of inspiration when it comes to wearability, comfort and fit of our clothes.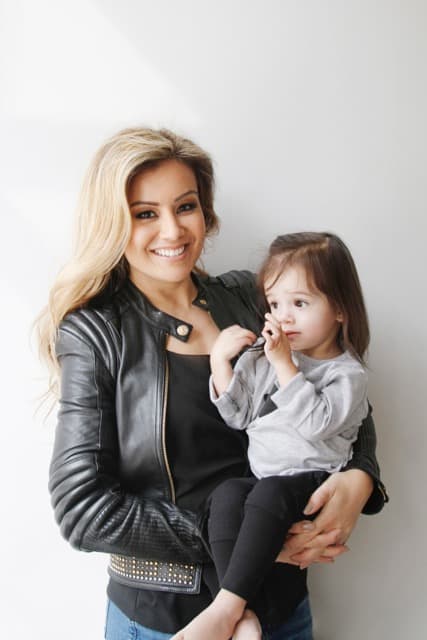 SH: We also get inspiration from the parents who support us all over the world! We have a wonderful online community of moms and dads who share their feedback and photos of their little ones in our clothing. This is so gratifying and inspiring for Melissa and me.
Can you walk us through a typical day in your life, from getting up to going to bed?
MG: I wake up at 4:30 am weekdays to host Your Morning on CTV. I always make a healthy, hearty breakfast that usually includes coffee and a veggie or protein shake. When I arrive in the office around 5:45, I read through scripts and work with producers to make any changes. I then get in to makeup and hair. I get dressed for the show and head backstage to be on air by 8 am. After my first show, I reset and do it all again for The Social. I go through the same research, hair, makeup and prep routine until I start rehearsals in studio at 11:30 am. I am live on camera again from 1 to 2 pm. After work, I have a meeting to recap the show, then I can usually head home shortly thereafter, squeeze in a quick workout, then spend the rest of the night with my family.
SH: Becoming a mom has definitely changed my everyday significantly! I now get up at 6 am with my son and we each have breakfast (he nurses and I have coffee and eggs and toast or a big smoothie). I am just returning back to work after a short maternity leave, so now we both get dressed and I start my day of conference calls and meetings. I own a business consulting company called Haddon Strategy, so I am continuing client work and strategy while my son will play nearby. My nanny will come over shortly after and I can run to meetings or try and hit the gym (if I am lucky). Bedtime routine starts at 5:30 pm with bath time, story time and then lots of nursing as I try to get him to sleep longer stretches.
Being a working mom is getting easier as I get more used to it – no two days are alike at all! As he grows I am going to have to figure out how to be away longer with nursing/pumping – that's my next challenge to tackle. After I put him down at 7 pm, I try to get one more hour of work done before a little housework and collapsing into bed myself! I am in awe of Melissa in this vein and how hard she works. She's a true renaissance woman. I am very lucky to be in business with such a great friend whom I admire.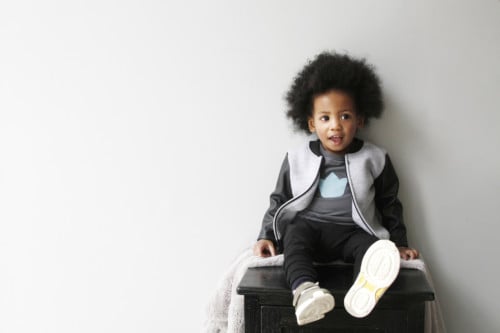 Any tips for mom-preneurs just starting out?
MG: If you're ready to chase your dream, start by letting go of any guilt you may be feeling about pulling yourself away from the family. Yes, your time will be redirected toward your endeavour, but this is about something bigger: fulfilling YOUR dreams. In turn, you'll be a better person for everyone in your life. Working towards your passion should fuel you, light you up inside. Yes, you will get tired. Yes, you will feel very challenged some days. But all of this is providing a strong example to your children that getting what you want isn't easy and that sacrifice and hard work are part of the deal. The payoff? Ownership. You're creating, controlling and owning your own destiny. You are in the driver's seat. If that's not being a powerful role model for your kids, then I don't know what is!
SH: As a business consultant I have helped many people start something of their own. The first questions I always ask are, "What problem is this solving for people?" and "How will this help people in their everyday lives?" Businesses need to solve problems for people; it's a key success factor. Once that question is answered, I ask what is version one of the product or service? Don't try to launch with the best, most perfect thing ever. Launch with the first iteration of it and then grow it steadily over time – adding features, products etc. Waiting until something is perfect means you will never launch. Remember: the iPhone couldn't even cut and paste until version 4! Use buyer feedback as your way to focus group the business and tweak it over time. Don't climb too many steps at once and think its not going well because it isn't making money right out of the gate. Owning a business is a slow burn, long haul endeavour – not a get rich quick scheme. Those are my best tips. Oh, and have a business plan. Know what your pipeline will be!
What have you learned about yourself during this process of starting your own biz?
MG: My tolerance for risk is higher than I thought! I've always been risk-averse; not the best quality if you'd like to start your own business! But with Shayna, a seasoned entrepreneur already, I pushed past my comfort zones when it came to making big decisions. It felt great to explore this side of myself! Shayna continues to push me and I'm so thankful she does. I've grown so much in such a short time.
SH: I learned I can be in business with a partner! This was big for me. I work so well with Mell (that rhymes!). I learn a lot from her and we complement each other well I think. I trust her eye and her judgment, which is always spot on. Working with her doesn't ever feel like work. It feels like fun.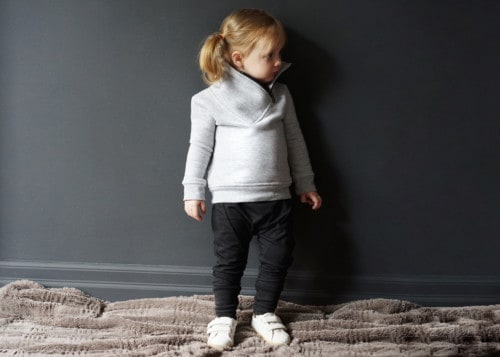 What is your favourite piece from your line?
MG: It's like you're asking me to pick my favourite child! Impossible! Shayna and I did, however, spend a lot of time developing the Sovereign Pullover. It captures what marQ is all about – stylish, fashion-forward, distinctive and stereotype-free.