Created by designer Julia Cronin, Svea Swim is an independent, Toronto-based swimwear brand.
Coming from a background in costume design (she worked on the costume team for the most recent season of The Handmaid's Tale), Cronin's intimate knowledge of fit and style led her to create a made-in-Canada swimwear line that would tackle the ever-so-common problem women face when it comes to finding a swimsuit that fits in all the right places. Using its own unique sizing chart that includes standard industry and plus sizes, Svea Swim aims to inspire women to feel confident and empowered in their own skin.
Cronin will be participating at this year's INLAND, an annual celebration of Canada's best emerging fashion, apparel and accessory brands. Be sure to pop over on May 3 and 4 to check out her stunning collection, and keep your eyes open for her upcoming summer colour line.
We caught up with Cronin this week.
SDTC: What inspired you to create Svea Swim?
JC: As a taller woman, I've struggled to find clothes that fit my body properly my entire life, so when I moved to Toronto from Montreal five years ago, I decided to take a sewing course. Learning this skill was super helpful. I was finally able to alter my clothes to fit me properly.
When summer rolled around, I couldn't find a nice, simple bathing suit that fit my body the way I wanted it to, so I decided to watch a YouTube tutorial and made one myself using my new-found sewing skills. The first one I made was horrible, but the third or fourth one I took out for a test ride to my friend's cottage. My friends started asking me if I could make them bathing suits as well (they were also having a difficult time finding ones that fit).
I realized pretty quickly that there was a hole in the market for simple, stylish, affordable swimwear that was available in sizes bigger than a large. There were many different factors that inspired me to create the brand, but realizing that there were such a huge number of women who felt frustrated finding swimwear that they could feel comfortable in was the biggest. I wanted to create a brand that instilled confidence and pride for everybody and every body.
What was the process of getting it off the ground?
Since moving to Toronto, I've spent most of my time working in film and TV in the costume department. Being a buyer allowed me to make some really important connections that were vital to starting my own business. I met a woman who specialized in lingerie and had a bunch of years of experience under her belt. She was able to bring my first collection to life by creating patterns and samples of the first six styles. I then brought these patterns to another film connection who was known for his grading skills, creating various sizes for each style.
Next up was finding the right fabric, which was a challenge because I wanted something very specific. I kept seeing bikinis in stores from Californian and Australian companies that were made out of the softest materials. I reached out to a wholesaler in Montreal, and they sent me a few sheets with swatches of fabric from Italy, Brazil and China. I absolutely loved the fabric from Italy—the textures, the softness—everything about it was perfect. They also provided a recycled nylon option, which I was interested in testing out in the future.
The last step was the hardest part: finding a manufacturer in Canada that would make swimsuits. After many months of searching, I finally found someone based out of Montreal. I had some samples made, and after some small tweaks I had sixty pieces of each style produced an shipped to Toronto. I ordered all the final touches (online, tags, bags etc.) and while they were being produced, I created a website through Shopify with the help of a very talented friend and voila! Svea Swim was officially launched.
Can you walk us through your design process?
I took inspiration from all over to create my first designs but mostly from old photos of women on the beach in the 1980s, I fell in love with the high cut leg and the bright colours. It took me a long time to decide on the six styles that eventually became my first collection. I wanted them all to feel cohesive and fun, so I kept the style consistent but added fun detailing like the bows.
If a group of friends were all wearing pieces from the collection, I wanted it to look like a uniform (or a team: the Svea Swim team), a uniform that represents the inclusivity of women of all sizes, feeling confident and comfortable.
What are a few of your favourite prints (either from your upcoming summer line or of all time)?
My favourite piece from the collection is the Frida top. It ties on the shoulders, and my favourite colour is the Lemon, which was just released last month. It's made out of recycled nylon and is so flattering on all skin tones.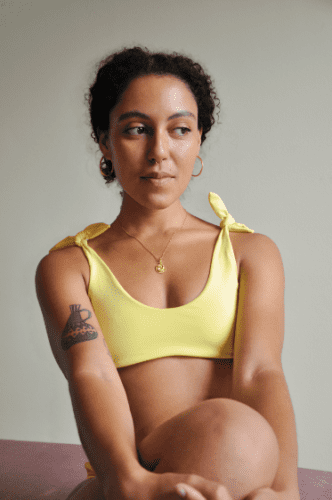 Why, in your words, was it important to develop your own unique sizing chart?
This was so important to me because I felt like there was a huge number of women being excluded from the standard sizing system. Why is it that plus size women need to shop in different stores or different sections? I wanted to create an inclusive sizing chart based off of actual measurements instead of the classic S, M, L, because everyone varies so much between these standard sizes across brands and they only tailor to a very specific audience.
What have you learned about yourself in launching this business?
I've learned that sometimes I can be too nice and trusting but that this trait is just as much a strength as it is a flaw.
Any advice to hopeful designers who would like to launch their own fashion line?
Don't think about it too much. If it makes you happy and excited to design then just go for it, full speed ahead.