You may remember our post from earlier this summer about the McMichael Gallery Field Trip series. We're happy to report that the wheels on the Art Bus are turning once again, this time on Thursday nights. The first Thursday field trip is July 21st, and from there on they will run every third Thursday of the month. This is a wonderful way to enjoy beautiful Kleinburg and come away feeling refreshed and inspired, on a weeknight no less! Gorgeous art, interactive programs, dinner and drinks? Best field trip ever, right?
Aaaaand, it gets even more exciting because we have two double passes to give away to the July 21st field trip, departing from the Gladstone at 5:30 with a 10:00pm drop-off.
Enter to win by LIKING and COMMENTING on our McMichael Gallery posts on Instagram or by tweeting:
"Hi @Shedoesthecity, I'd love to jump aboard the Art Bus! Please send me to @mcacgallery on Thursday night."
Winners will be announced on Monday July 18th, 2016.
To sweeten the deal even more, we have a Q&A with artist Colleen Heslin, who is showing her latest body of work, Needles and Pins, at the McMichael Gallery right now! Harriet Alida Lye from the McMichael talked with Colleen about feminism, inspiration, and her process.
When did you start working with textiles?
I started working with textiles around 2010. At the time I was interested in abstract patterning and the broader historical and cultural associations related to different designs.
What's your process like? I know your work involves sourcing fabrics, dying, cutting, and sewing.
The fabric and dyes determine a good deal of the final outcomes. If there isn't anything of specific interest in texture, weight and colour then nothing will come of it. I do a good deal of collecting various fabrics, both new and used domestic textiles. A lot of what is collected is dependent on my surroundings. I just moved my studio last year, and since that move I have worked more frequently with new and heavy material. As I dye the fabric, I'm generating a library of palette and texture to work from, this happens both in stages and specific to some individual works, depending on the scale. Often off-cuts from previous work will inform new paintings.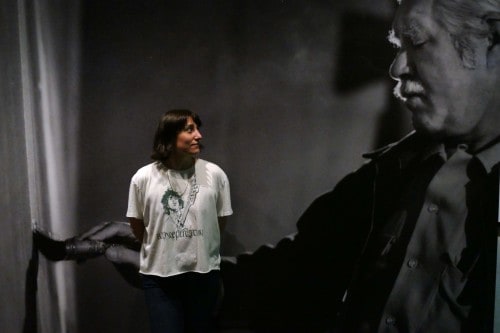 How do you come up with your titles?
The titles relate to a gesture within the work while also offering a cerebral exit to the picture plane. They are reflections of my stream of consciousness and cultural influences. If a title can keep a reading of the work open for contemplation and shift between a macro and micro perspective, that's important to me.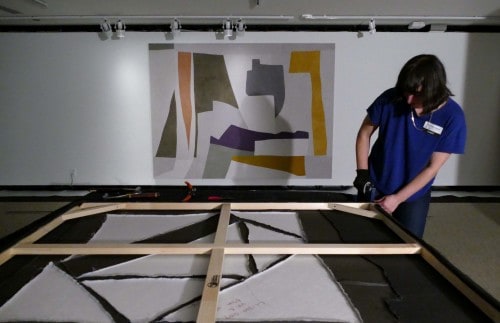 Do you have specific objectives with your work? If so, what are they?
With this work I am primarily concerned with sensory responses to material and cognitive activity generated by abstract visual stimuli. I'm working from a state of openness and I'm curious about how a 'state of mind' can be relayed, what becomes a fixed point, and what ideas continue to expand and morph.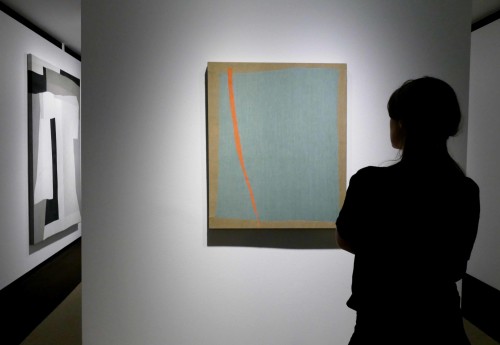 It's been said that "aspects of your process – specifically dying and sewing – are also inextricably linked to domestic labour, feminism, and craft." Is this something you're intentionally trying to play with or comment on, or is it more of an unconscious/inevitable thing?
As I've worked with this material and process it has led me to contemplate ideas of value that are attributed and embedded in both everyday objects and labour. So it has been a process of questioning and unpacking those ideas to move forward.