Last week, Odessa Paloma Parker announced on Facebook that she was leaving her post as Fashion Editor at The Globe and Mail to head up content at Tokyo Smoke. Interesting.
I was in my local coffee shop at the time (not a Tokyo Smoke) and remarked to my friend behind the bar that this was curious. My friend then asked me, "What exactly is Tokyo Smoke?" Tricky question.
I explained that it is both a coffee shop and a cannabis culture boutique, selling a well-curated stock of paraphernalia for "sophisticated" marijuana aficionados; however, what I believe they really are is a well-organized company and brand ready to pounce the market as soon as Cannabis becomes legal in Canada (July 1, 2018). Put another way: once the legislation comes through, the plants are ripe for harvest.
Before there was Jack Daniel's, there was whiskey: bootlegged, river-run, under-the-table rings. When booze production and distribution in North America became legal, a lot of people became rich fast, and when the marijuana market opens up next year, get ready for a country-wide Wild West eruption. Some will succeed; others will get trampled. Your days of buying BC Hydro or "green from Guelph" will come to an end as well-crafted brands move quickly to position their product. Tokyo Smoke is poised well for this new, not-so-mellow market that will surely rock the Canadian economy.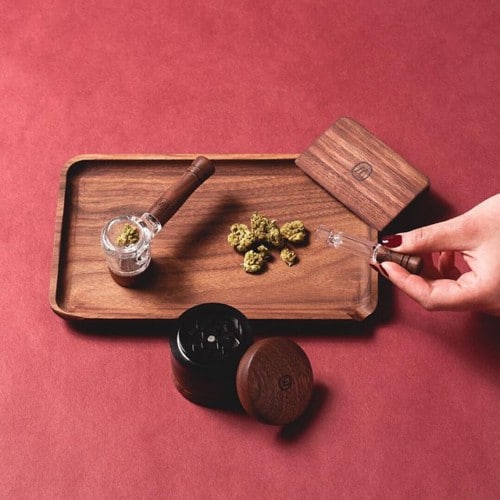 As someone who hasn't touched drugs or alcohol in nearly seven years, I'm happy to sip a Tokyo Smoke espresso but will likely never touch one of their bongs, grinders, pipes, or buds. But I do find the company fascinating to watch, from their team of creative professionals to the carefully branded smoke blends. Watching their moves is like observing a high-stakes chess game, and their latest press release announcing a flagship opening on Queen West is yet another bold and unexpected move.
Opening at 688 Queen West, you can browse selected cannabis accessories and apparel in a slick 1000-square-foot space designed in partnership with internationally renowned firm DesignAgency, headed by Anwar Mekhayech. It's billed as "stylish, approachable, modern, mysterious and zen."
To celebrate the flagship opening, a new coffee membership program will be introduced at all store locations. Membership perks include unlimited coffee and tea for $1 per day ($7 per week) for an introductory period ($20 per week thereafter), a 5% discount on all Tokyo Smoke purchases, exclusive invitations to events, and a custom Tokyo Smoke grinder card.
Back to the original question: what is Tokyo Smoke? A whole lotta things, and its story hasn't even begun. A new frontier is on the horizon, and we have no idea what it will look like. Put that in your pipe and smoke it.
The Tokyo Smoke flagship store opens at 688 Queen West on July 20.