Kelsey Matheson is an entrepreneur as well as a co-owner of the Anamaya Resort ecolodge in Montezuma, Costa Rica. Who knew that a simple vacation would turn into a life-changing business venture? Follow your heart, ladies! Whether Kelsey is organizing a cross-continent fundraising event or successfully steering a network of people to new heights, she always has her keen eye out, looking for the next big, earth-friendly thing. Based in Toronto, Kelsey enjoys practicing yoga, learning new languages and building businesses from the ground up.
SDTC: What path led you to open your own resort in Costa Rica?
KM: Out of college, I managed a women's shoe store. They took me out to Vancouver and eventually I wanted to become a buyer. At the same time, I was doing a lot of modeling and I got scouted to go to Japan. I lived in Japan for a little while doing modeling and acting. I started teaching English and that brought me to New York and Toronto to continue on my path, my acting career. And then I ended up working in the film industry. I began producing and working for the First Weekend Club. It is a Canadian organization that builds audiences for Canadian films—that was really fascinating. I have always had a mixture of being creative and having some form of business in my life. After First Weekend Club, my husband and I went to Costa Rica to buy property. I met my real estate agent, Geoff McCabe, who we ended up becoming business partners with, along with Joseph Mikrut. We ended up creating Anamaya. It is now four years old and at the beginning of this year, I also started another two companies. A yoga company called B.Flow with two women who live in Costa Rica and a backpack company called Be Packs with my business partner who is from the States.
SDTC: How does it work having your life in one place and businesses in another?
KM: I work remotely. All three of them are based not only somewhere else, but in a completely different country from where I live. But in this day and age, with technology, I can work anywhere. Thankfully, I can do anything because of how we do business these days. So I definitely do a lot of travelling and I also have a great team of people. Our staff at Anamaya are incredible. They allow me to work in Canada.
SDTC: What differentiates Anamaya from other resorts?
KM: Anamaya is very special. Anamaya means health in Sanskrit, free of disease. Basically what we do is we aim to inspire a deeper connection with nature, with other people from around the world that come to the retreat and a deeper connection from within. That's our main focus. We are a yoga retreat centre, for sure. But the results that we want are that our guests will have a completely transformative experience that they will take home with them. It's not just a vacation.
SDTC: How did you develop your interest in health, wellness, yoga?
KM: My mother always wanted the best for us. I remember growing up, wanting Fruit Loops cereal and she refused to buy it. It's so interesting because that definitely stuck with me. When I was modelling, I went to Japan at 21. So I was quite old, kind of over the hill in terms of modeling (laughs). But I went over and I had a more mature attitude than some of the girls that I was working with. For me, I wanted to be healthy. I've always been interested in health, wellness and my body—what I put into my body. It just grew from there. When you're on camera or being photographed, you're hyper-aware of what you look like. You can look at it two ways—a healthy way and an unhealthy way. For me, it was very important to look at it in a healthy way.
SDTC: What is a typical day in the life of Kelsey?
KM: A typical day means I wake up and I get my daughter off to school. Pretty much at 9:00 AM, I do my workout. I'm learning Spanish and I speak a little Japanese, so I'll run on the treadmill with my headset on and do a language lesson. Then I'll do my yoga practice. I have a home office so I'm in there until 5 PM. My entire day is scheduled out in blocks. I will have a few hours blocked off to work on Be Packs, a few hours for Anamaya and few hours to work on B.Flow, the Yoga line. If I don't schedule my day out to the minute, it's just really hard for me to keep everything on track. Then, at 5 PM I close the door to my office. My husband picks up my daughter and once she's in bed, three days of the week I'm back in my office until 11 PM. Otherwise, I'll have a movie night with my husband or have a girls' night out.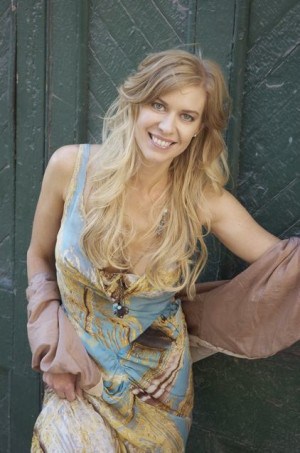 SDTC: What advice would you give to someone who wanted a similar career to you?
KM: First of all, for me, regardless of whether you are an entrepreneur or what field you are in, it is extremely important to love what you do. That may seem a little cliché but you want to wake up in the morning and love what you're doing. And the other piece of advice is to really surround yourself with an amazing team—people who have strengths that you don't. People that you trust and people who challenge you as well.
SDTC: If you could go back and give yourself some advice—before Anamaya came to fruition—what advice would you give?
KM: Trust your instinct. Trust your gut. I think I was really second guessing myself a lot in the beginning. I feel like I'm just finding my flow of trusting in my instinct now and I wish I would have had that confidence a little earlier.
SDTC: What's your go-to work attire?
KM: It's funny because since I work at home and most of my meetings are via Skype, I usually am hanging out in my Yoga gear. 
SDTC: Looking ahead, what's next for you?
KM: I really want my two new companies to get going. I want to see those evolve. Anamaya is going really well. I'm really proud and excited by where it is. There is another business I'd love to start which is in Jamaica; it has to do with the food industry. I don't want to divulge too much but again, another business, again, in another country. However, everything I do has to be environmentally conscious and socially responsible. That is really important to me.
SDTC: How does Anamaya integrate Costa Rican culture and being environmentally conscious and socially responsible?
KM: Anamaya has a farm in a place called Rancho Delicioso and the ranch has this massive permaculture centre. We grow our own fruits, our own vegetables—it's all organically grown. We have volunteers who come, stay at the farm and help us run the farm. Produce is brought to Anamaya daily and our chickens provide us with 70-80 eggs per day. It's a real farm-to-plate initiative. Our guests love to be able to see where the food is coming from and watching the growing process. We have art from local artisans. The food that we don't grow ourselves is from local farmers. We do fundraisers and fashion shows at Anamaya to support local organizations and charities. We have a woman who comes and does watercolor workshops or we'll do dance classes and things like that. So it's really about health for the entire mind, body and spirit. And I think that supporting the community is incorporated into that, as well in the positive supportive energy. 
SDTC: What is your favourite part of your job?
KM: Creating new initiatives and following through with them. I get really jazzed about taking a business to next level. Creating new opportunities. There's something I can always learn more about and learn from—whether it's a new action that works or not. There's a learning process there and I get totally stoked creating new initiatives so there is always an evolution. There is movement. There is flow.
Ladies Who Lead is an interview series that features young women who have carved their place into some of the most cutthroat industries out there. Their paths to the top may not be linear; they may have not always gotten it right the first time. But these driven, savvy women have succeeded thanks to their strong work ethic and will to design their lives according to their own high set of standards.
But we aren't just going to point and look at shiny things. Instead, we are going to decode how these women got here and how we—the unemployed, the underemployed, the misguided, the interested—can follow their lead. Shedoesthecity brings career mentors right to your screen every other week. Real women, real careers, real advice.